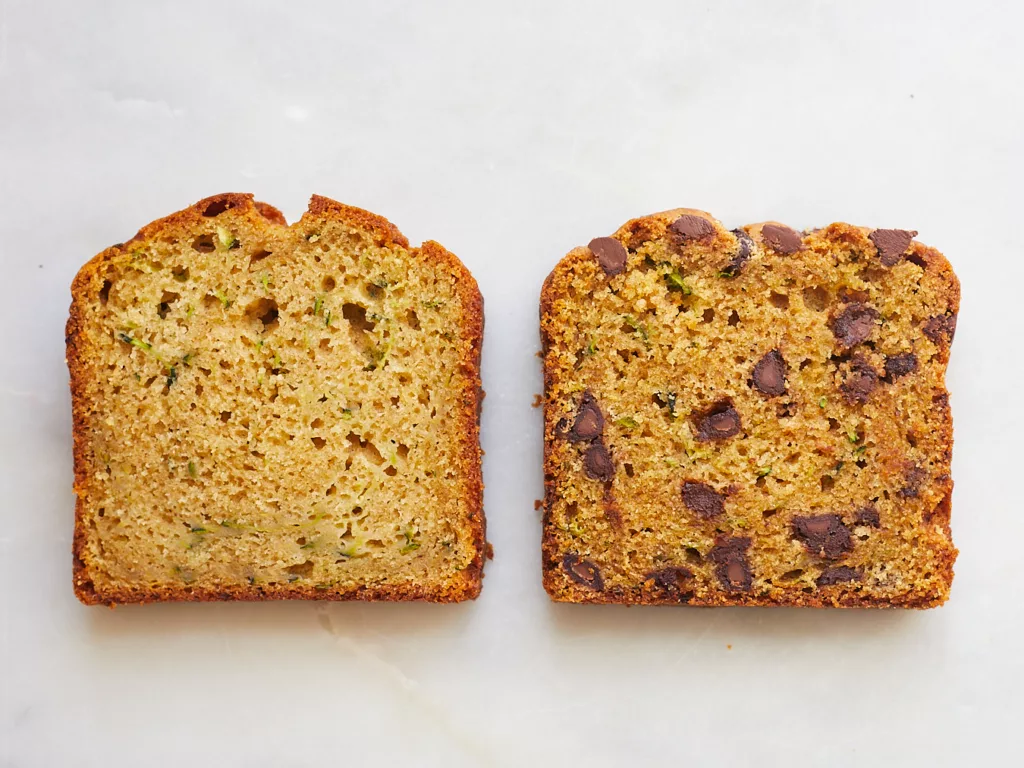 Does anyone ever set out to make zucchini bread? Like listening to a craving, choosing a recipe, and adding it to your grocery list? Or does it serve the same function as banana bread — as in, getting rid of a fruit or vegetable by concealing it slyly with butter and sugar and calling the resulting cake "bread." Or does your homesteader neighbor threaten you with a gardening trowel until you take 10 pounds of squash off their hands because "wow, was it a good crop this year"? Personally, I have never planned ahead to made zucchini bread just because — and I would say the same thing about banana bread! In fact, one reason I started developing this recipe is because I simply already had zucchini I didn't know what to do with. Are you different? Let me know in the comments!
Well this olive oil zucchini bread is going to make you and I both plan-ahead zucchini bread makers. It has a whopping 2 cups of shredded zucchini (no need to blot or squeeze out water here because who has the time). This loaf is made with olive-oil which means it won't dry out as fast as quick breads made with butter, and while most of the taste cooks off, it certainly imparts more flavor than a neutral oil. Greek yogurt makes this cake bread so moist that it practically falls apart (it doesn't actually fall apart though the structural integrity is sound.) Make it with or without chocolate chips; that is a personal decision that you should make with your pastor, doctor, and accountant.
Ingredients for olive oil zucchini bread
All-purpose flour
To make sure your loaf doesn't come out dry and crumbly, use the spoon-and-sweep method (where you spoon the flour into your measuring cup, then sweep off the excess) or use a digital scale.
Baking soda and baking powder
More baking powder for a nice tall loaf and less baking soda so we get just one platonic ideal crack down the center.
Ground cinnamon and ground nutmeg
In a pinch, these are optional, but since zucchini doesn't have a ton of flavor on its own, we want to make it up with some spices.
Kosher salt
I used Diamond Crystal Kosher Salt here. If you're using table salt or iodized salt, those have finer granules and therefore have more density and saltiness per teaspoon. So since I call for 3/4 teaspoon of kosher salt in this recipe, I recommend using a scant 1/2 teaspoon of table salt.
Granulated sugar
Great for lift and structure.
Light brown sugar
Adds a deeper color and flavor from the molasses.
Large eggs
You can use them straight from the fridge.
Vanilla extract
I call for 1 teaspoon but also sometimes I measure vanilla with my heart. This is a recipe where you could get away with using imitation vanilla or lower quality vanilla because it's not the star of the show. On the other hand, vanilla bean paste would also be next-level good.
Grated zucchini
The star of the show! The best thing about this recipe? No blotting or squeezing or straining of the zucchini. Some recipes have you do that to get rid of excess moisture but I'm just too lazy and we're going to account for that extra moisture in the recipe. This recipe uses about one medium-size zucchini, but that's not very descriptive so I made sure to include measurements in grams and cups (as always). Please use those!
Olive oil
When it comes to plush, moist cake (which, let's be real, this is basically cake) oil wins. I figured most people I know have olive oil on hand more often than anything else, and although the resulting loaf doesn't taste like olive oil, I still think it imparts a richer, more complex flavor than a neutral oil. You can use extra-virgin or regular olive oil.
Full-fat Greek yogurt
The addition of greek yogurt keeps this loaf moist for days and days. And days.
Semi-sweet chocolate chips
Totally optional. You can also use chopped bar chocolate.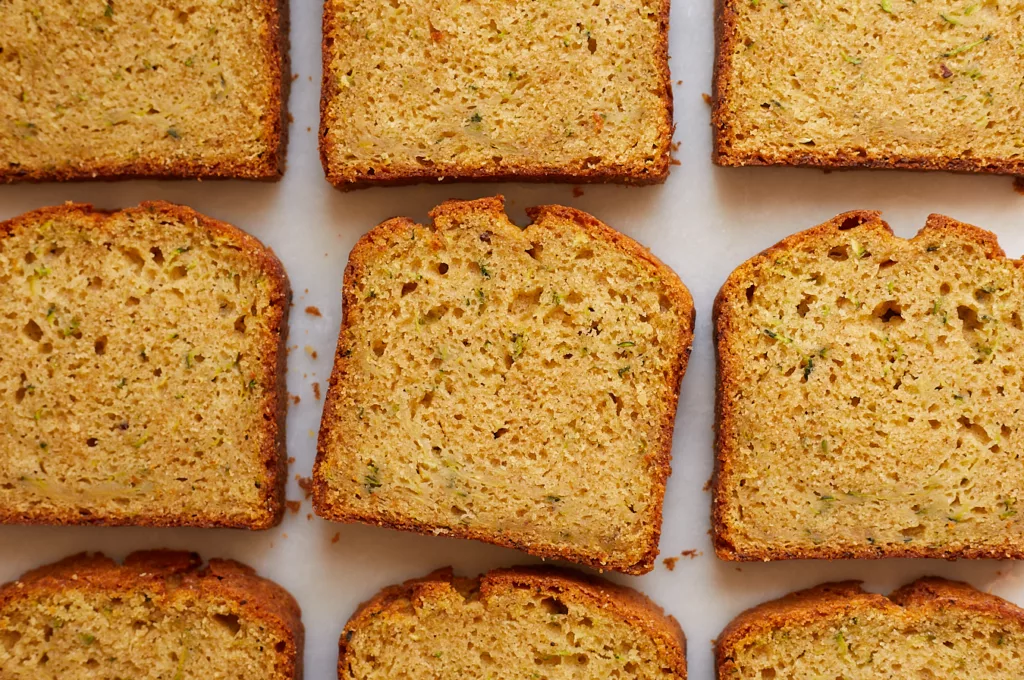 Grating zucchini for zucchini bread
You can grate the zucchini for this recipe on the large holes of a box grater or, if you want to go easier on your wrists or fingertips (ouch!) using the large grater attachment on a food processor. Grating the zucchini on small grater holes will tear up the flesh too much, and release too much water, resulting in a batter that's too wet. (And that will negatively affect the baking.)
Can I freeze this zucchini bread?
Yes! Please do! If you want to freeze all or part of this loaf, cut it before you wrap and place it in the freezer. I recommend slicing the loaf into 3/4-inch to 1-inch slices, stacking them, wrapping in plastic wrap and then wrapping that in aluminum foil. If you're planning on eating it within a few weeks, you could also lay the slices flat in a reusable food storage bag.
Want other quick bread recipes like this?
Try my…
Did you make this olive oil zucchini bread? I want to see! Tag me @easygayoven on Instagram and TikTok.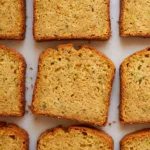 Olive Oil Zucchini Bread
Print Recipe
Greek yogurt and 100% olive oil (no butter) keep this zucchini bread totally moist for days.
2 1/4

cups

all-purpose flour

293 grams

1/2

teaspoon

baking soda

1 1/2

teaspoons

baking powder

1 1/2

teaspoons

ground cinnamon

1/2

teaspoon

ground nutmeg

3/4

teaspoon

kosher salt

½

cup

granulated sugar

110 grams

¾

cup

light brown sugar

150 grams

2

large eggs

1

teaspoon

vanilla extract

2

lightly-packed cups grated zucchini

about 270 grams, from 1 medium-size zucchini

3/4

cup

olive oil

177 milliliters

1/3

cup

full-fat Greek yogurt

188 grams

About 8 ounces semi-sweet chocolate chips

optional
Preheat oven to 350°F. Prepare a 9×5-inch loaf tin by greasing with butter or baking spray. Line it with parchment paper so there's an overhang on the long sides. This makes it easier to lift out of the tin.

In a large mixing bowl, whisk together the flour, baking soda, baking powder and salt. Set aside.

To a small mixing bowl, add the sugars, olive oil, cinnamon, nutmeg, yogurt, eggs and vanilla. Whisk until smooth. Fold the shredded zucchini into the wet ingredients.

Pour the wet ingredients into the dry ingredients and, using a flexible rubber spatula, fold the them together. Continue mixing, ensuring you're scraping the sides and bottom of the bowl, until the last streaks of flour disappear. (If you're adding chocolate chips or other mix-ins, add them while you can still see some flour in the batter.)

Pour the batter into the prepared tin. With a butter knife, draw a line, lengthwise, down the middle of the batter. This encourages the bread to crack down the center as it bakes and rises.

Bake on the middle rack for about 65-70 minutes or until the top is deep golden brown and a wooden skewer inserted into the center comes out with just a few moist crumbs. The internal temperature of the loaf should be between 200-210°F.

Let the loaf cool in its tin for 5 minutes, then lift it out using the parchment and transfer it to a wire rack to cool completely.