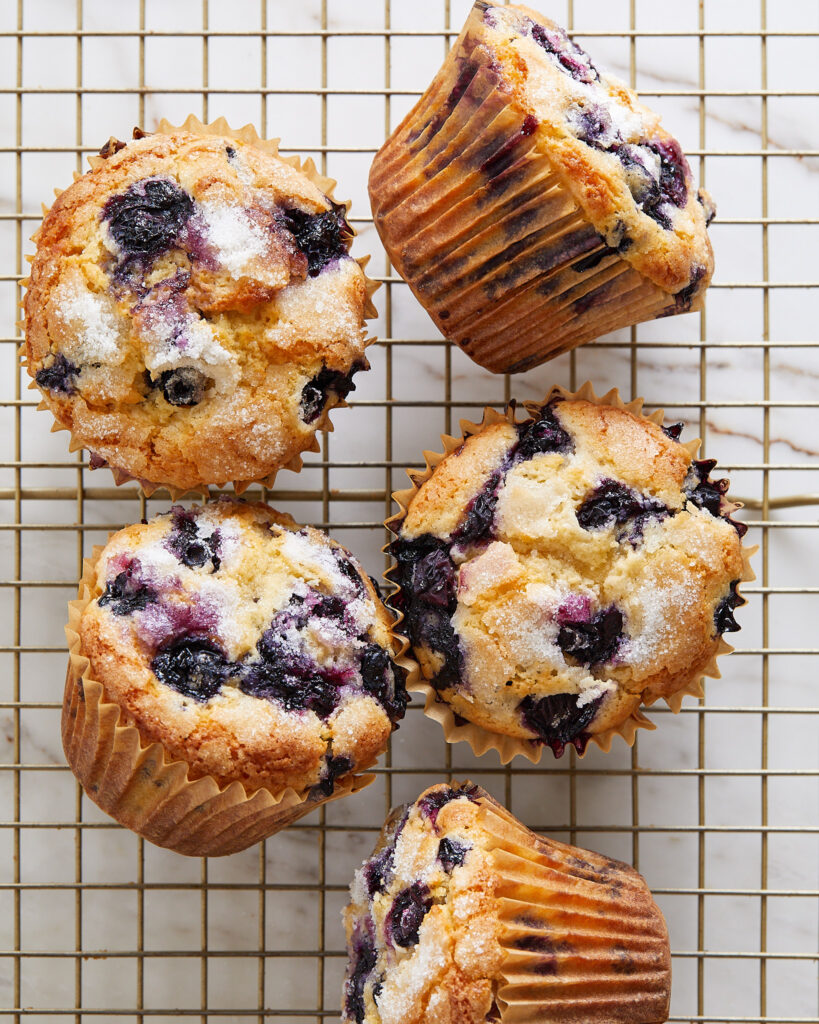 To me, bakery-style blueberry muffins seem to be one of the hardest treats to replicate at home. All the recipes I've tried don't really come close to that big mushroom-cap top. And one muffin from a 12-muffin tin is just never quite enough to satisfy. But if, like me, you don't have a jumbo muffin tin, what can you do?
Here, I come as close as I could to jumbo blueberry muffins, without a jumbo muffin tin, that still boasts a crisp, sugary, domed top. The secret lies in a few tricks. More baking powder than usual, more batter than you would expect in each cup, and a high oven temperature of 400°F. Also, for the jumbo muffins, leaving half of the tins empty and staggering the muffin batter in the tin, so that they make a diamond pattern, helps them rise higher in the oven.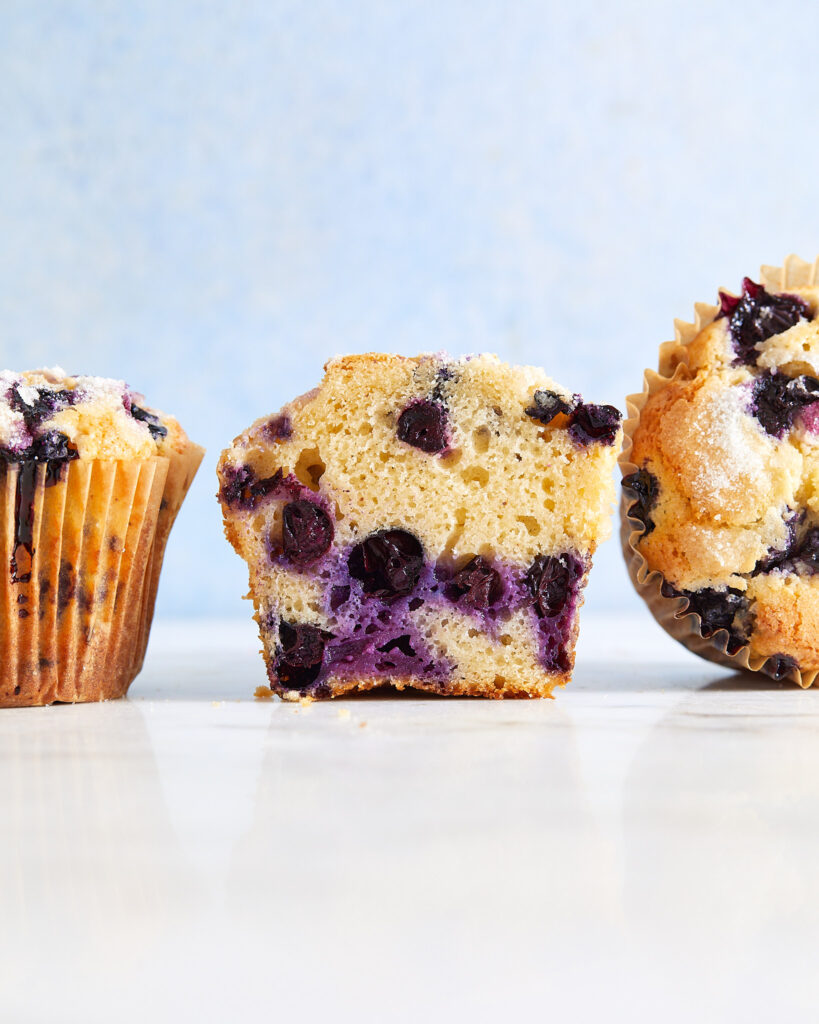 The benefit of this recipe is you can decide to make around 15 regular size muffins or about 10 "jumbo" size muffins. It all comes down to which size tin liners you choose. And I repeat: you can achieve both in standard 12-cup muffin tins!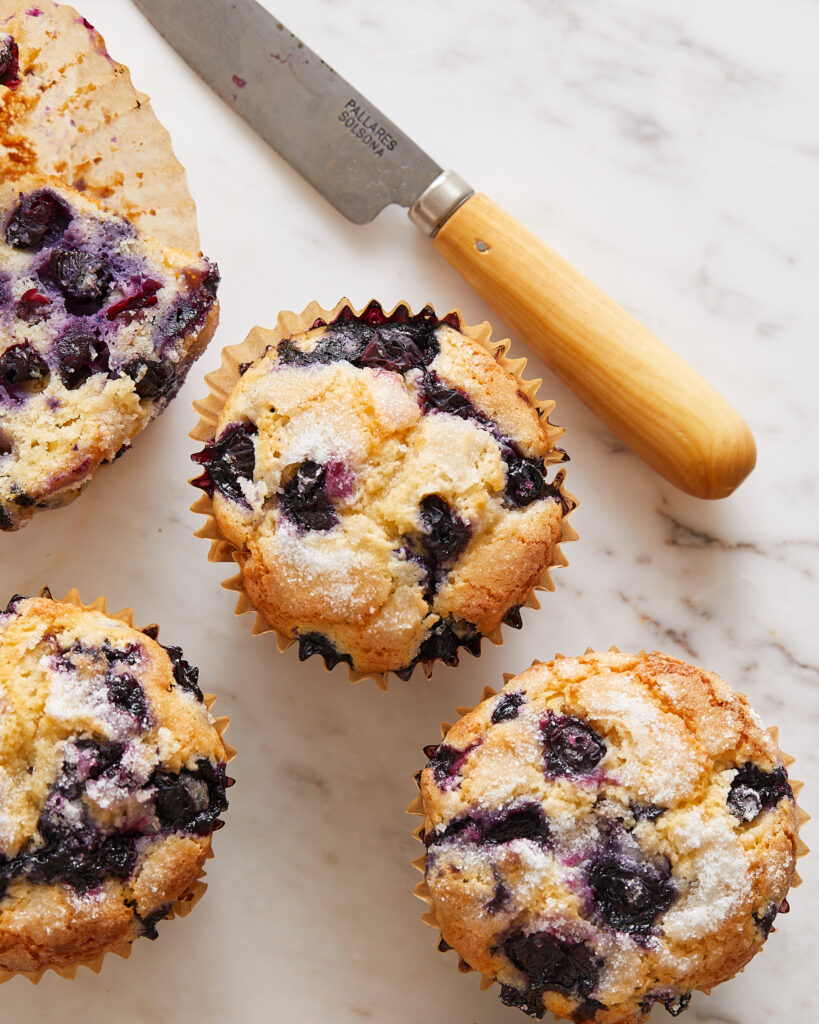 Did you make these blueberry muffins? I want to see! Tag me @easygayoven on Instagram and TikTok!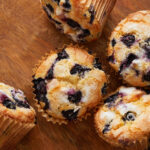 Blueberry Muffins
Print Recipe
This bakery-style blueberry muffin recipe makes 10 jumbo muffins or about 15 regular-size muffins. (And you don't need to buy a jumbo tin!)
2

cup

all-purpose flour

(254 grams)

3/4

teaspoon

kosher salt

2

teaspoons

baking powder

1/4

teaspoon

ground cinnamon

1/4

teaspoon

ground nutmeg

3/4

cup

sugar

plus additional for topping (165 grams)

1/4

cup

light brown sugar

(50 grams)

1/2

cup

whole milk

(119 milliliters)

1/2

cup

sour cream

(119 milliliters)

1

teaspoon

vanilla extract

2

large eggs

at room temperature

8

tablespoons

unsalted butter

melted and cooled slightly (113 grams)

2

cups

fresh blueberries

plus additional for topping (12 ounces)
Preheat oven to 400°F and set oven racks to the top and lower thirds.

Line two 12-cup muffin tins with either 10 jumbo-size liners, staggering them in a diamond shape, or 15 regular liners.

In a large bowl, whisk together the flour, baking powder, salt, cinnamon, nutmeg, and sugars.

In a small bowl or liquid measuring cup, combine the milk, sour cream, eggs, and vanilla. Whisk in the butter until homogenous.

Add the liquid mixture into the dry ingredients. Fold just until a few streaks of flour remain.

Gently fold in the blueberries until evenly dispersed, which should bring the batter together and incorporate any remaining dry ingredients. Don't over-mix; a few small lumps are okay.

For jumbo muffins, fill each liner with about 5 to 6 tablespoons of batter (125 grams), almost to the top. For regular muffins, fill each liner with 3-4 tablespoons (80 grams).

Dot the tops of each muffin with a few more blueberries, then generously sprinkle granulated sugar on top.

For jumbo muffins, bake on the top and lower racks for 24 to 25 minutes (around 22 minutes for regular size) rotating the pans and switching their positions halfway through. The edges should be golden brown and the top should spring back when gently pressed.

Let cool in the tins for about 5 minutes then carefully transfer them to a wire rack to cool completely.