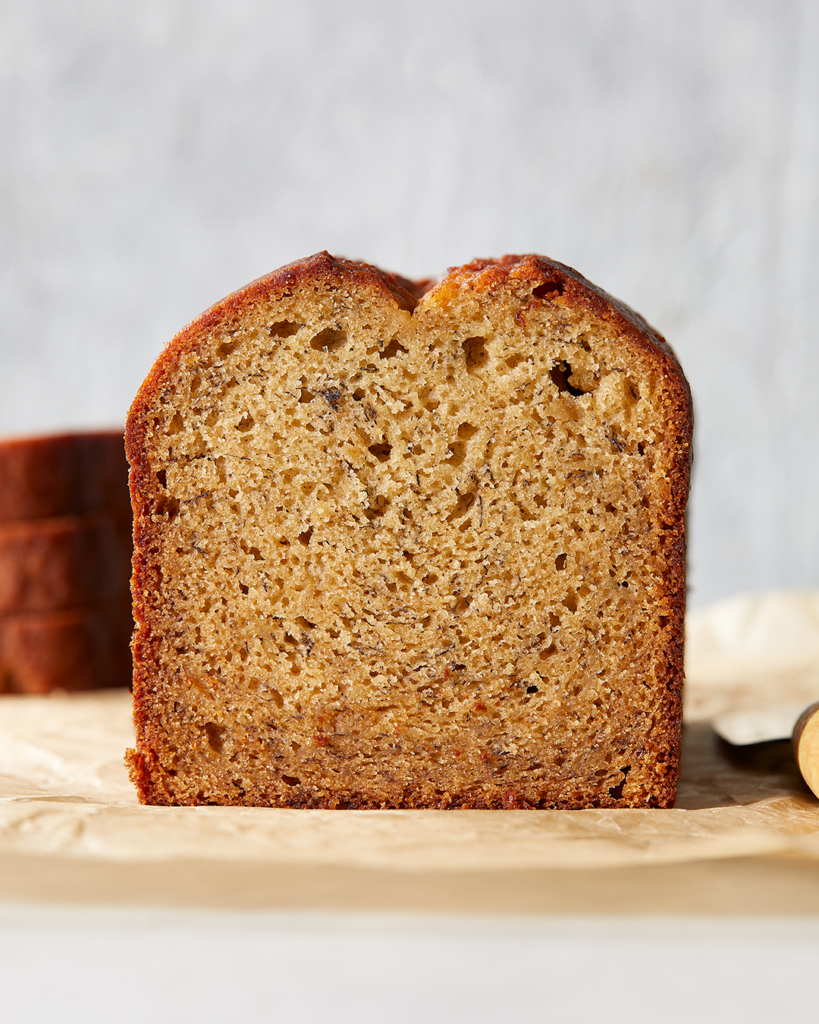 There is no shortage of banana bread recipes on the internet. However, for classic recipes like this, when facing down the thousands of options, analysis paralysis can strike, and it can be really hard to find one you love and trust. Let me take out the work of searching and sifting through those recipes, and introduce you to, in my view, the last you'll need: my ultra-moist banana bread.
I would consider this a very bakery-style banana bread: rich, moist, with deep flavor from lots of brown sugar and a confident amount of bananas. I like making quick breads like banana bread in a pullman loaf tin, which is more squared off and narrow, producing a taller loaf, instead of a 9×5-inch tin. This is purely for aesthetic reasons — you can use whatever loaf tin you have.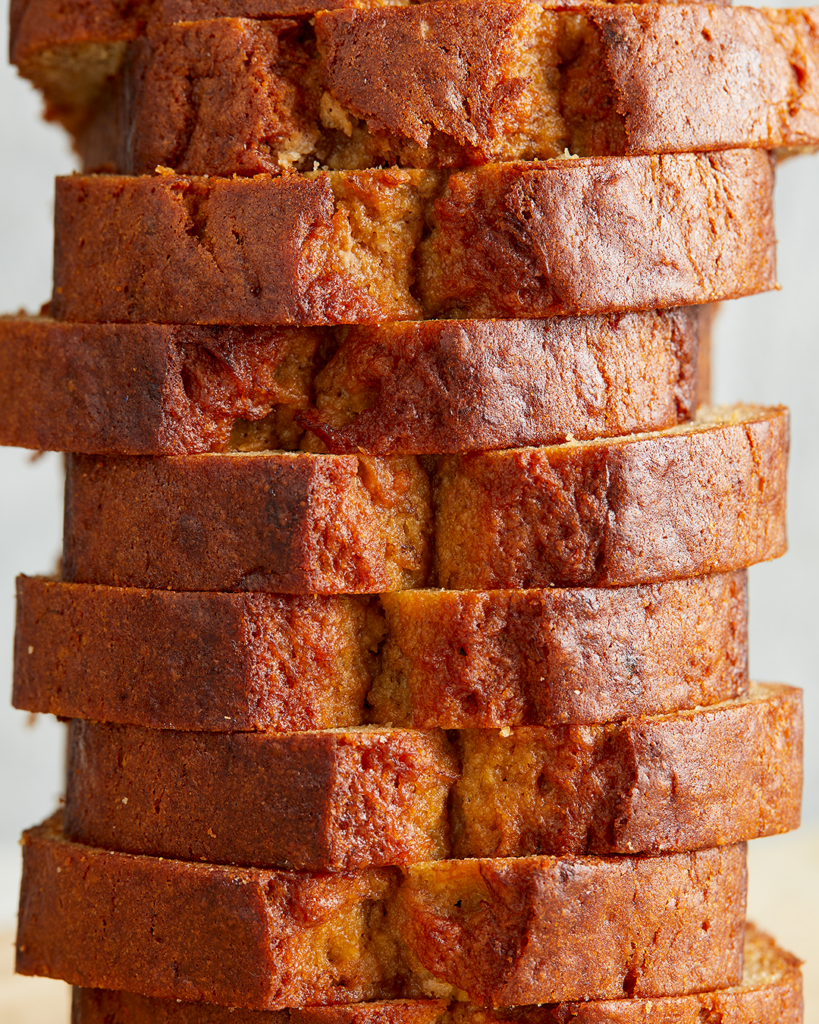 Here are 3 tips for making ultra-moist banana bread:
1. When it comes to bananas, size matters. Get your head out of the gutter! This recipe calls for 1 1/2 cups of ripe, mashed bananas. However, depending on their size, you may need anywhere from three, four, or maybe even five bananas. I would recommend double checking and measuring your mashed bananas with a measuring cup.
2. Not sure if it's done? Take its temp! Quick breads like banana bread take a long-ish time to bake. Sometimes it's hard to tell if they're done, even if you use a cake tester or wooden skewer. If you have a digital food thermometer, stick it in the center of the bread and it should read between 200°F and 205°F.
3. How ripe is ripe enough? We're not looking for bananas with just a few brown spots dotting them. Bananas are perfect for bread when they are mostly brown because that's when they release the most juices, lending more flavor and moistness to the final product.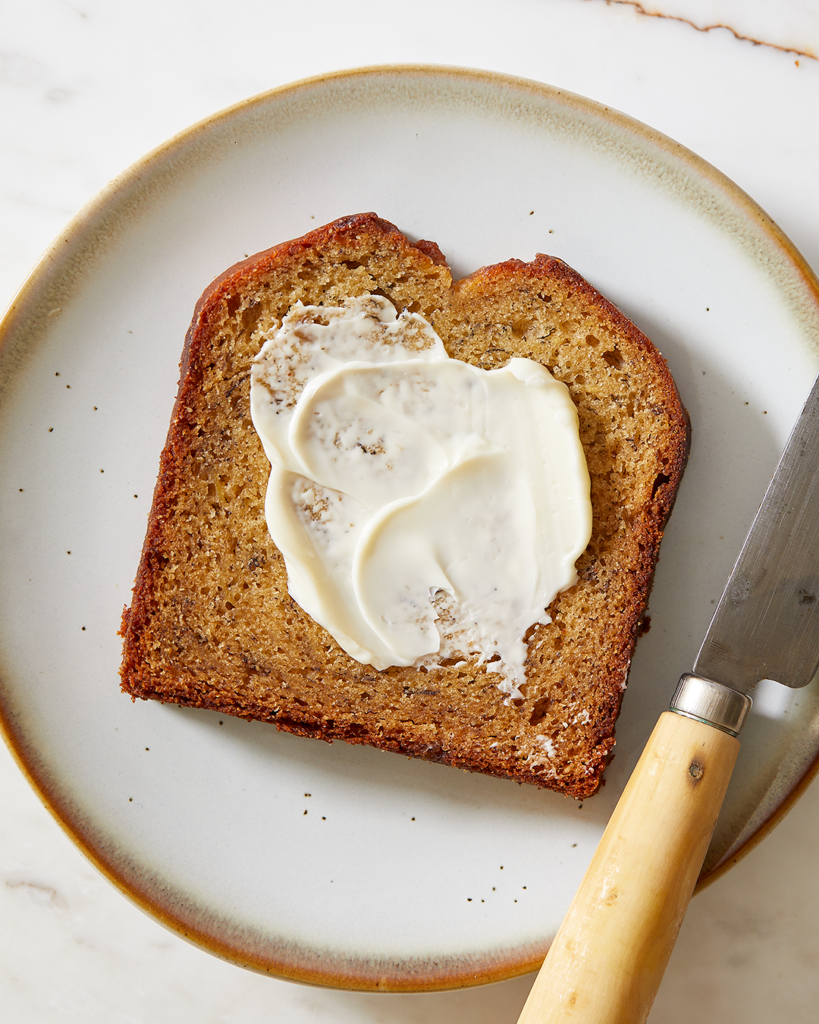 (Did you make my best banana bread? I want to see! Tag me on Instagram and TikTok @easygayoven!)
Ultra-Moist Banana Bread
Print Recipe
My best banana bread is very much bakery-style: rich, moist, with deep flavor from lots of brown sugar and a confident amount of bananas.
2 ¼

cups

all-purpose flour

(293 grams)

¾

teaspoon

baking soda

1 ¼

teaspoon

baking powder

¼

teaspoon

ground cinnamon

½

teaspoon

kosher salt

½

cup

unsalted butter

gently melted (113 grams)

½

cup

granulated sugar

(110 grams)

¾

cup

light brown sugar

(150 grams)

2

large eggs

1

teaspoon

vanilla extract

1 ½

cups

mashed

very ripe bananas (3 or 4 large bananas)

¼

cup

vegetable oil

¼

cup

Greek yogurt
Preheat oven to 350° F.

Grease a 9×5-inch loaf tin with butter or baking spray and line with parchment paper.

In a small bowl, whisk together flour, salt, baking powder, baking soda, and cinnamon.

In a large mixing bowl, add the sugars, melted butter then whisk to combine. Add the eggs, mashed bananas, and vanilla extract. Whisk to combine.

To the sugar mixture, add the vegetable oil and Greek yogurt. Mix until smooth.

Add in the flour to the wet ingredients in three batches, using a whisk or rubber spatula to mix just until no streaks of flour remain before the next addition. A few lumps are okay.

Pour the batter evenly into the prepared tin. With a butter knife, draw a line lengthwise down the middle.

Bake for about 1 hour, or until a wooden skewer or cake tester comes out with just a few moist crumbs.

Transfer to a wire rack for 5 minutes and then let cool completely on a wire rack.