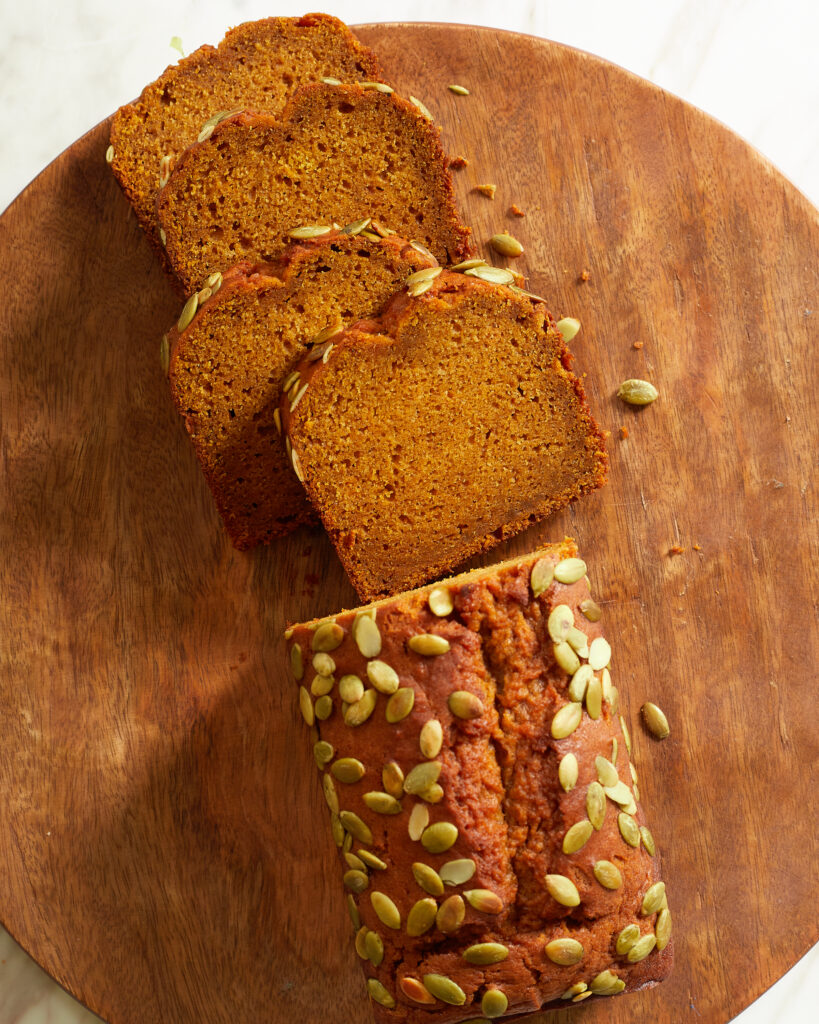 Admit it: It's pretty hard to find a pumpkin bread recipe you really love! At least that's how I felt years ago. That was before I found the Tartine pumpkin tea cake through a bake-off ranking from Erika Kwee of The Pancake Princess. It was also before easygayoven was a thing. So I recently thought 'tis the season to develop a classic pumpkin bread recipe of my own. Since it's just another quick bread with fruit puree, it's is similar to my best banana bread but has less butter, more oil, and a heaping load of warm fall spices.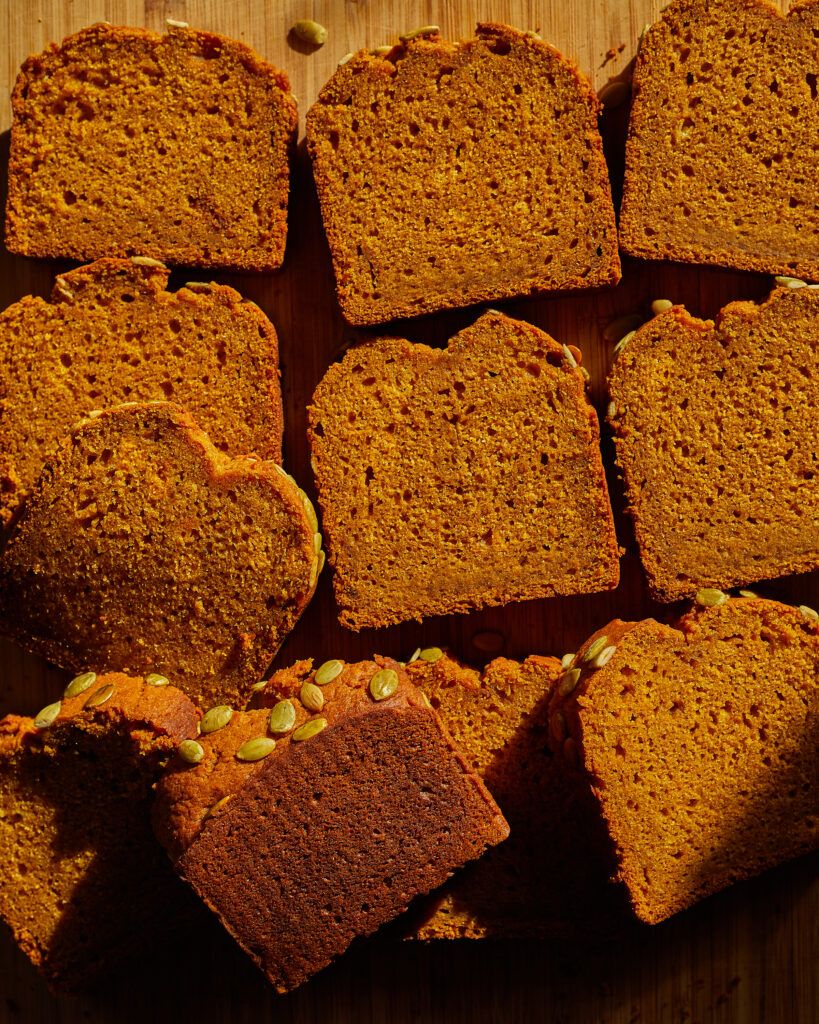 Some great things about this pumpkin bread: It comes together in just two bowls, no mixers required — just a whisk and a rubber spatula. There's no waiting for butter to come to room temperature, only waiting for the loaf to cool before slicing in. You can leave the pepita (pumpkin seed) topping off and you can even add chocolate chips if you want. No one is stopping you!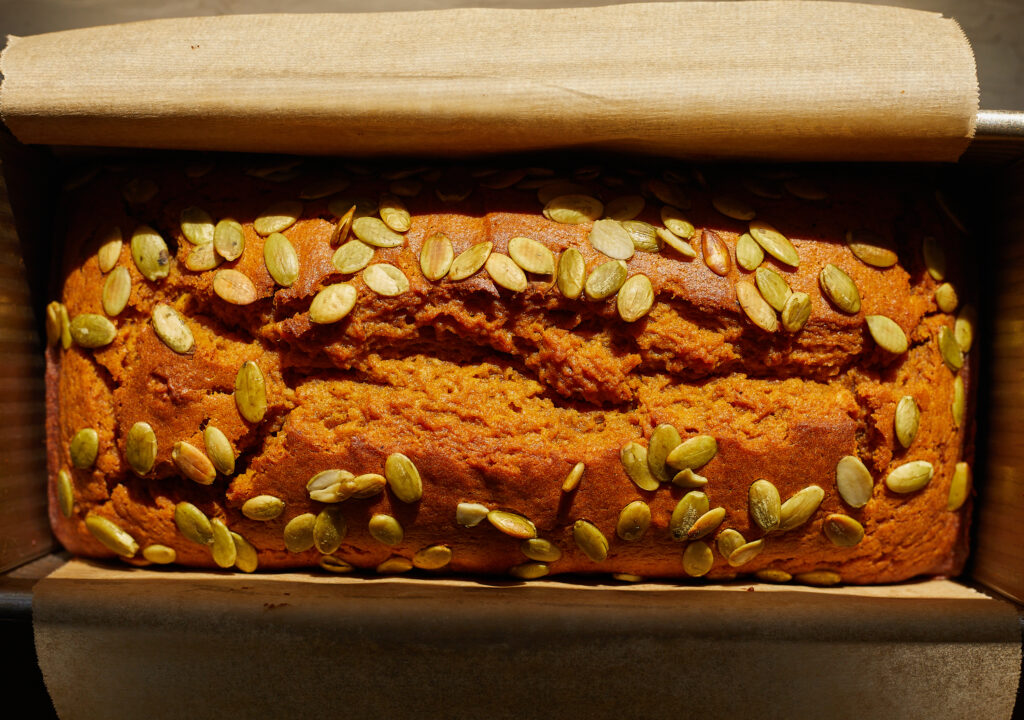 Here are 4 tips on how to make the perfect pumpkin bread:
1. Don't over-mix.
Quick breads don't require much mixing after the dry ingredients are added. Over-working the batter can result in a tough pumpkin bread. Seeing just a few streaks of flour in the batter is a good sign that it's ready to be transferred to the pan.
2. For this recipe, not all pumpkins purees are equal.
I found over the course of testing that using an organic pumpkin puree like the brands from Whole Foods and Trader Joe's worked best. These had more moisture and a vibrant orange color, resulting in a more moist, tender loaf with the bright pumpkin color you want. Whereas the more traditional Libby's is darker and thicker and produced darker, dryer loaves. No hate to Libby's! Still a good product, but for this recipe I wouldn't use it if I had other options.
3. Quick breads take a lot of time in the oven!
Making sure your oven is at the right temperature (get an oven thermometer and thank me later!) is key to avoiding sinkage in the middle, ensuring the center of the loaf is baked through, and the edges don't over-bake. Avoid peeking in the oven until the last quarter of baking time. Drastic changes in oven temperature or sudden bumps can cause loaves to deflate.
4. Measure your flour correctly.
I really am a broken record on this, but the correct way to measure flour is either with a digital scale (I include metric and US standard amounts to make this easy) or using the spoon and sweep technique. Loosen up your flour a bit with a spoon, then spoon it into your measuring cup and sweep off the excess with a straight edge. Do not shove a measuring cup into a bag full of flour — this will result in a dry, crumbly loaf.
Did you make the classic pumpkin bread? I want to see! Tag me @easygayoven on Instagram and TikTok.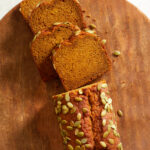 Classic Pumpkin Bread
Print Recipe
This classic pumpkin bread will become your go-to. It comes together in just two bowls, no mixer required — just a whisk and a rubber spatula.
2 ¼

cups

all-purpose flour

measured using the spoon and sweep method (see above) (293 grams)

¾

teaspoon

baking soda

1 ¼

teaspoon

baking powder

3/4

teaspoon

kosher salt

½

cup

granulated sugar

(110 grams)

¾

cup

light brown sugar

(150 grams)

1/4

cup

unsalted butter

gently melted (56.5 grams)

2

large eggs

1 1/2

heaping cups organic pumpkin puree

(one 15-ounce can) *See note*

1/2

cup

vegetable oil

2

teaspoons

vanilla extract

2 1/2

teaspoons

ground cinnamon

1

teaspoon

ground nutmeg

1

teaspoon

ground ginger

Raw, unsalted pepitas
Note: I found that organic pumpkin purees like the kinds from Whole Foods and Trader Joe's produced a brighter color and better texture than a traditional brand like Libby's, which is darker and thicker.
Makes about 12 slices.

Pre-heat the oven to 350F. Grease a 9×5-inch loaf tin with butter and line the long sides and bottom with a long strip of parchment paper. This will act as a sling to help you remove the bread from the tin.

In a small bowl, whisk together the flour, baking soda, baking powder, and salt.

To a medium mixing bowl, add the sugar, brown sugar, butter and eggs. Whisk to combine.

Whisk the spices and vanilla into the oil. Add the pumpkin and the oil to the sugar and egg mixture and stir until homogenous.

Using a rubber spatula, fold the dry ingredients into the wet ingredients just until there are just a few streaks of flour remaining. Don't over-mix — lumps in the batter are okay.

Transfer the batter to the prepared tin. Using a paring knife, slice a line down the center of batter. Sprinkle with pumpkin seeds if desired.

Bake on the middle rack of the oven for about 62-67 minutes or until the top is starting to brown in spots, the center springs back when pressed gently, and a cake tester or wooden skewer comes out of the middle with just a few moist crumbs.

Let it cool in the tin for about 5 minutes then transfer to a wire rack to cool completely. Slice and serve!