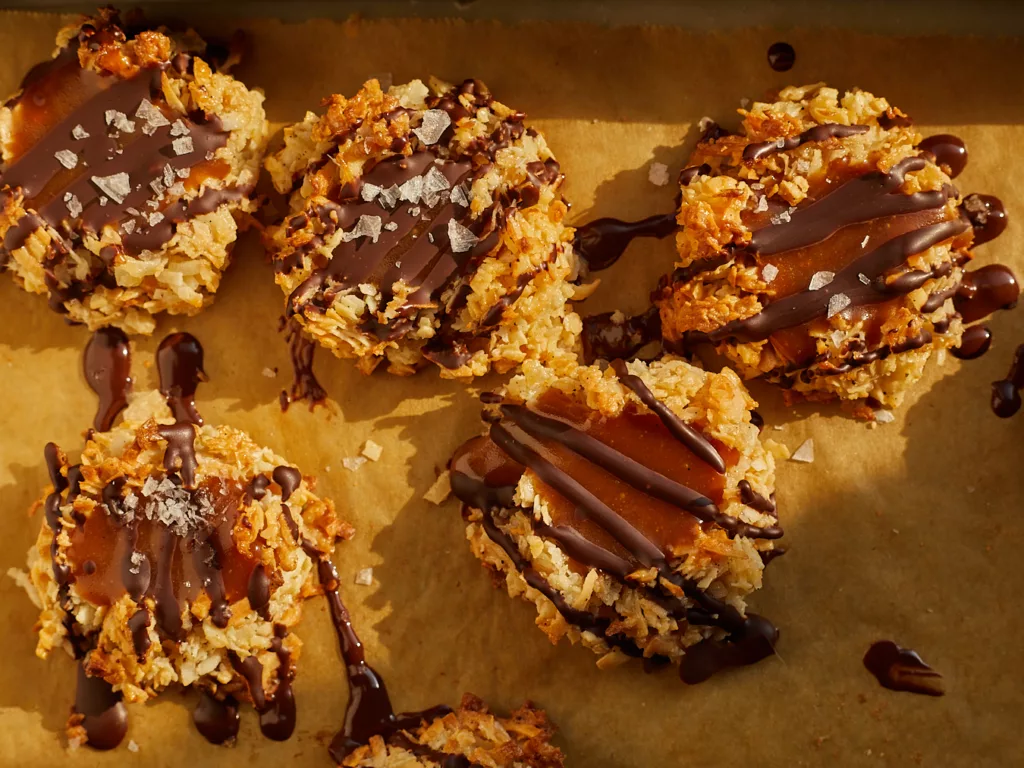 When summer hits, food bloggers and recipe developers lean into fruit flavors, ice cream, etc. But when I get a great idea, I just have to do it, even if it's not super seasonal. To be fair, like, this recipe for chocolate caramel macaroons contains coconut, coconut is tropical, tropical flavors are good for the summer. That's how I'm justifying it.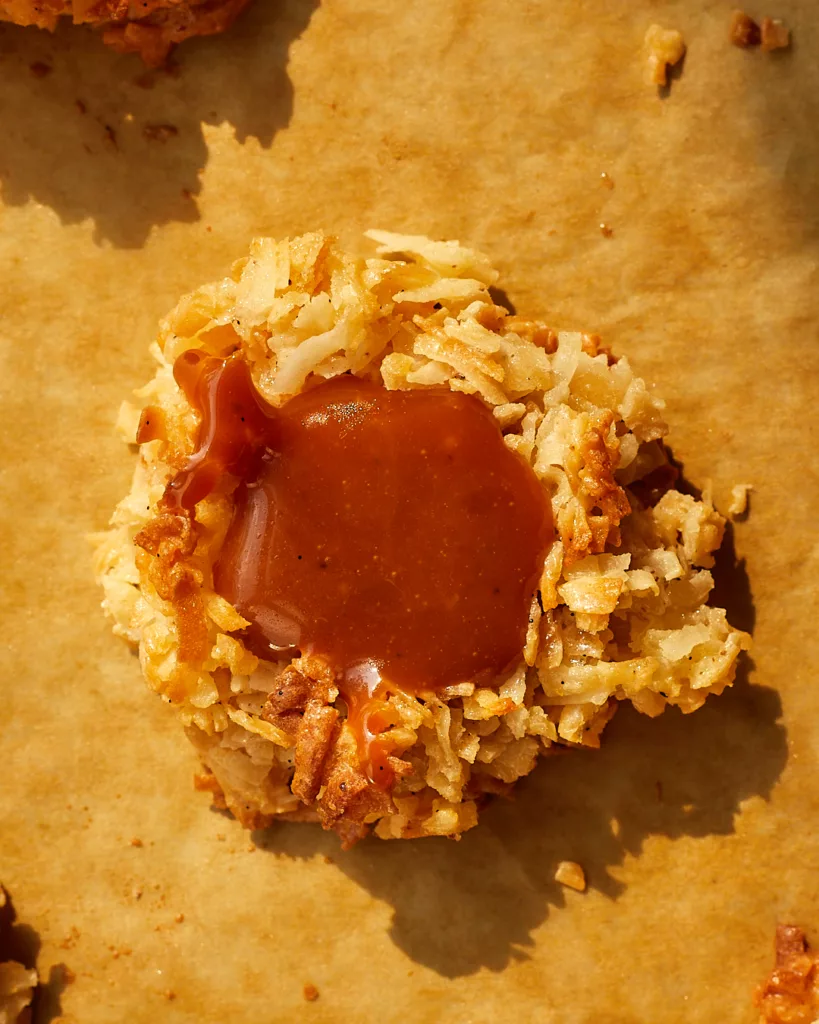 These were inspired by the Levain Bakery Caramel Coconut Chocolate Chip Cookie, which I have actually never had — only seen the sandwich board outside their Williamsburg outpost. It apparently was so beloved by customers that the seasonal flavor is now a permanent fixture on their menu, so I guess I still have time to get it. My friend who taste-tested these said, "I love these macaroons—like a Samoa but way better," referencing the Girl Scout cookie that you might also know as a "Caramel deLite." Fun fact: this Los Angeles Times piece has a whole deep dive into the two companies that bake Girl Scout Cookies and the big differences between their lineups of what should ostensibly be the same cookies.
Of course, this isn't a chocolate chip cookie, it's a very simple macaroon (not macaron) base with sweetened shredded coconut, egg, sugar, vanilla and salt. And we're making salted caramel! I know caramel is scary, but if you have an instant-read or candy thermometer and follow the directions closely, it's easier than you think. Or you can use store-bought dulce de leche, which would be almost as good.
Ingredients for Chocolate Caramel Macaroons
Sweetened Shredded Coconut
I made this recipe with both sweetened and unsweetened coconut shreds and found that I preferred the sweetened version's longer strands that weren't as dry and flakey. They resulted in a chewier cookie, and they mean the actual cookies use a smaller amount of granulated sugar in the dough.
Granulated Sugar
Again, because the coconut shreds are already sweetened, we don't need to add much sugar.
Large Egg
This is the only liquid or binder in the cookie, so this ingredient holds everything together. We use both the yolk and white because I hate when recipes leave you with leftover yolks or whites — although sometimes it's neccessary.
Vanilla Extract
We're only using a half-teaspoon here since it's not a huge batch. I loved using vanilla bean paste for this recipe because it really shines through, so if you have it, maybe break it out.
Kosher Salt
I use Diamond Crystal Kosher Salt in most of my recipes. If you're using table salt or iodized salt, those have finer granules and therefore have more density and saltiness per teaspoon. So since I call for 1/2 teaspoon of kosher salt in this recipe, I recommend using about 1/4 teaspoon table salt.
For the Caramel and Topping
Granulated sugar
Caramel in its simplest form is simply sugar that has been cooked past a temperature of around 300-320°F. Use regular, white granulated sugar — I prefer Domino.
Water 
There are two ways to make caramel: wet and dry. Here, we're going with wet because I think it's a bit less scary for people who haven't made caramel a lot. Instead of just cooking dry sugar in the pan and waiting for bits and pieces of it to melt before stirring, we first mix the sugar with some water to help the sugar dissolve and cook at about the same rate.
Heavy Cream
Cream adds flavor, liquid, and fat to keep the caramel viscous and chewy, that way it's not hard like rock candy.
Unsalted Butter
Butter helps the caramel set up and hold its shape at room temperature, also aiding with flavor and a pleasant chew that won't pull your teeth out.
Kosher Salt
Caramel can be way too cloying, which is why we need to rein in the sweetness with some salt, which also helps bring out the more nuanced flavors of the cooked sugar and fat.

I use Diamond Crystal Kosher Salt in most of my recipes. If you're using table salt or iodized salt, those have finer granules and therefore have more density and saltiness per teaspoon. So since I call for 1/2 teaspoon of kosher salt in this recipe, I recommend using about 1/4 teaspoon table salt.
Vanilla Extract
Caramel doesn't have a flavor other than caramelized sugar, which can be kind of one-note. Adding some vanilla extract, or even better, vanilla bean seeds or paste, make it much more interesting.
Dark or Semi-Sweet Chocolate
This is optional, as well. We're melting this with tempering in mind, so that the chocolate maintains some of its snap, shine and ability to hold shape and resist melting. If it isn't tempered perfectly, that's okay. The cookies will be great anyway.
Flakey sea salt
If you really love salty-sweet baked goods like I do, a sprinkle of flakey sea salt at the end can really tame the sweetness of this recipe. And it looks pretty!
Want more recipes like this?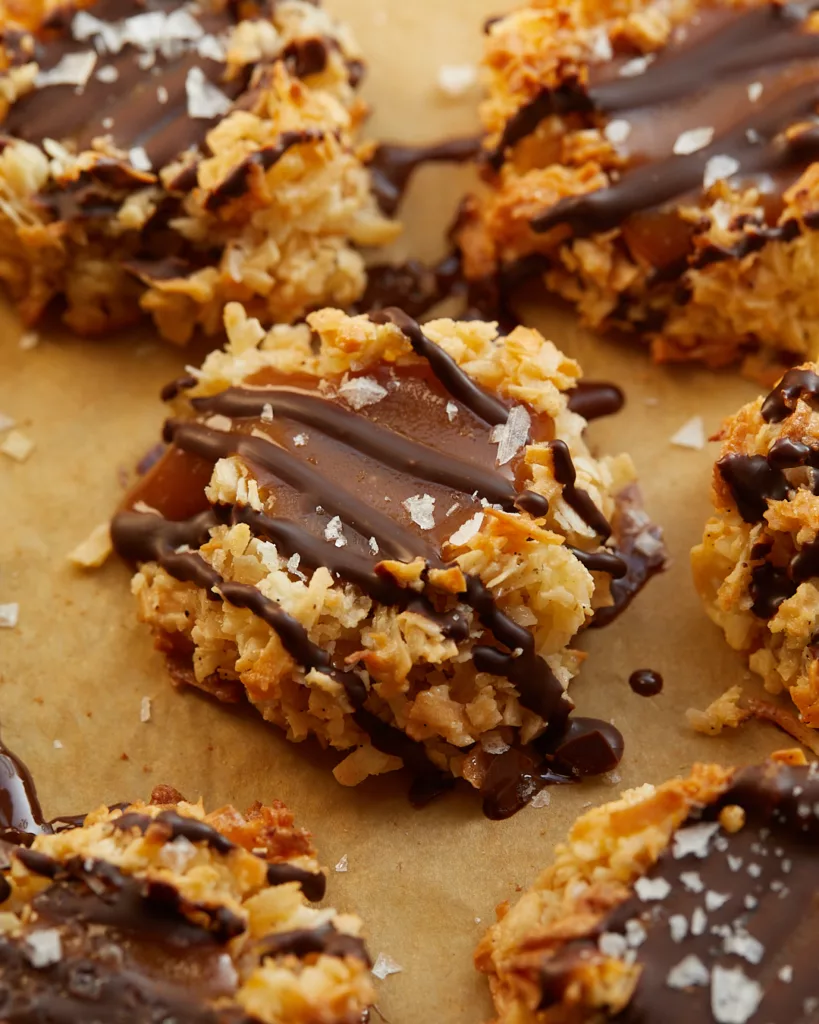 Did you make these Chocolate Caramel Macaroons? I want to see! Tag me on Instagram and TikTok @easygayoven.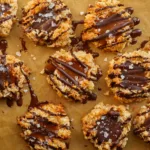 Chocolate Caramel Macaroons
Print Recipe
Nests of sweet, chewy coconut macaroons with pools of salted caramel are drizzled in melted chocolate.
Macaroons
7

ounces

sweetened shredded coconut

about 2 cups

1/4

cup

plus 2 tablespoons granulated sugar

75 grams

1

large egg

1/2

teaspoon

vanilla extract

1/2

teaspoon

Diamond Crystal kosher salt

(1/4 teaspoon table salt)
Salted Caramel and Chocolate topping
1/2

cup

plus 2 tablespoons granulated sugar

137 grams

1/4

cup

water

60 milliliters

3

tablespoons

heavy cream

45 milliliters

2

tablespoons

unsalted butter

28 grams

1/2

teaspoon

Diamond Crystal kosher salt

(1/4 teaspoon table salt)

1/2

teaspoon

vanilla extract

2

ounces

dark or semi-sweet chocolate

very finely chopped (optional)

Flakey sea salt

optional
Preheat oven to 350°F. Line a half sheet tray with parchment paper and. Once the oven is pre-heated, spread out the coconut shreds on the tray and toast them in the oven for about 8 minutes or until at least half of the shreds have become just lightly golden brown. Set aside to cool.

In a medium mixing bowl, whisk together the sugar, egg, vanilla extract, and salt just until combined. Once the coconut shreds are just barely warm, fold them into the egg and sugar mixture.

On the same half sheet tray lined with parchment, dole out around 13 or 14, 1.5 tablespoon-sized balls. I like to use a .7-ounce cookie scoop for this. Try to shape them them into domes.

Bake the cookies on the middle rack for around 8 minutes. Remove them from the oven and make a indent in the top of each using the back of a round half-teaspoon, or, carefully, your thumb. It should be deep enough to hold the caramel, but not so deep that it disturbs the bottom.

Continue baking the cookies for 3 to 4 more minutes or until the coconut is golden brown on the bottom edges and tops. Allow the cookies to cool for a few minutes on their trays then carefully transfer to a wire rack.

While the cookies cool, make the caramel. Heat the water and sugar in a small saucepan over medium-low heat. Stir just until melted, then stop.

Once the sugar mixture turns a deep amber color and you begin to see wisps of smoke, take it off the heat.

Pour in the heavy cream, butter and vanilla all at once, continuing to stir vigorously until it comes together. Stir in the salt and vanilla.

Return to the stovetop and cook on medium-low until a candy or instant-read thermometer reads 240°F. Immediately take it off the heat and allow to cool just slightly.

When the caramel thickens up a bit, spoon about a teaspoon into the indent of each cookie.

Once the cookies and caramel are cool, melt the chocolate. In a small, microwave-safe bowl or measuring cup, heat about two thirds of the chopped chocolate in 10 second bursts, stirring in between each, until there are just a few pieces of unmelted chocolate left. Stir in the rest of the chocolate, allowing the heat from the vessel and melted chocolate to melt the remaining chocolate. If it doesn't all melt, heat in 5 second bursts in the microwave, stirring in between, just until it is melted.

Spoon or pipe drizzles of chocolate over each cookie and top with flakey sea salt, if desired.