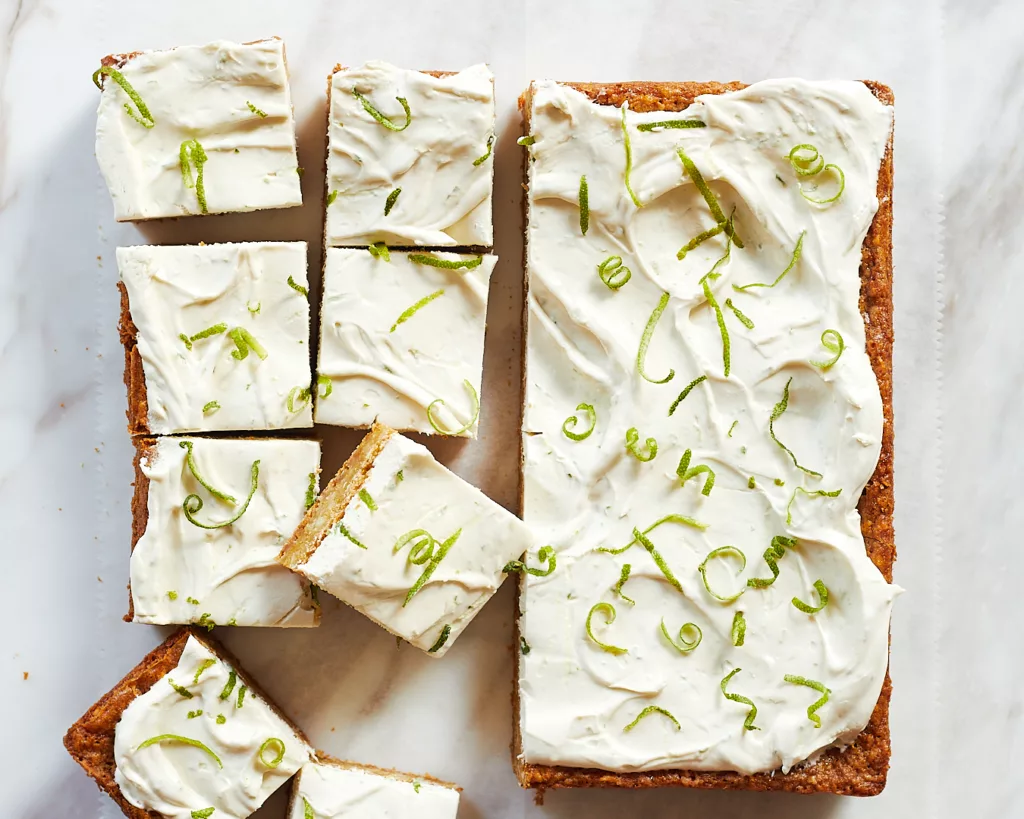 The inspiration for this recipe came over the holidays, during several passes through an airport Starbucks. And even though I had never ordered one of their lime-frosted coconut bars, I knew I wanted to make my own version. I had an idea formulating in my head of what it might taste like, but it wasn't until halfway through my tests for this recipe that I actually went to my local Starbucks and tried one. And I almost didn't get it (!) because the barista swore they weren't selling them anymore. Nevertheless, I persisted, and he found one buried in the bin under the pastry case. I asked him if he knew if they were ever coming back. He wasn't sure.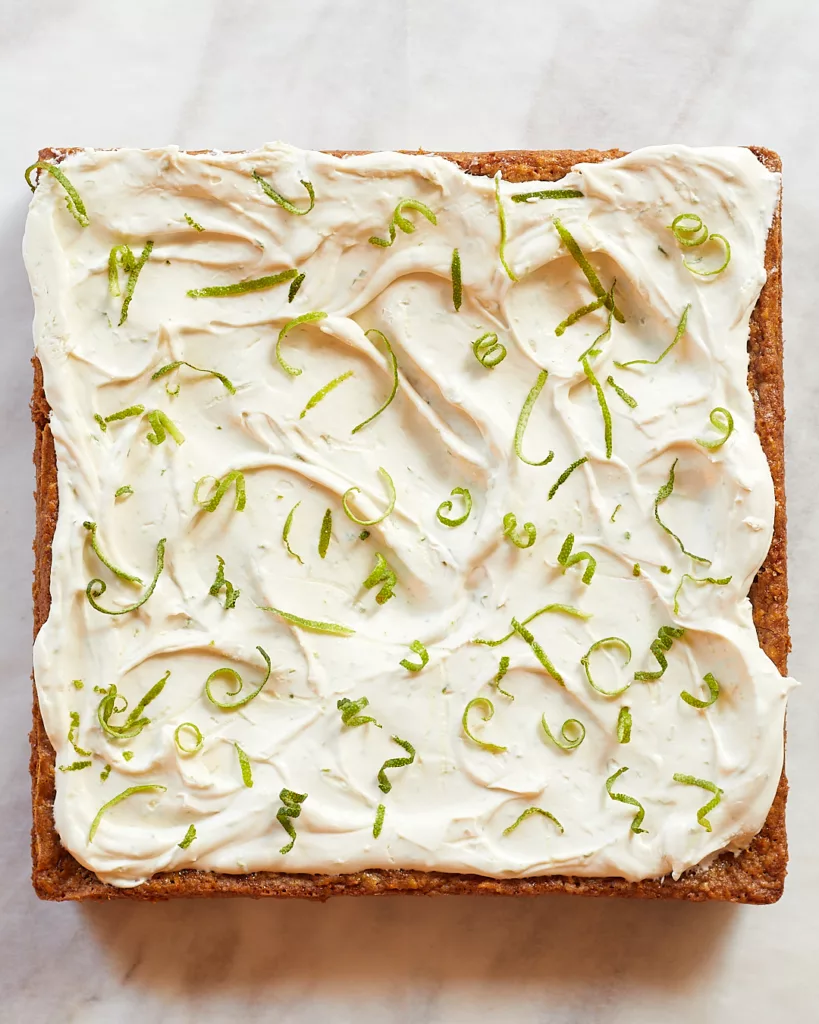 The bar was smaller than you'd expect, with a cake-like cookie base packed with oats and coconut shreds, topped with a flavorless cream cheese buttercream that tasted nothing like cream cheese or lime but a lot like sugar. Compared to some of their other pastry offerings (I really love the Cranberry Bliss Bars!) these were lackluster. I was relieved in knowing that I could do better. Therefore, my recipe is less "lime-frosted coconut bar Starbucks copycat" and more "Better-than-Starbucks lime-frosted coconut bar".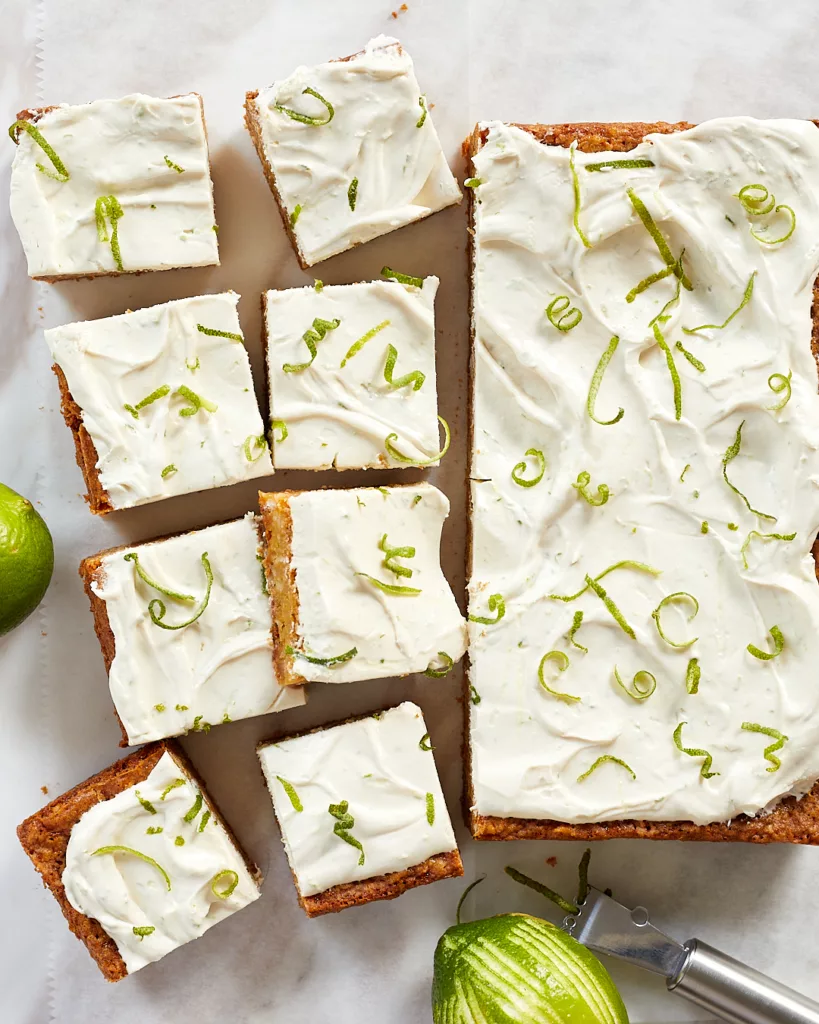 My recipe for lime-frosted coconut bars, on the other hand, has a super chewy cookie base with a toffee-like flavor. It's topped with swirls of lime-scented cream cheese sweetened with powdered sugar. Most of the lime flavor actually comes from the zest, but there's also a tablespoon of lime juice for additional flavor and to loosen up the frosting. And there's no butter in the frosting, which helps the cream cheese flavor really shine through. You can cut back on the sugar in the frosting if you like, but they won't crust over as well. This might make them harder to store and transport.
Here are 3 tips for making lime-frosted coconut bars:
Use sweetened shredded coconut. Some brands carry unsweetened shreds or flakes but they don't impart a chewy texture and sweetness like sweetened shreds do. They are also typically finer which could result in a dryer crumb.
Use the right kind of cream cheese. Using cream cheese spread, like the kind in a tub, will not result in the creamy frosting you want. Cream cheese spread has milk, cream, stabilizers and emulsifiers that make it easier to spread, but change the flavor and make it looser. To be sure you're getting just plain cream cheese, look for the kind that comes in an 8-ounce block.
Don't over-beat the cream cheese frosting. This can cause it to split and curdle — and you can help to avoid that by making sure you're working with room-temperature cream cheese. Just take it out of the fridge right before baking the bars and it should be softened and warmed up by the time you mix the frosting, depending on your kitchen temperature.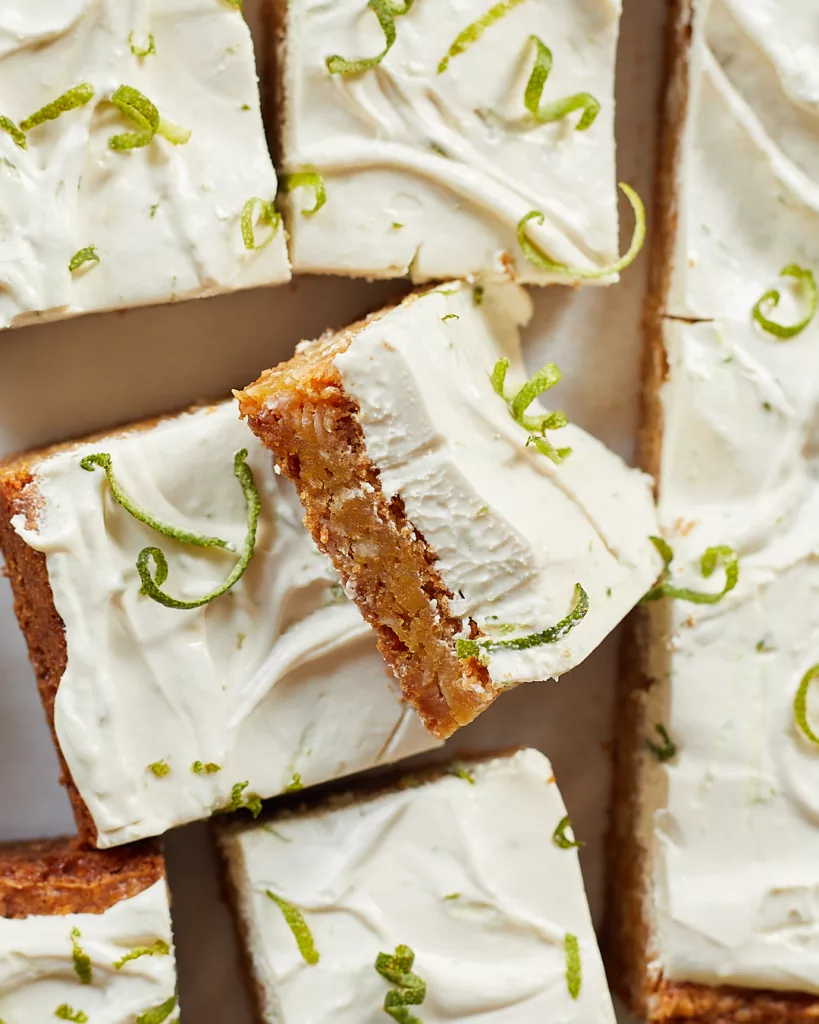 Did you make this recipe? I want to see! Tag me @easygayoven on Instagram and TikTok!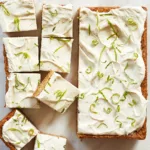 Lime-Frosted Coconut Bars
Print Recipe
My better-than-Starbucks recipe for lime-frosted coconut bars have a chewy cookie base and swirls of lime-scented cream cheese frosting.
Cookie base
12

tablespoons

unsalted butter

gently melted (169 grams)

1/2

cup

sugar

(105 grams)

1

cup

light brown sugar, lightly packed

(210 grams)

2

eggs

1

tablespoon

vanilla extract

1/4

teaspoon

baking soda

1

teaspoon

baking powder

1

teaspoon

kosher salt

1 1/4

cups

all-purpose flour

(163 grams)

1

cup

sweetened coconut shreds
Lime cream cheese frosting
4

ounces

cream cheese

at room temperature

2

cups

powdered sugar

(224 grams)

The zest of 2 limes

1

tablespoon

lime juice

Pinch

kosher salt

1

teaspoon

vanilla extract
Preheat oven to 350° F.

Grease a 9×9-inch baking tin and line with parchment paper, leaving some overhang so you can lift the bars out.

In a medium mixing bowl, whisk together the melted butter, sugar and brown sugar.

Mix in one egg until fully combined, then mix in the second egg, vanilla, baking powder, baking soda and salt.

Fold in the coconut and flour.

Spread the dough evenly in the tin and bake for about 28 minutes.

Let the bars cool in their tin for 5 minutes, then remove from the tin and allow to cool completely on the wire rack.

Using a hand mixer or stand mixer on medium-low speed, beat together the cream cheese, lime juice, lime zest, vanilla and salt until smooth and creamy. Do not over-mix.

Spread the cream cheese frosting over the cooled bars, then top with more lime zest, if desired.

You can eat the bars right away but they are better if you let them chill and set in the refrigerator for an hour or more.