While I was recipe developing caramel apples for Netflix Family, I ended up making several different types of caramel in the process: the kind that shatters into shards, the kind that sets up so you can cut into chews, and of course caramel soup — which isn't good for coating apples, but it is good for drowning vanilla ice cream. And I've kept tinkering with the latter recipe to create this salted caramel sauce that, once you get past some notorious caramel pitfalls, is simple to make at home and is 10-times better than store-bought.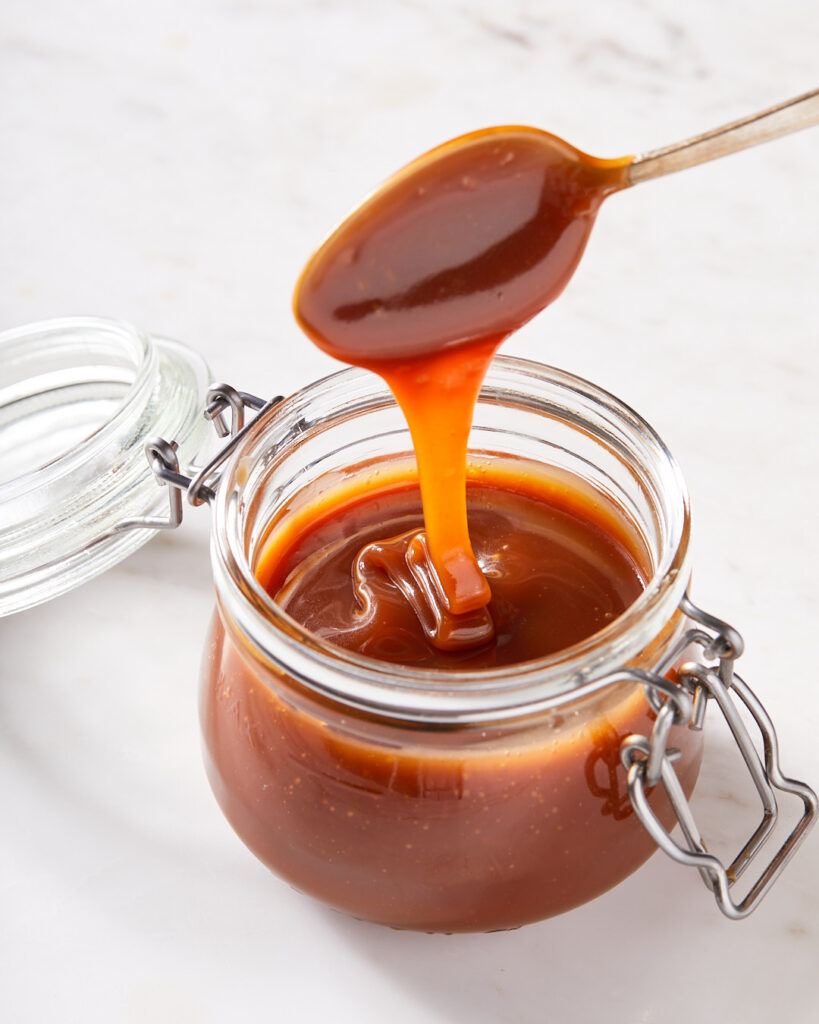 Here are 3 tips for making salted caramel sauce
1. Keep your eye on the caramel. After the water and sugar begin to bubble, don't look away from the sauce pan for too long. Caramel can burn pretty quickly which is why you want to make sure you notice the deep amber color and any wisps of smoke before adding the butter and heavy cream in.
2. Have all your ingredients ready. Once the caramel reaches the right temperature, you want to add the heavy cream and the butter immediately to slow the cooking process and prevent the caramel from burning. This also will help produce the right texture and thickness of the sauce.
3. Use a thermometer. An instant-read or candy thermometer will help you make sure the caramel reaches the optimal temperature for a deeply-flavored, thick-yet-pourable sauce. If you don't have one, it's not the end of the world. You can also use the visual cues I've included in the recipe.
Ingredients
Makes 1 1/2 cups
¼ cup water (60 milliliters)
1¼ cup sugar (255 grams)
¾ cup heavy cream (177 milliliters)
¼ cup unsalted butter (56 grams)
1 teaspoon vanilla extract
¾ teaspoon kosher salt
Directions
In a heavy-bottom saucepan, combine the sugar and water.
Cook over medium-low heat until the mixture begins to bubble, swirling the pan occasionally.
If you see sugar crystals develop on the sides of the pan, use a brush dipped in water to gently dissolve them.
Continue cooking until a candy or instant-read thermometer inserted in the middle of the syrup reaches 370° F, or until it develops a deep amber color and you begin to see wisps of smoke.
Immediately add in the heavy cream and butter. Go quickly because the caramel can burn quickly at this point.
Whisk the mixture vigorously, as it will begin to bubble up and can pour over the sides.
Remove from heat and stir in the vanilla and salt until smooth.
Let cool slightly and serve.
Store in a glass jar or other air-tight container and refrigerate. To reheat, microwave for about 1 minute or until pourable.
Did you make these salted caramel sauce? Tag me on Instagram and TikTok @easygayoven! I would love to see your creation!