I really don't like to give up on recipes. In fact, I can't remember the last time I said, You know what, this isn't working. Let's move on. I should probably develop that skill as it would save me a lot of time and grief. But the feeling when, after a few rounds of failed batches, you finally get it right and the thing resembles the gauzy ideal you had formulated in your head — makes it kinda worth it. That's what happened with these watermelon-strawberry jello bars.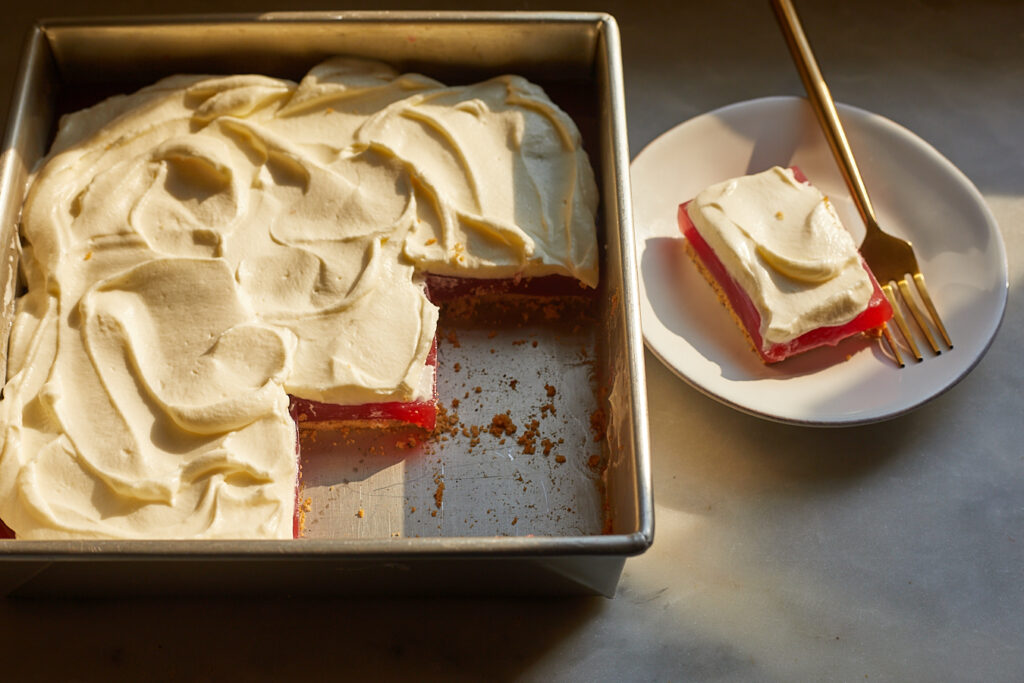 It just wasn't working. I kept winding up with a soggy bottom, which, duh, is going to happen when you're pouring liquid straight onto a cookie crust, but I decided to give it one last try and, thankfully, it was perfect.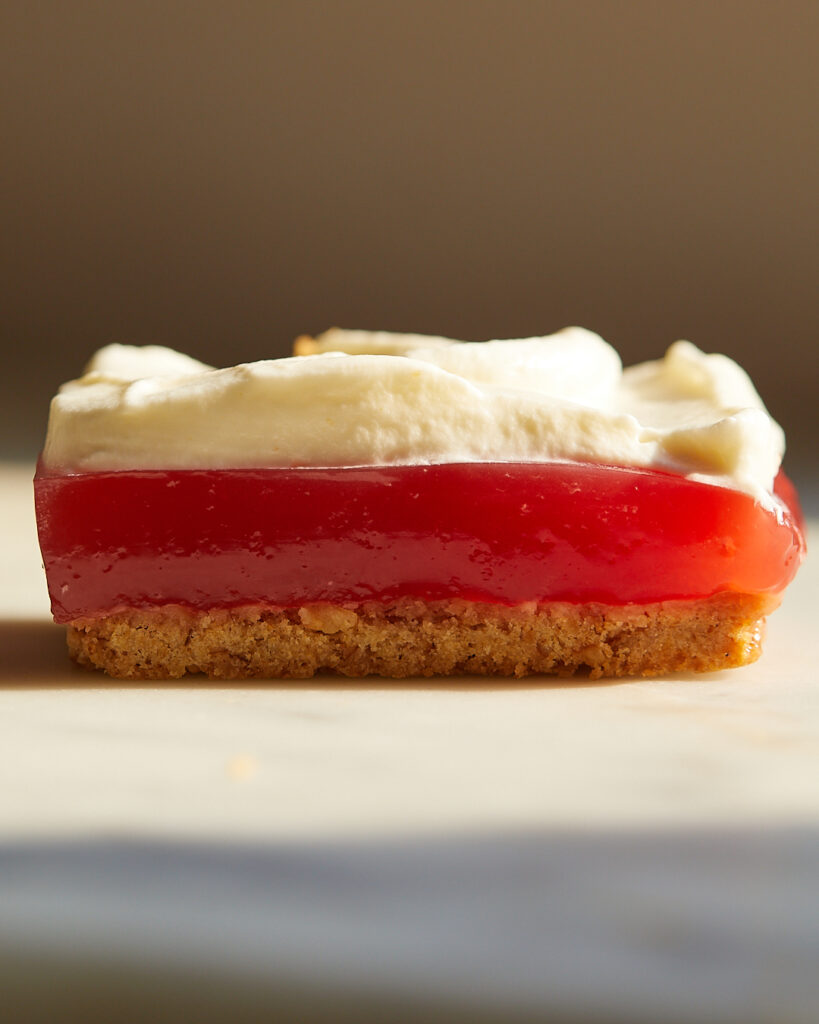 How to make watermelon-strawberry jello bars
So let me tell you more about the recipe. Have you ever had strawberry jello pretzel salad? These bars are like that but a little bit more portable and made with watermelon (and also strawberry but I promise the interior really tastes like fresh watermelon). It also has a salty pretzel shortbread crust and creme fraiche whipped cream which is just the right amount of tangy and sweet. Then we have the watermelon-strawberry gelatin, which uses fresh fruit and powdered gelatin. Watermelon doesn't have a strong flavor, so I'm amping it up with some strawberries we're cooking down and straining. (I like to put the discarded strawberries on salad or ice cream!) And I promise you can taste both when it's all said and done.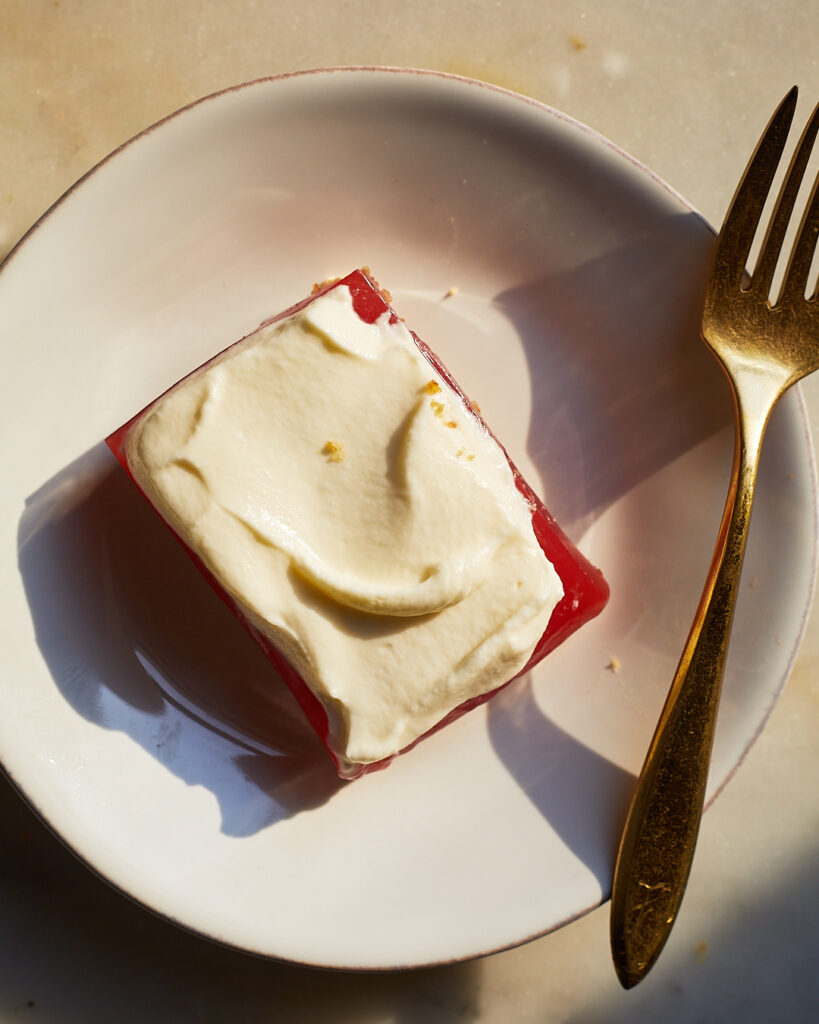 I tried baking the base with foil and parchment lining the tin because I thought it would be easier to lift out the bars and cut them, but those both made it easier for the liquid to seep into the crevices and soften up the crust. Serving them straight out of the tin is easy, though!
Then on top is crème fraîche whipped cream, which comes together very quickly. I like to let that set for about an hour before cuttin in for cleaner slices, but you don't have to. And if you don't like crème fraîche, just replace it with the same amount of heavy whipping cream.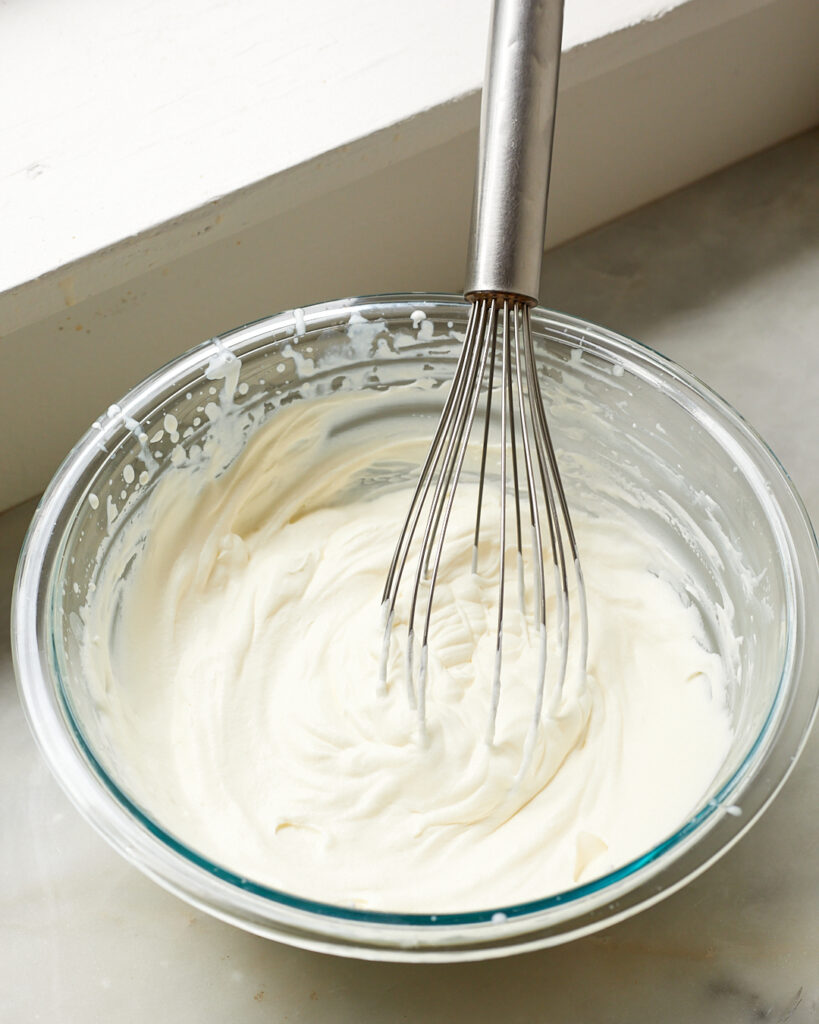 Breaking up this recipe into parts
You could break this work up into a couple parts. The jello needs to cool after you heat it up, which takes about an hour. Then, after you pour it over the crust, it takes about two or three hours to set up. You could make the crust, then wait to make the jello and the topping until the next day. Or you could make the crust, make the jello, allow that to cool, pour the jello on the crust, and wait overnight before topping it with the whipped cream and serving. I wouldn't wait more than 24 hours between the time you pour the jello in and serving as after that, the crust gets a bit soft. They are still totally edible as evidenced by my continuing to eat what's left in my fridge.
Want more recipes like this one?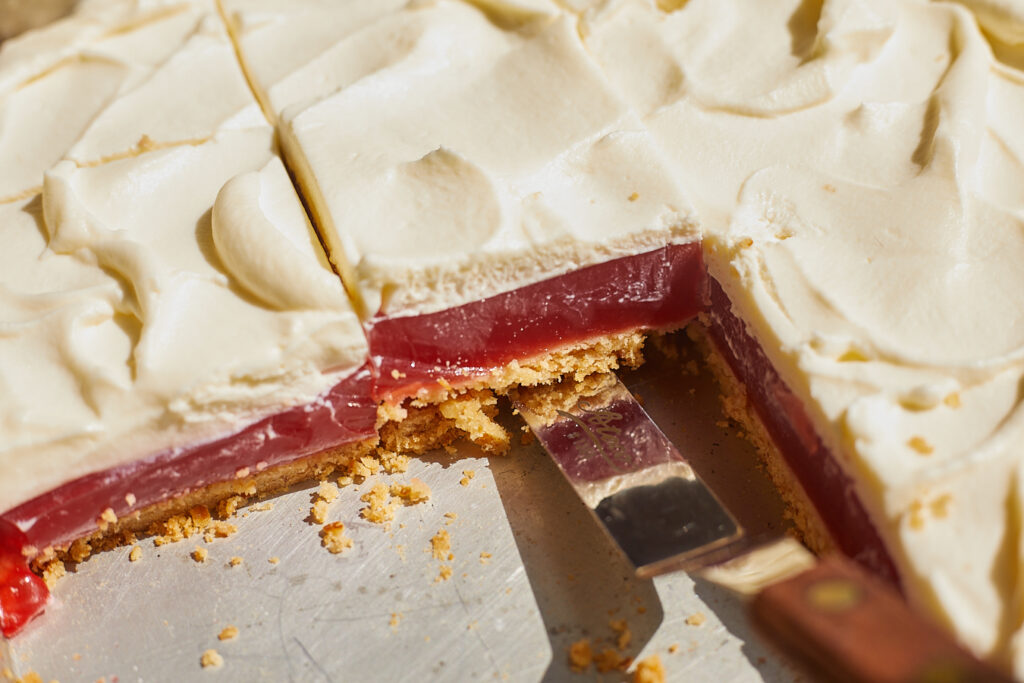 Did you make these watermelon-strawberry jello bars? I want to see! Tag me @easygayoven on Instagram and TikTok.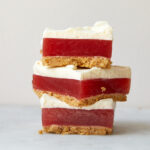 Watermelon-Strawberry Jello Bars
Print Recipe
A layer of watermelon-strawberry jello is sandwiched between a pretzel shortbread and crème fraîche whipped cream topping.
Watermelon-Strawberry Jello
28

ounces

watermelon

cut into one to two-inch chunks

1/4

cup

lime juice

2 ounces

16

ounces

fresh strawberries

stems removed and quartered

3/4

cup

granulated sugar

165 grams

Salt

2

tablespoons

plus 2 teaspoons Knox powdered gelatin

24 grams, about 3 1/2 half packets
Crème Fraîche Whipped Cream
Grease a 9×9-inch baking tin with butter or baking spray and preheat the oven to 350°F.

Make the crust. In a stand mixer fitted with the paddle attachment or with a hand mixer in a medium mixing bowl, beat the butter and sugar on medium-high speed until fluffy and lightened in color. Mix in the vanilla.

Add the flour, pretzel crumbs and salt, and mix on low just until the last streaks of flour disappear.

Spread the dough in one even layer in the prepared tin. You want to make sure the crust is pressed all the way up against the sides of the tin so no jello can seep through. Chill in the freezer just until the dough firms up.

Bake for 10-12 minutes or until the edges are very golden brown and the top looks completely dry. Remove from the oven and immediately brush all over with some of the egg white. Transfer to a wire rack to cool completely.

Combine the strawberries, sugar, a pinch of salt, and two tablespoons of water to a medium saucepan. Cook the mixture on medium-low for about 3 minutes, stirring occasionally, until the strawberries have released their juices.

Press the strawberries against the side of the pan with a wooden spoon, gently squeezing out more juice without breaking them up. Continue cooking until the strawberries have lost some color, and are very soft but still whole. Strain the mixture into a large bowl, folding the strawberries a few times to release all the juice, and save the strawberries for another use. You should be left with about 13 ounces of strawberry juice after straining (about 1 2/3 cup).

Puree the watermelon, lime juice and a pinch of salt in a food processor or blender. Strain into the large bowl with the strawberry juice and discard any pulp. There should be about 18.5 ounces watermelon juice after straining (about 2 1/3 cup).

Reserve 3/4 cup of the juices and pour into a very shallow dish. Sprinkle the gelatin over the liquid as evenly as possible, and allow to bloom for 5 minutes. Return the juice to the saucepan and heat over medium-low until very hot. Turn off the heat and vigorously whisk the bloomed gelatin into the hot juice, ensuring there are no lumps.

Allow the mixture to cool to about room temperature. (Pouring it into a shallow dish or a rimmed half sheet tray, or even sticking it in the fridge and stirring once in a while, helps speed this along). Don't allow it to sit cooled off too long or it will begin to set.

Pour the liquid into the tin with the baked crust and transfer to the refrigerator to set, about 2-3 hours.

When the jello has set, make the topping. In a medium mixing bowl, whisk together the crème fraîche, heavy cream, powdered sugar, and a pinch of salt, whipping to stiff peaks. You can also use a hand mixer for this.

Spread the whipped cream topping on the jello. You can serve them right away or for up to 24 hours.