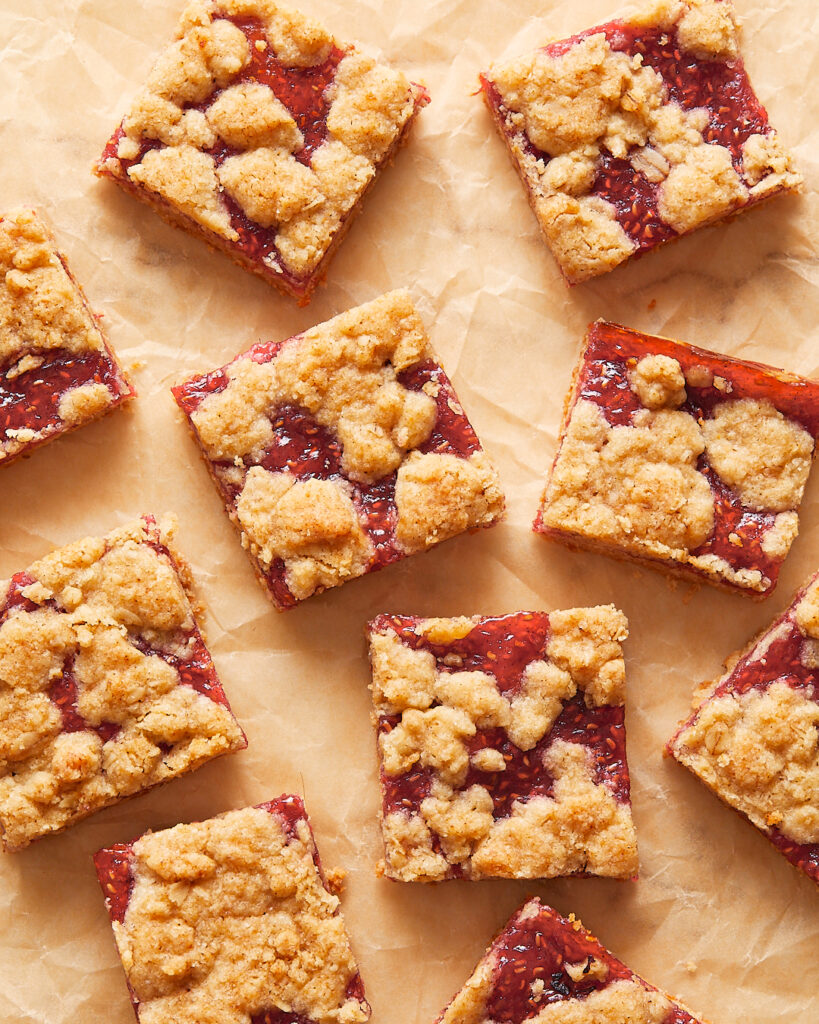 These oat raspberry bars are the last, last-minute dessert you'll ever need. They come together in less than two hours, there's no waiting for butter to soften, and the base and the topping are actually the same dough. Plus, if you really don't want to go through the trouble of making raspberry filling, you could totally just use your favorite preserves from the store.
Oats come in two forms in these bars: blitzed up and whole, so you get more flavor and more texture. The raspberry filling has a citrus hit from orange zest and juice. It's the perfect match, and the perfect offering for breakfast, bake sale, park picnic, or whatever event you're going to as spring gets warmer.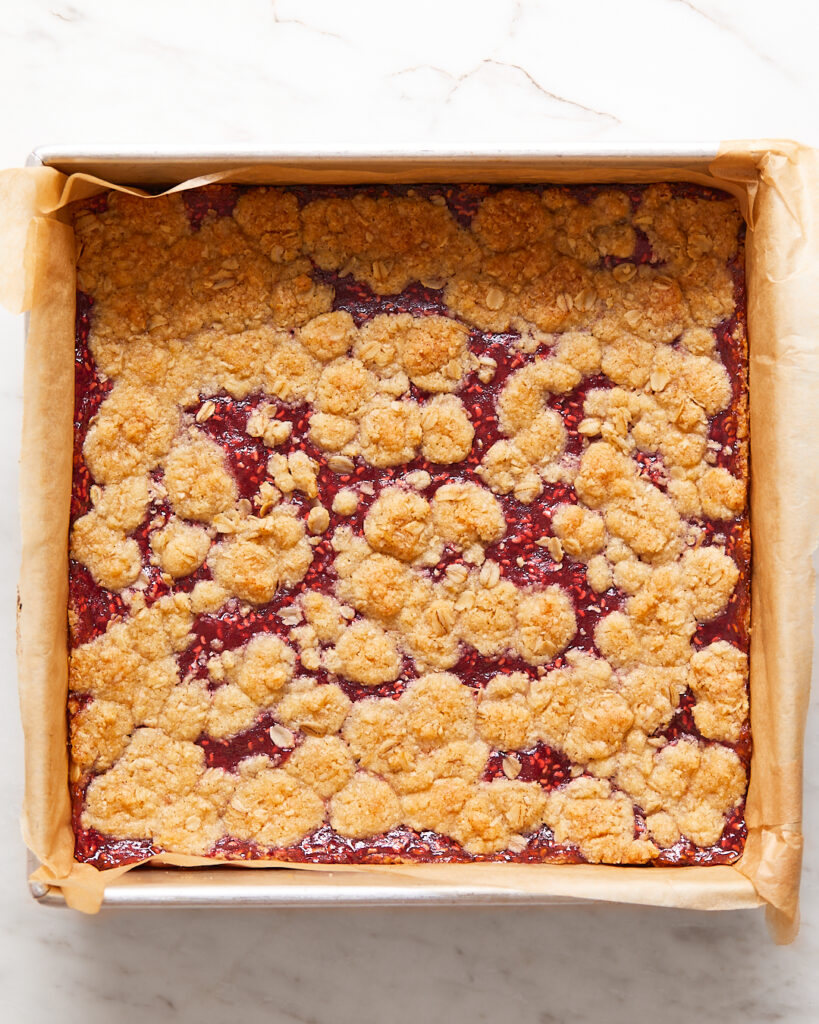 Here are 4 tips for making oat raspberry bars
Why cold butter? Room temperature butter won't give you the "crumble" you're looking for on top.
What if I don't have a food processor? Using a food processor is best to make these bars, but if you don't have one, you could finely chop half the oats, or use a coarse oat flour. A pastry cutter would work well to mix the butter into the dry ingredients, or you could use a hand mixer or a stand mixer with a whisk attachment.
Can I use jam for the filling? Again, if you don't want to make the filling, you could use whatever preserves you like. I have never tested this recipe with anything but my filling, but as long as the preserves aren't too thick, and spread easily, I don't see why it wouldn't work.
How do I line the tins? Lining the tin with parchment on all sides will ensure that your filling doesn't burn on the edges of the bars, and that you can easily lift them out when you go to cut them. I greased the whole tin with butter and then pressed one sheet of parchment into it, folding it at the edges so that it laid flat on the bottoms and sides. That might be difficult if you've never done it before, so you could also try using two sheets of parchment that are the width of the pan and laying them going from top to bottom and side to side. Make sure there's enough overhang to lift them out after they bake.
Can I make these oat raspberry bars ahead?
Yes, you can prepare them as normal, then wrap the tin well in plastic wrap and aluminum foil before placing them in the freezer or refrigerator. Make sure to add a minute or two onto the baking time if chilled in the refrigerator and about 5 minutes more if baking from frozen. (And don't stick a ceramic or glass container in a hot oven right out of the freezer.) Look for the signs of doneness to be sure: a bubbling filling on the edges and lightly golden brown tops on the crumble.
Did you make these oat raspberry bars? Tag me on Instagram and TikTok @easygayoven! I would love to see what you make.
Oat Raspberry Bars
Print Recipe
These oat raspberry bars are ready in less than two hours, the base and the topping are the same dough, and store-bought preserves are fine!
Raspberry filling
12

ounces

fresh raspberries

((2 packages)

juice and zest from one medium orange

1/2

cup

sugar

(110 grams)

pinch

kosher salt

1

teaspoon

corn starch

The seeds from half a vanilla bean

or 1 teaspoon of vanilla extract
Make the raspberry filling. Add to a saucepan the raspberries, orange zest, orange juice, sugar, and salt, and stir to combine. Transfer the pan to a burner set to medium-low heat and mash the berries with a fork, trying to break down any clumps.

Once the berries have completely broken down and the mixture begins to thicken, use a sieve to sift in the corn starch and quickly whisk it in. Once the mixture thickens and begins to bubble very slowly, whisk in the vanilla bean seeds or extract and remove from heat. You want the filling to look spreadable but not runny, and keep in mind it will thicken up slightly as it cools.

Preheat oven to 350°F. Grease a 9-inch square tin and line with parchment paper.

Make the crumble base and topping. In a food processor, blitz half of the oats into fine pieces.

Add in the flour, sugar, salt, and baking powder and pulse until combined.

Add in the butter pieces and process on low until the mixture starts to clump together like dough.

Add in the remaining oats. I found that it was easier to transfer the dough to a mixing bowl and toss it with my hands to incorporate the whole oats. This also helps you get the right shape and size for the topping.

Dump half of the dough into the lined tin and us your hands to press it evenly across the bottom. If there are gaps, fill them with more dough. To get a flat surface, use a measuring cup to tamp down the dough.

Spread the cooled raspberry filling evenly across the base using the back of a spoon or an offset spatula.

Crumble the remaining dough over the filling.

Bake on the middle rack of the oven for about 40 min or until topping is golden brown.