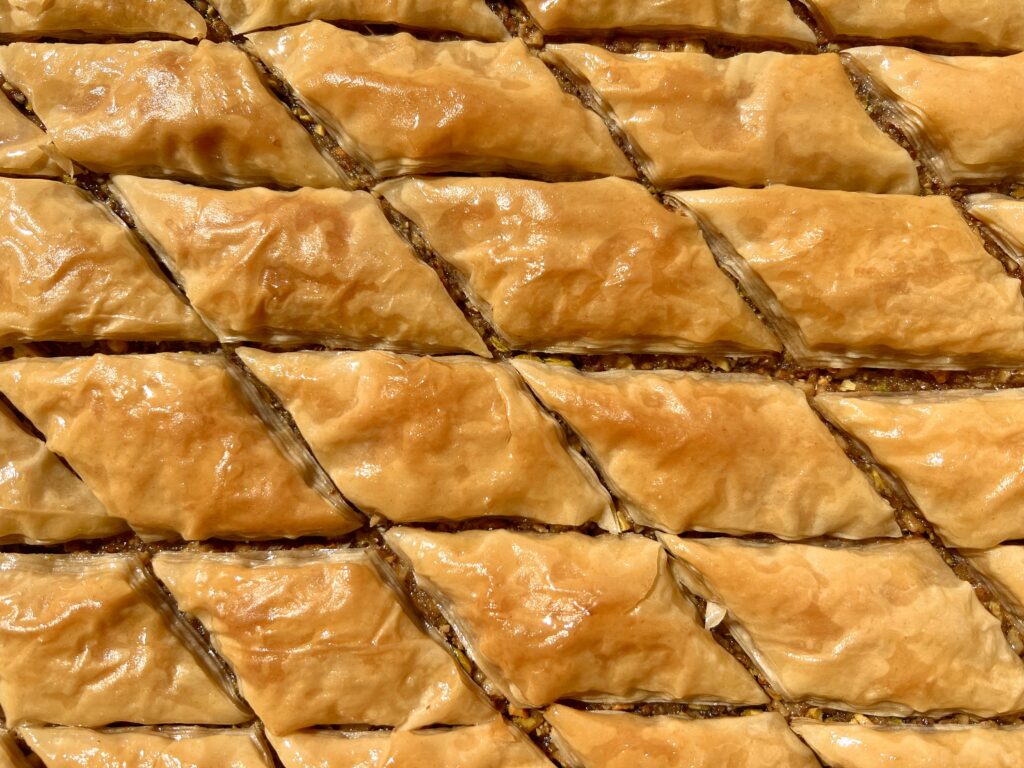 I thought I would pull out another family recipe: this walnut-pistachio baklava. My mom has made it for my whole life (and most of her life!), and it's one of a handful of culinary heirlooms that has been written down and passed on to me. My mother's father's family is from Lebanon, where baklava (or baklawa) is a traditional pastry made of paper thin sheets of phyllo layered with sugary, spiced nuts and absolutely drowned in syrup or honey.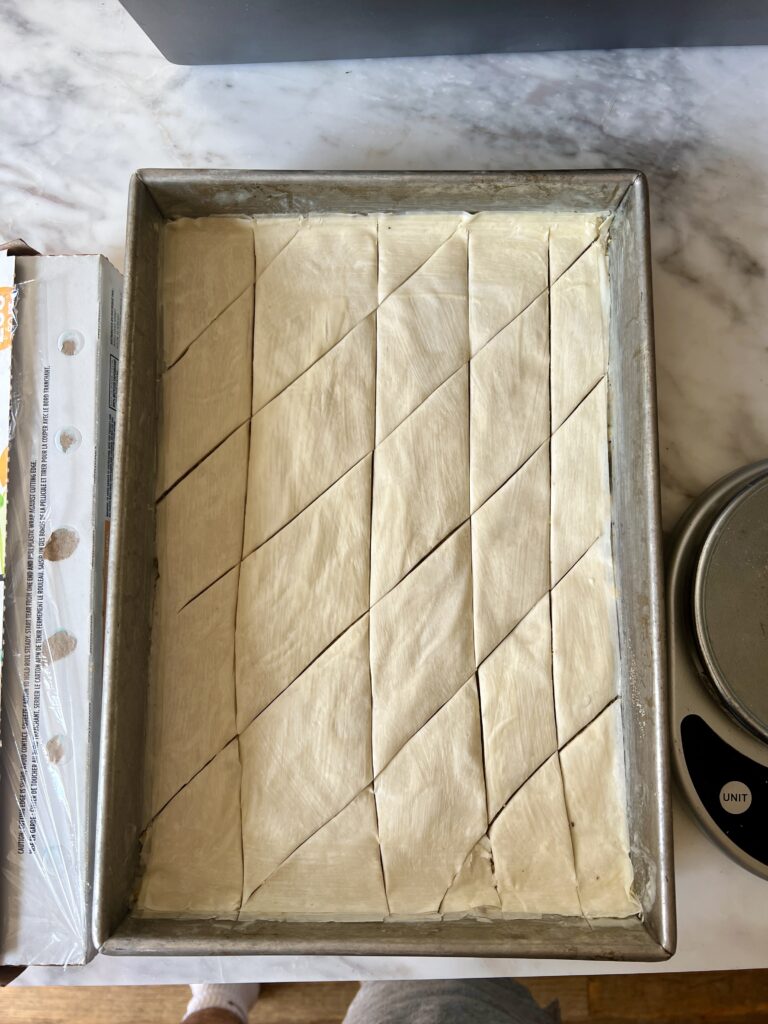 It might not be the first time you've seen it, since we made it on my episode of The Secret Sauce with Dan Pelosi. I wanted to make it easier for you to get the recipe somewhere that wasn't just the caption of the Youtube video.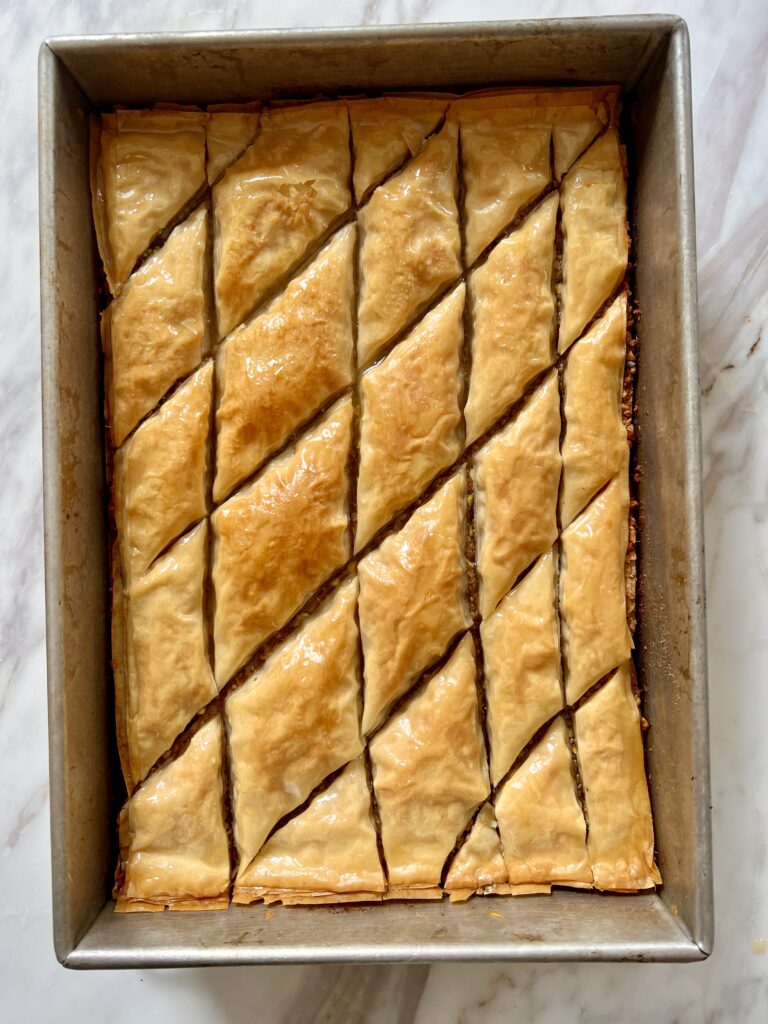 When she was a teen, she wanted to surprise them with a homemade batch, so she tracked down a recipe and baked it — to raves! Her father received one every year on his birthday, as well as her aunt every Christmas. Nearly 50 years since she found the original in a magazine, this recipe has been changed, embellished, and rarely written down. And I almost feel guilty to say even I have made some minor tweaks — but isn't that how all family recipes work?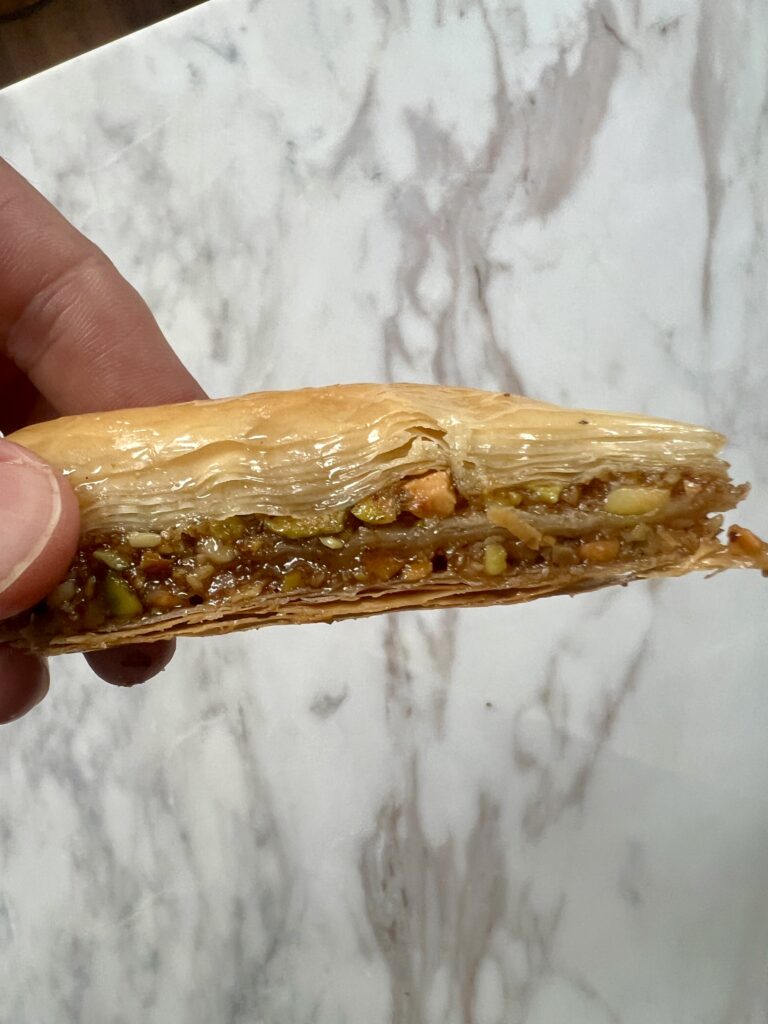 It's made all over that part of the world, and every culture and even family does it a little different, so don't take this as a declarative, final baklava recipe to end all other recipes. If you do it differently, I would love to know! — but please don't yell at me 🙂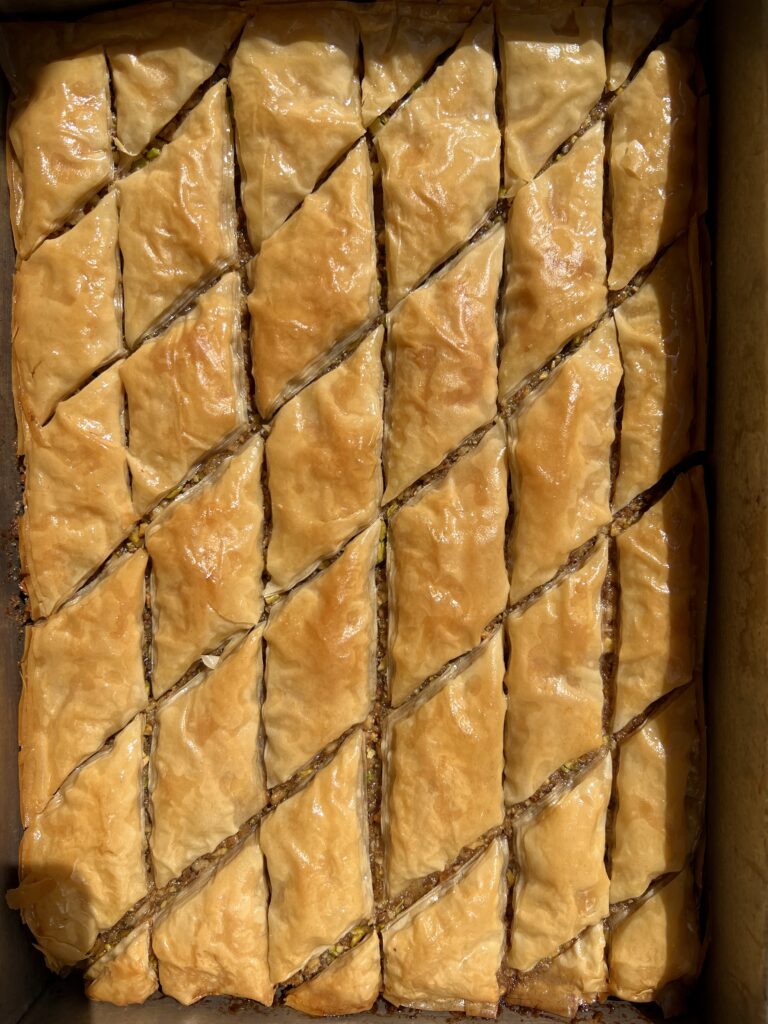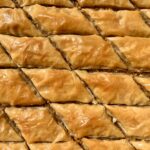 Walnut-Pistachio Baklava
Print Recipe
Sweet and spiced walnuts and pistachios stud the flakey layers of this easy baklava recipe — made using honey.
1

box frozen phyllo dough sheets

1

cup

salted butter

226 grams

3/4

cup

granulated sugar

165 grams

5

ounces

unsalted, raw walnuts

5

ounces

shelled pistachios

1 1/2

teaspoons

ground cinnamon

1/4

teaspoon

ground cardamom

Diamond Crystal kosher salt

1

cup

honey

340 grams
The night before you make the baklava, or about 6-8 hours before, thaw the frozen phyllo in the refrigerator. Remove from the refrigerator and let rest at room temperature for at least 1 hour before starting. Depending on the size of the phyllo sheets, you may have to cut them to fit into a 9×13-inch tin.

Preheat oven to 350°F.

Pulse walnuts and pistachios in a food processor until coarsely ground. Add sugar, cinnamon, cardamom and a pinch of salt to the ground nuts and pulse until just combined.

Melt butter in the microwave in a glass 2-quart measuring cup, or on the stove in a small saucepan over low heat.

Brush the bottom and sides of the tin with melted butter.

Carefully unroll phyllo sheets. Lay down one sheet in the tin so it totally covers the bottom. Gently brush the top of the sheet with butter. Repeat this step with five more sheets.

After the sixth layer, lay a clean dish towel over the unused phyllo to keep it from drying out. Evenly spread half of the nut mixture over the top.

Add six more phyllo sheets on top of the nut mixture, brushing each with melted butter.

Spread remaining nut mixture over top.

Add the final six sheets of phyllo, layering each with melted butter. Set aside remaining butter for later.

Using a sharp knife, score the phyllo in diamond shapes, trying to cut only halfway through the thickness of the baklava. Begin in one corner and cut across on a diagonal to the middle of the long side of the pan. Continue with parallel scoring on either side of the first cut, about 2-inches in thickness each. Now score the baklava vertically with three equal cuts. You may have to gently hold the phyllo in place as you do this.

Bake on the middle oven rack for 32 to 34 minutes. It is done once it's golden brown on top

Pour the honey into the same container as the leftover butter. Heat in the microwave or over the stove for one minute. You want the honey to be thin but not boiling.

Give the honey a stir and pour it, evenly, over the baklava right out of the oven. Let the baklava cool at room temperature for at least 4 hours.
You won't hurt anything by adding more layers if you have a few additional sheets you want to use up. Try to save the best, unbroken phyllo sheets for the top layer.