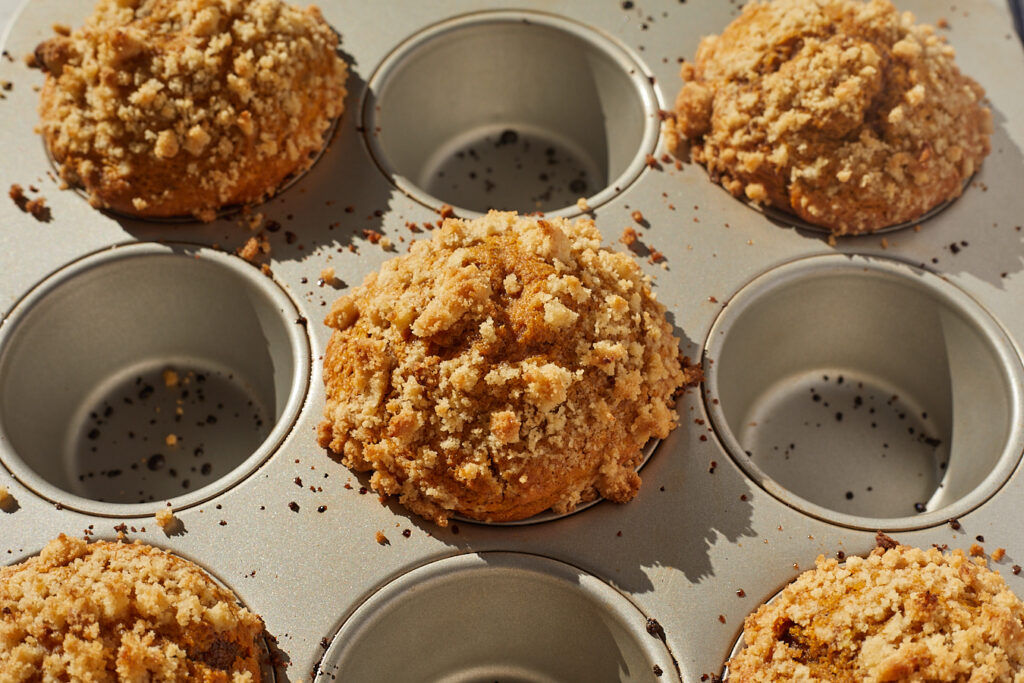 The second the weather dips below 70 degrees, I need some kind of pumpkin bread. These pumpkin coffee cake muffins are not my pumpkin bread, but their recipes are related (cousins not sisters). Veins of brown sugar and espresso run through them and they're topped with a streusel — that you don't have to make separately! More on that later!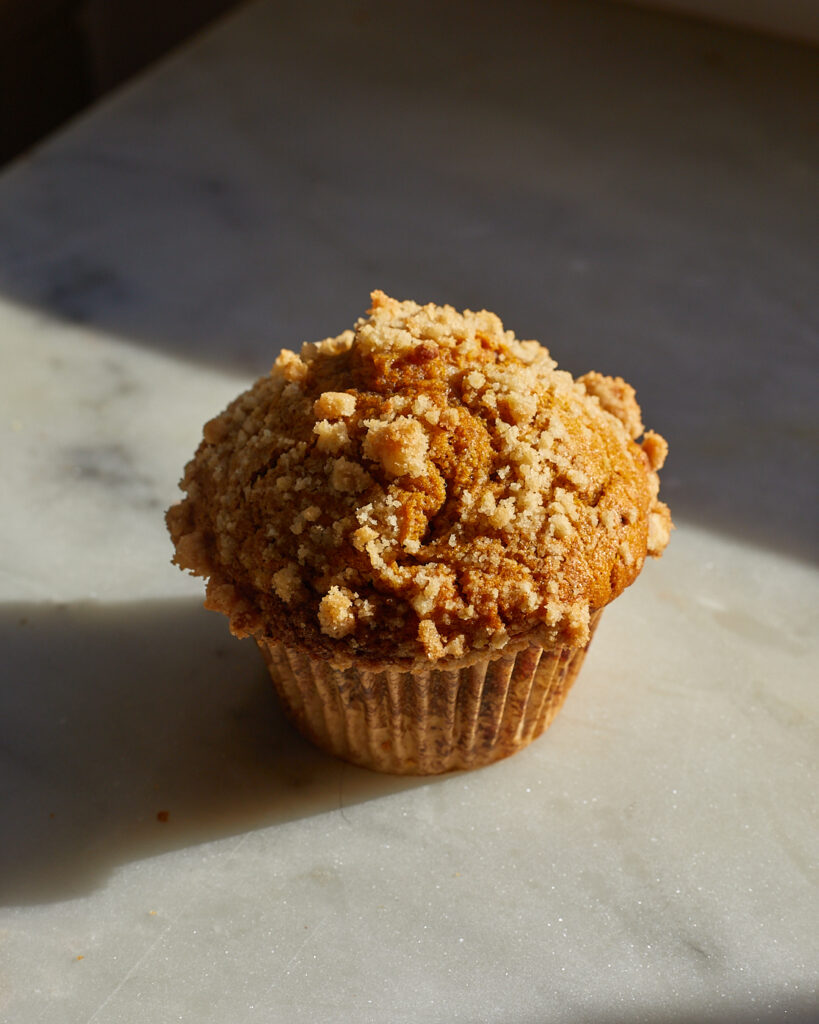 I have tried to make this recipe as user-friendly as possible. First off, a normal batch makes six muffins with half a can of pumpkin puree. (I like the kinds from Whole Foods and Trader Joe's. For this recipe and the pumpkin bread recipe, I found that I preferred them to Libby's for their color and higher moisture.) They rise sky-high out of the tin for a few reasons. 1) We fill the cups up a lot. 2) We add a hefty amount of leavener. 3) A high oven temp helps them spring up right when they hit the heat. 4) Spacing them out in the tin helps the hot air circulate better. And you can easily double the recipe to make a dozen — and use the whole pumpkin can!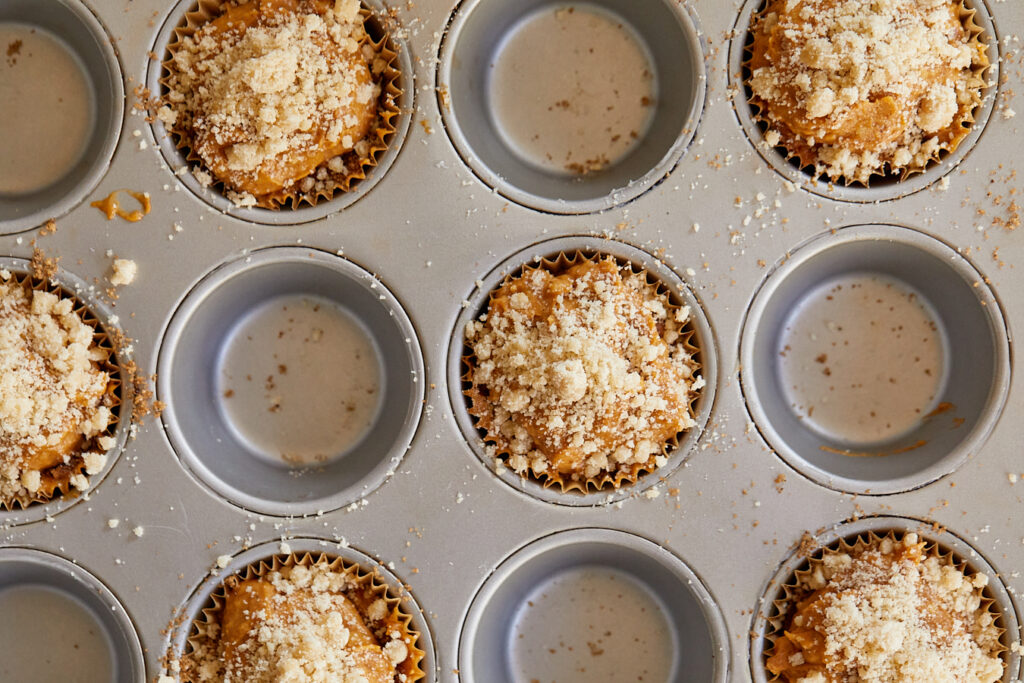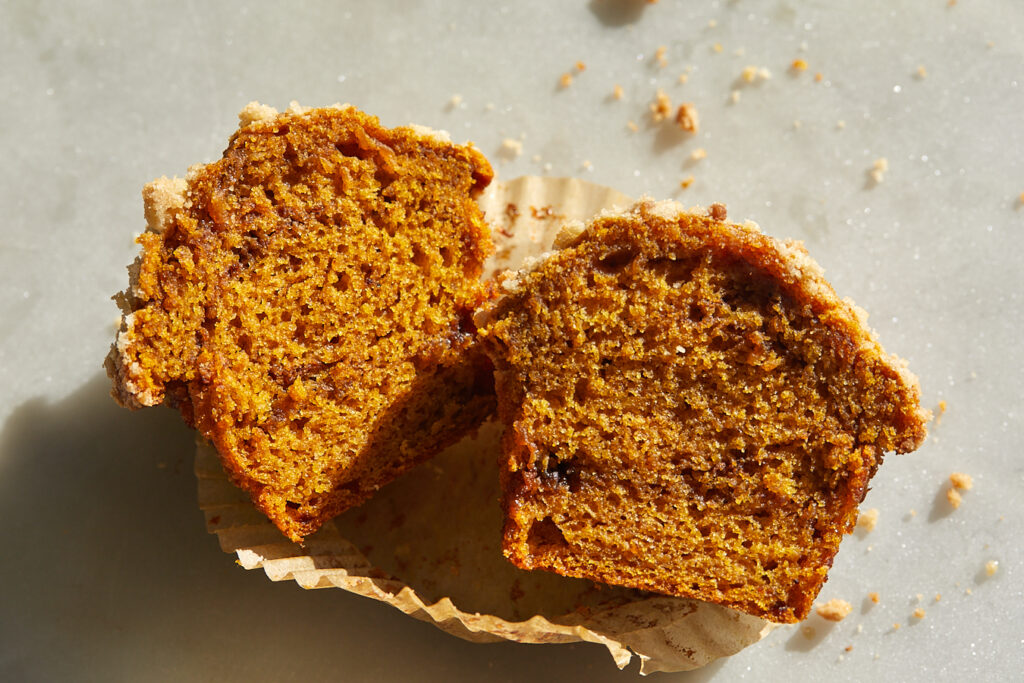 Plus! Don't let the filling and streusel fool you, baby! We make the streusel right at the start of the recipe. Just mix the sugar, flour and butter together, reserve about 1/4-cup, and then use the rest as the base for the muffin. I learned this little trick from Deb Perelman of Smitten Kitchen. Not only that, the filling is so simple: espresso powder, brown sugar and salt, mixed together in a bowl.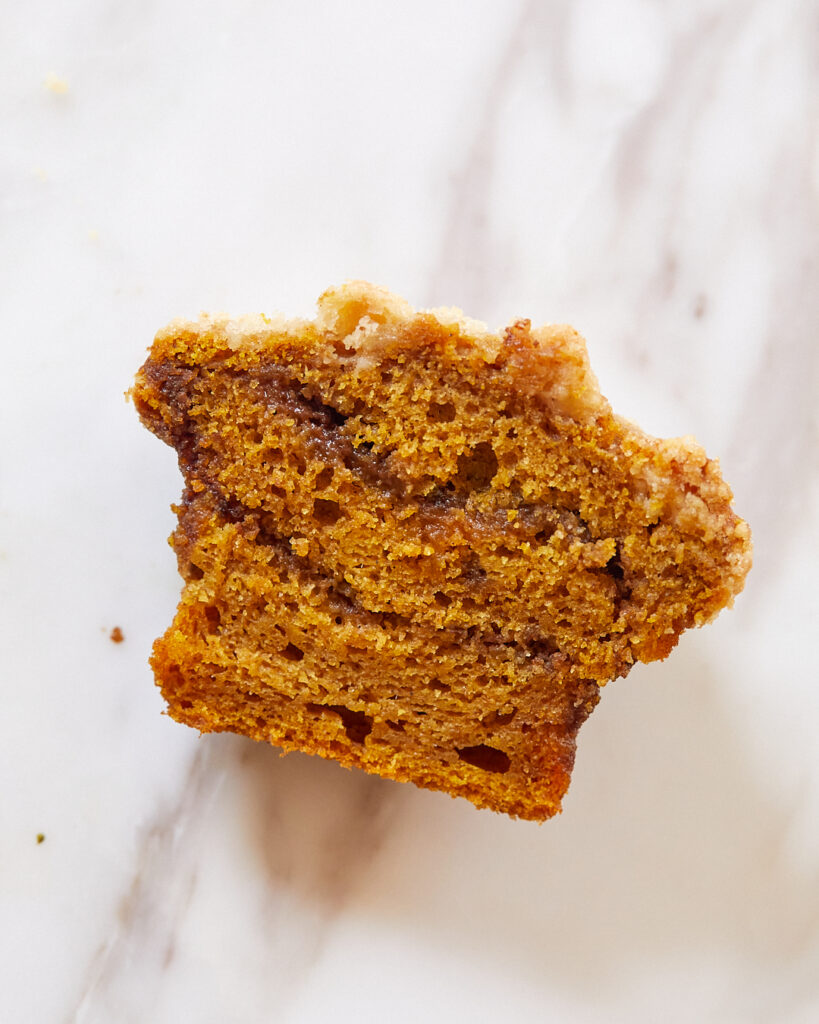 Did you make this recipe? I want to see! Tag me on Instagram and TikTok @easygayoven.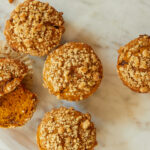 Pumpkin Coffee Cake Muffins
Print Recipe
An easy streusel topping and espresso cinnamon brown sugar filling take these pumpkin coffee cake muffins to another level.
Muffins
6

tablespoons

unsalted butter

gently melted (85 grams)

1/3

cup

granulated sugar

71 grams

1/3

cup

dark or light brown sugar

lightly packed (73 grams)

1 1/4

cup

all-purpose flour

162 grams

1/4

teaspoon

baking soda

1 1/4

teaspoon

baking powder

1/2

teaspoon

Diamond Crystal kosher salt

1

large egg

3/4

cup

organic pumpkin purée

7.5 ounces from a 15-ounce can

1/4

cup

whole milk or plant-based alternative

60 milliliters

1

tablespoon

vegetable oil

15 grams

1

teaspoon

vanilla extract

1 1/4

teaspoons

ground cinnamon

1/4

teaspoon

ground nutmeg

1/4

teaspoon

ground ginger

1/2

teaspoon

espresso powder
Espresso swirl
1/4

cup

dark brown sugar

55 grams

1

teaspoon

ground cinnamon

1

teaspoon

espresso powder

Pinch

salt
Preheat the oven to 400°F. Grease the top of a standard 12-cup muffin tin and line 6 of the cups, staggering them.

Whisk together the flour, salt, baking powder and baking soda.

Make the muffin batter. In a large mixing bowl, whisk together the butter and sugar.

Mix the dry ingredients into the butter and sugar until the mixture is crumbly. Reserve 1/4 cup of the crumbles for the topping.

Add the egg and mash it into the butter and sugar with a rubber spatula, trying to break up the crumbles a bit. Whisk in the pumpkin purée, milk, vegetable oil, vanilla extract, cinnamon, nutmeg, ginger and espresso powder. Mix until combined (it's okay if there are a few lumps).

For the filling, combine the dark brown sugar, espresso powder, cinnamon and salt.

For each muffin, fill the lined cup with a heaping tablespoon of batter, then cover that with the filling mixture, about 1 1/2 teaspoons. Repeat. Then, add a final heaping tablespoon of batter and sprinkle some reserved streusel on top.

Bake the muffins on the middle rack for 11 minutes, then turn the oven down to 350°F, rotate the tin, and bake for about 12 more minutes or until the muffin edges are golden brown, and the tops spring back when lightly pressed in the middle.

Allow the muffins to cool completely in their tin.