Like many "quick-breads," there's a fine line between cornbread … and cake — unless, of course, you're in the camp that believes sugar has no place anywhere near the classic barbecue side. I have always been staunchly pro-sugar in cornbread thank you very much, and I think it should always be moist-crumbly, not dry-crumbly. I have had an idea gathering dust for months in my Notes app under "To Develop": cornbread snacking cake with honey cream cheese frosting. Then, a few weeks ago, a friend asked me to make a "corn cake" for her partner's birthday. When I inquired for more information, she wrote, "like a cake with corn as the main star….like a corn bread but cake."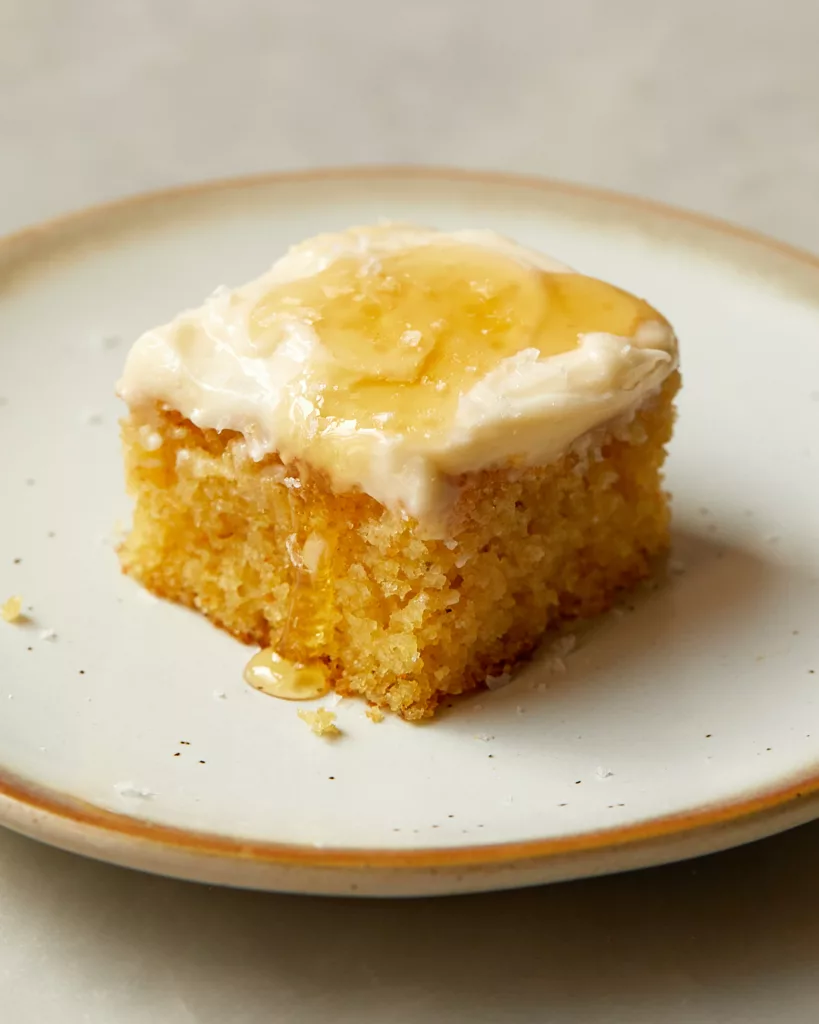 What is "Cornbread Cake"?
I have a lot of weird baking ideas that I'm not always sure people will connect with, but when this friend came to me with an idea I had already been toying with, I thought it must signify a broader market for this kind of dessert. And let's be clear, it is dessert. This is not the kind of cornbread I would make for a side. But it's not just a cake featuring some cornmeal (which, if that's your jam, you should check out my Lemon Ricotta Snacking Cake with Olive Oil).
My first job was bussing tables at a small chain of restaurants in Ohio called City Barbecue. They served the best cornbread. It was baked in individual-serving rectangles with massive, domed tops, golden yellow insides, deep amber crust on the outside. Unbelievably moist. I wish there were a location near me now. Anyway, that was my goalpost, my rubric, during the development process. I wanted that texture and flavor, but also for it to lean slightly sweeter and cake-y. But also, not too sweet because I know we're putting cream cheese frosting and honey on top.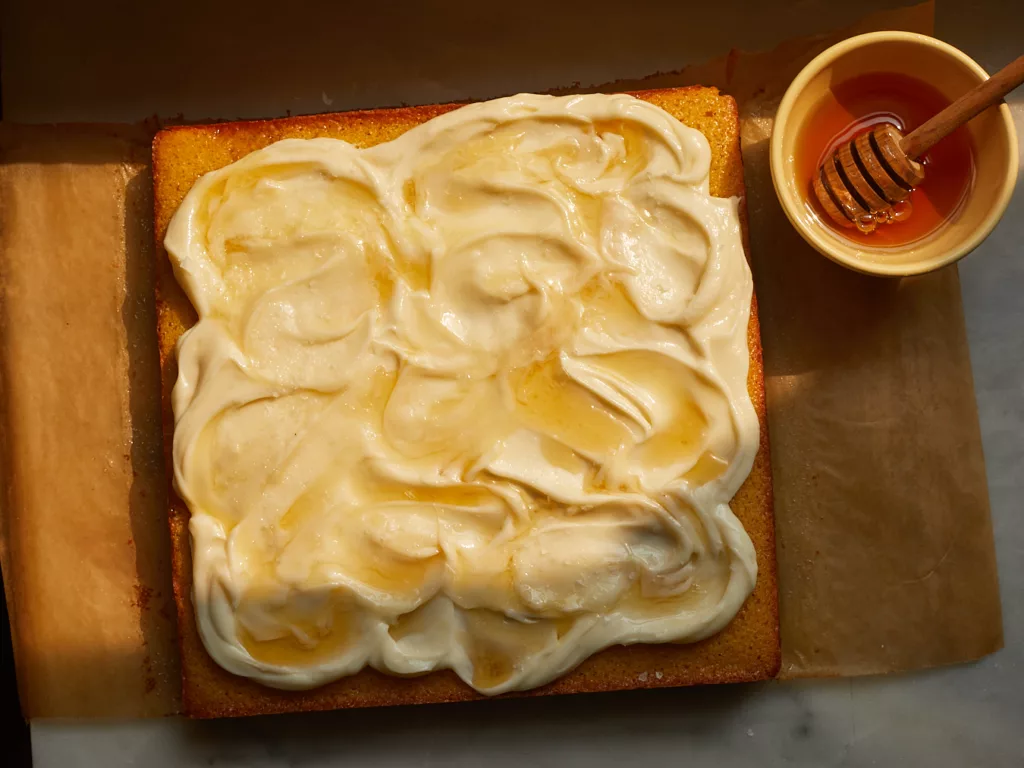 Having said that, the cream cheese frosting is simply cream cheese and a small (in perspective) amount of powdered sugar. It doesn't contain butter. And you can drizzle on as much or as little honey as you want. The sprinkle of flakey salt over everything really makes it, though.
Tips for Making Cornbread Snacking Cake
Here's a tip for making this cake: start with room temperature ingredients. Seriously. There's a significant amount of egg, fat, and liquid in this batter. That can make it prone to splitting, leading to a greasy final result. Flour is great at bringing together cake batters at the last second. It helps emulsify bits of butter and egg that may have split because of temperature differences. There's not as much flour in this recipe, so ensure you have a strong emulsion with the butter and eggs before adding in more ingredients. Ice-cold eggs or buttermilk can freeze up the butter in the mixture. That's why it's better to just start by placing the ingredients out on the counter about an hour before starting.
Did you make this cornbread snacking cake? I want to see! Tag me @easygayoven on Instagram and TikTok!
Cornbread Snacking Cake with Honey-Cream Cheese Frosting
Print Recipe
Walking the fine line between cornbread and cake, this cornbread snacking cake is topped with swirls of honey and cream cheese frosting.
3/4

cup

yellow cornmeal

medium-ground (115 grams)

1

cup

all-purpose flour

(130 grams)

1 1/2

teaspoon

baking powder

1/2

teaspoon

baking soda

3/4

teaspoon

Diamond Crystal kosher salt

1/2

cup

granulated sugar

(110 grams)

8

tablespoons

unsalted butter

at room temperature

3

large eggs

at room temperature

2

tablespoons

honey

(42 grams) plus extra for drizzling on top

1

cup

buttermilk

at room temperature (242 grams)

1/4

cup

plus 3 tablespoons vegetable oil

(90 grams)

8

ounces

cream cheese

softened

1 1/2

cups

powdered sugar

(168 grams)

Pinch

Diamond Crystal kosher salt

Flakey sea salt

optional
Ensure all your ingredients have come to about room temperature.

Preheat the oven to 350°F and set a rack in the middle position. Grease a 9×9-inch baking tin (light-colored aluminum is best) and line with a sheet of parchment paper that just covers the bottom of the pan and hangs over the sides slightly. This will help you remove the cake from the tin.

In a small mixing bowl, whisk together the cornmeal, flour, baking powder, baking soda, and salt.

In the bowl of a stand mixer with the beater attachment, or with a medium bowl and a hand mixer, beat the butter and sugar on medium speed until light and fluffy, about 2 minutes.

Add one egg at a time, mixing in between each addition until incorporated, ensuring to scrape down the bowl a few times. Mix in the honey.

Dump in the dry ingredients and mix on medium-low speed until about 75% combined.

With the mixer on low speed, pour in the buttermilk in a steady stream, then do the same with the oil. Turn the mixer off once the batter is smooth and all ingredients are totally incorporated.

Bake on the middle rack for 25 minutes, or until the top is deep golden brown and springs back in the middle when pressed gently.

Allow the cake to cool in the tin for about 5 minutes, then loosen the sides from the tin with a knife and lift it onto a wire rack to cool completely.

Once the cake has cooled, prepare the frosting. In a medium mixing bowl, beat together the cream cheese, powdered sugar, and salt until creamy and spreadable.

Spread swoops of the frosting onto the cake. Drizzle with about two tablespoons honey, smearing the honey into the frosting, if desired. Top with a sprinkle of flakey sea salt.