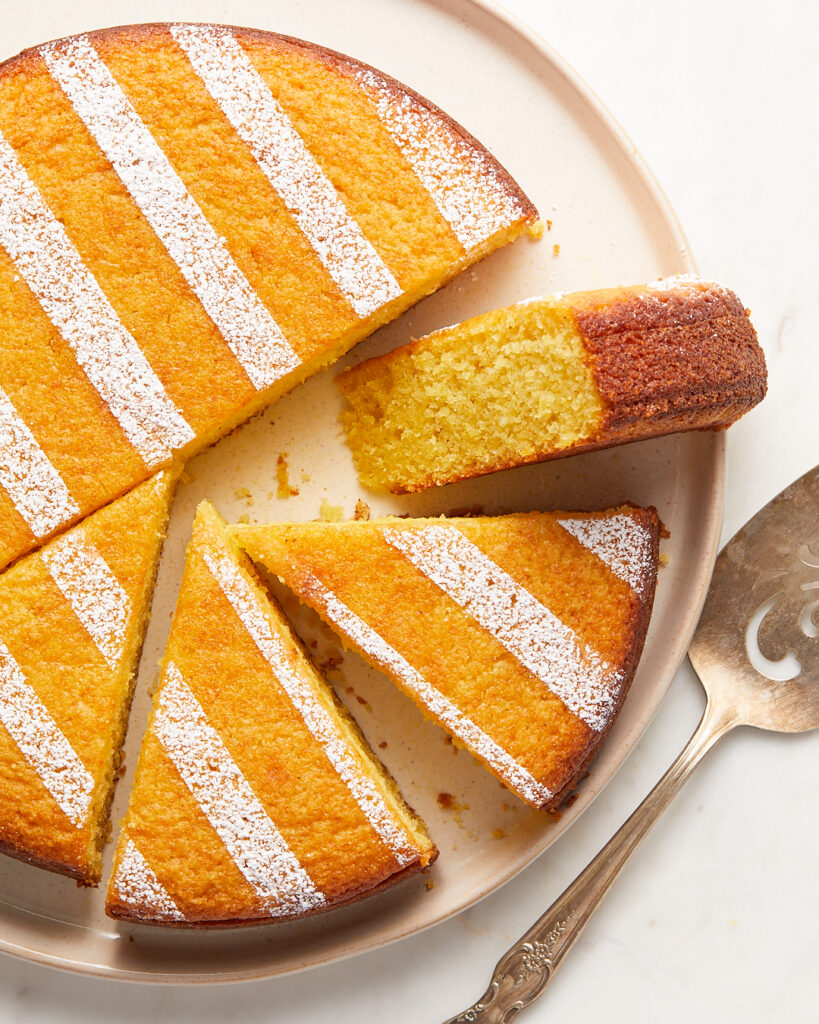 What is a snacking cake? To me, it's any cake, usually just one layer, usually smaller than a 9×13″ pan, that's easy to make, decorated simply or left unadorned, and not fussy at all to eat. This is a piece of cake that you won't feel any guilt whatsoever having for breakfast, lunch, or really any time of day. This lemon ricotta snacking cake with olive oil is made with a whopping two-lemons'-worth of zest, and the flavor honestly reminds me of the Starbucks lemon loaf.
The texture is ultra-moist from the olive oil and the ricotta, and has a nice chew from the addition of finely ground cornmeal. Because we use oil, not butter, this cake can sit on your counter, or in your fridge, for days, and it will not dry out. Shockingly it tastes as good on its third day as its first — if it lasts that long.
Here are 3 tips for making lemon ricotta olive oil cake:
Citrus zest + sugar = love. One of the best ways to infuse citrus flavor into any baked good isn't with juice, believe it or not. A lot of the flavor and color in lemon baked goods actually comes from the zest. When you rub lemon zest into sugar before mixing, the sugar actually pulls out the flavor and takes it on. This intensifies the taste of your final cake.
Use good olive oil: Again, there's no butter in this cake. Your main fat source is all olive oil, so you want to make sure your star ingredient is high quality. This cake doesn't taste overwhelmingly of olive oil. However, you still want to have that hint of flavor in the final product. That's why I recommend extra virgin olive oil, which has a more olive-y taste.
Measure your flour correctly. I can't say it enough! Using the spoon and sweep method, where you gently spoon flour into the measuring cup and sweep off the excess with a straight edge, will help make sure your cake doesn't come out dry or tough.
Did you make this lemon ricotta snacking cake? Tag me on Instagram or TikTok @easygayoven! I would love to see what you make.
Lemon Ricotta Snacking Cake
Print Recipe
Need a last-minute dessert or party offering? This quick and easy lemon ricotta snacking cake with olive oil comes together in under an hour.
Preheat the oven to 350°F.

Grease a 9-inch springform tin and line the bottom with a circle of parchment.

In a medium size bowl, mix together the sugar and lemon zest. Rub the zest into the sugar with your fingers until fragrant.

To the bowl, add the lemon juice, olive oil, eggs, and vanilla extract. Whisk until the mixture is smooth.

Add in the ricotta and stir to combine.

In a small bowl, whisk together the cornmeal, flour, baking powder, baking soda, and salt.

Fold the flour mixture into the wet ingredients, just until combined.

Pour the batter into the prepared tin. Tap on the counter to remove any bubbles.

Bake on the middle rack for 35 minutes or until a cake tester comes out clean.

Transfer the tin to a wire rack and let the cake cool for 5 to 10 minutes. Run a knife around the edges to loosen from the tin, remove the rim, and allow it to cool fully on the wire rack.

Dust the top with powdered sugar, if desired. I used 3/4-inch strips of parchment paper to create a striped pattern.