Spinach and artichoke dip … galette? It's more likely than you think! We are classing up this ubiquitous game day food by encasing it in pillowy, flakey pastry. It's less like the pizza from NYC's Artichoke Basille's in that the topping isn't verging on soupy (which, for the record, I love). It almost reminds me of spanakopita. This filling is creamy, not gritty, and features chunks of spinach and artichoke that can compete with the richness of the cheeses and the buttery crust. It would be the perfect for a dinner party appetizer, or even served alongside a salad for a special-ish lunch.
Here are 3 tips for making spinach artichoke dip galette…
Pie dough can sense fear. It's sort of a joke, but not really. The key to working with pie dough is moving quickly and confidently, otherwise the butter can begin to melt from the heat of your hands and the room. When rolling out the dough, roll in one direction and keep the dough moving, rotating every few rolls so that it doesn't stick and so you achieve a more shapely circle. Be gentle, but decisive with your movements with pressing together the dough, transferring it to the sheet tray, and folding over the crust.
Take your temperature. Baking at the right temperature is crucial to achieving a flaky, risen crust with a crispy, golden brown bottom that can support the filling. An oven thermometer can help make sure you're not over-baking — which would lead to a burnt crust and top and an underdone center — or under-baking — which would result in either a soggy crust or an over-cooked filling.
A note on filling. Don't overcook your spinach! You want your spinach to still have some integrity when it gets mixed into the (fairly thick) filling. Otherwise, it will fall apart. Remember, it will bake for 45 plus minutes in the oven! Also, if you don't like big chunks of artichoke, you can roughly chop all of them instead of leaving some of them in halves. This might mean you have to bake it longer as more water will be introduced to the filling.
(Did you make this recipe? I want to see! Tag me on TikTok and Instagram @easygayoven.)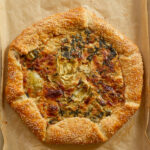 Spinach Artichoke Dip Galette
Print Recipe
With this spinach artichoke dip galette, we're classing up this ubiquitous game day food by encasing it in pillowy, flakey pastry.
In a food processor, pulse the flour and salt together.

Dot the butter pieces evenly over the flour, then pulse several times until the butter pieces are about the size of little pebbles.

Drizzle the water evenly over the mixture in three additions, pulsing in between each, just until the dough starts clumping together.

Dump the dough out onto a floured work surface and press it into one cohesive dough. Using a bench scraper works really well here.

With a lightly floured rolling pin, roll the dough into a 12-inch long rectangle. Fold the top third toward you, then the bottom third on top of that. Turn the dough 90 degrees and repeat.

Shape into a disc and wrap in plastic wrap. Chill in the refrigerator for about an hour or up to one day.

Add cream cheese, gruyere, mozzarella, parmesan, salt, black pepper, red pepper flakes and dijon mustard to a medium mixing bowl. Set aside.

Roughly chop half of the artichokes. Heat one tablespoon of olive oil in a sauce pan over medium low heat. Cook the garlic and shallots just until fragrant.

Add the chopped artichokes and stir occasionally, just until they have heated through and lost some moisture, about 2 minutes.

Add the spinach and a pinch of kosher salt to the pan and cook until all the leaves have wilted. Immediately remove from the heat.

While the spinach-artichoke mixture is still hot, stir it into the cheese mixture with a rubber spatula, ensuring all the cheeses incorporate evenly. Lastly, stir in the remaining artichoke halves. Set aside to cool.

Preheat oven to 375°F.

On a lightly floured surface, roll out the dough into 15 to 16 inch circle. Transfer to a half sheet tray lined with parchment paper.

Spread out the filling evenly onto the surface of the dough, leaving a 1.5 to 2-inch border. In sections, fold the uncovered dough over the filling to create a crust.

Brush the egg wash on the crust and sprinkle with sesame seeds, if desired.

Bake galette until the crust is golden brown, the filling is bubbling, and the cheese on top has begun to char slightly, about 45 to 50 minutes. If the crust or the top begins to get too dark too fast, tent it with aluminum foil.

Remove from oven and allow to cool on a wire rack for 5 minutes before serving. (This galette can also be prepared in advance, refigerated and baked the next day.)