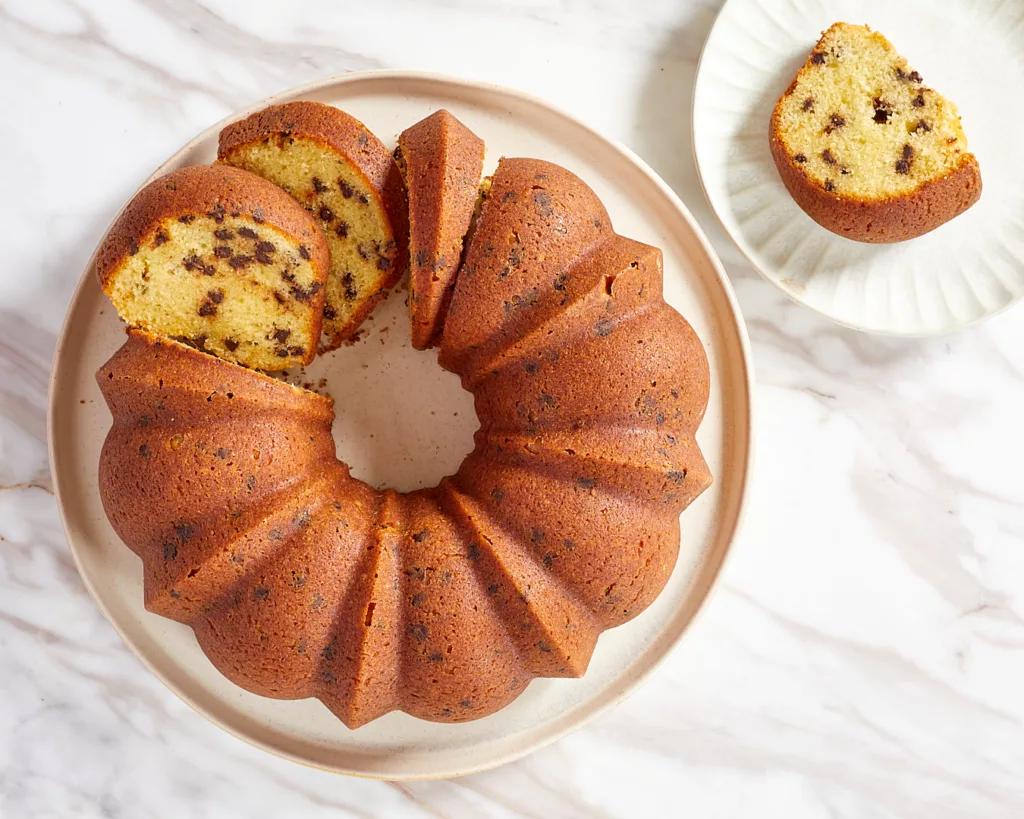 Although it's baked in a bundt pan, this recipe for sour cream chocolate chip cake is pillowy and tender, not dense like a pound cake. It's as moist and fluffy as a yellow birthday cake, thanks to the addition of one whole cup of sour cream, half a cup of buttermilk and half a cup of vegetable oil. The acidic buttermilk contributes to a taller rise, the sour cream gives a depth of flavor and moisture to the crumb, and the vegetable oil replaces some of the butter as the fat component, which stops the cake from drying out, meaning you can slice off a tiny piece every time you pass it in your kitchen… for days.
A note on chocolate chips: First of all, if you know me or have used my recipes, you'll know i'm not a fan of chocolate chips for many baking applications, but as an add-in for cake, where we don't really want the chocolate to melt and spread, they're perfect. I found after the first test that regular size chocolate chips were just too big and overpowered the cake's texture and flavor. Switching to mini chocolate chips was the move and I haven't looked back. I use a conservative 1 1/4 cups in this recipe but, honestly, you can just dump the whole bag in.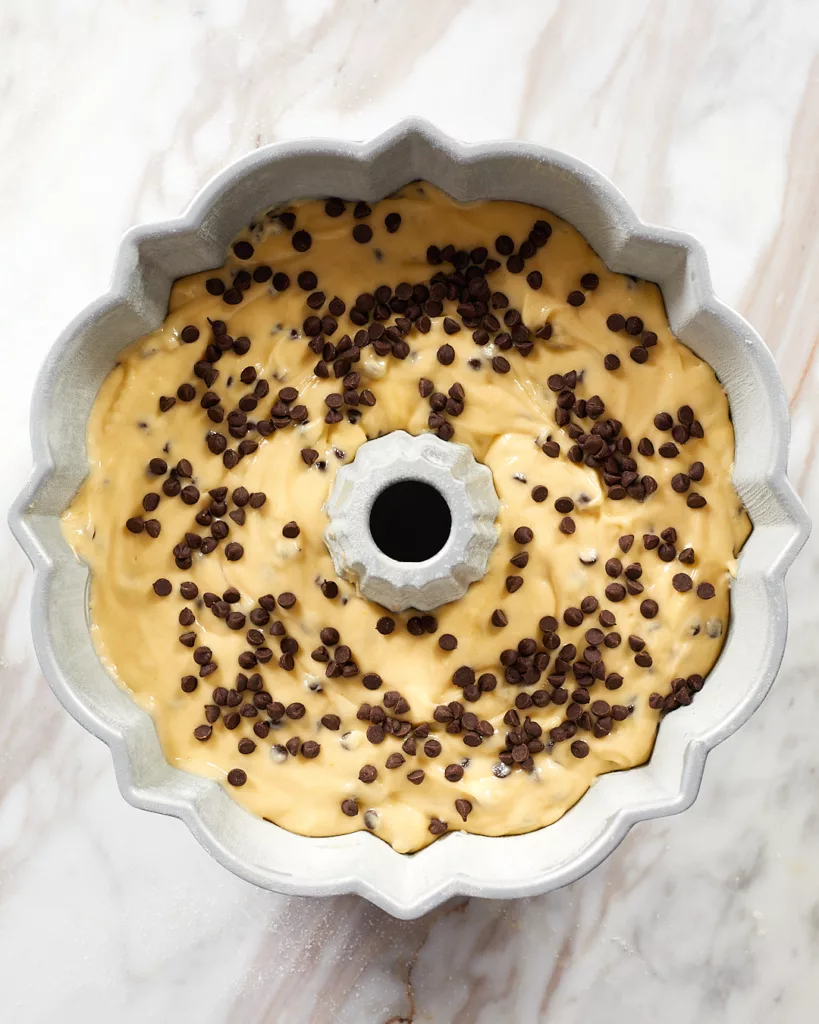 Sometimes chocolate chips can sink to the bottom of cake and muffin tins while baking, and some people recommend tossing them in flour so they stay afloat in the batter. I haven't seen much evidence that this works. Instead, to get a more even distribution of chocolate chips, I would just sprinkle about 1/4 cup on top of the batter in the tin, some of which will sink in during baking.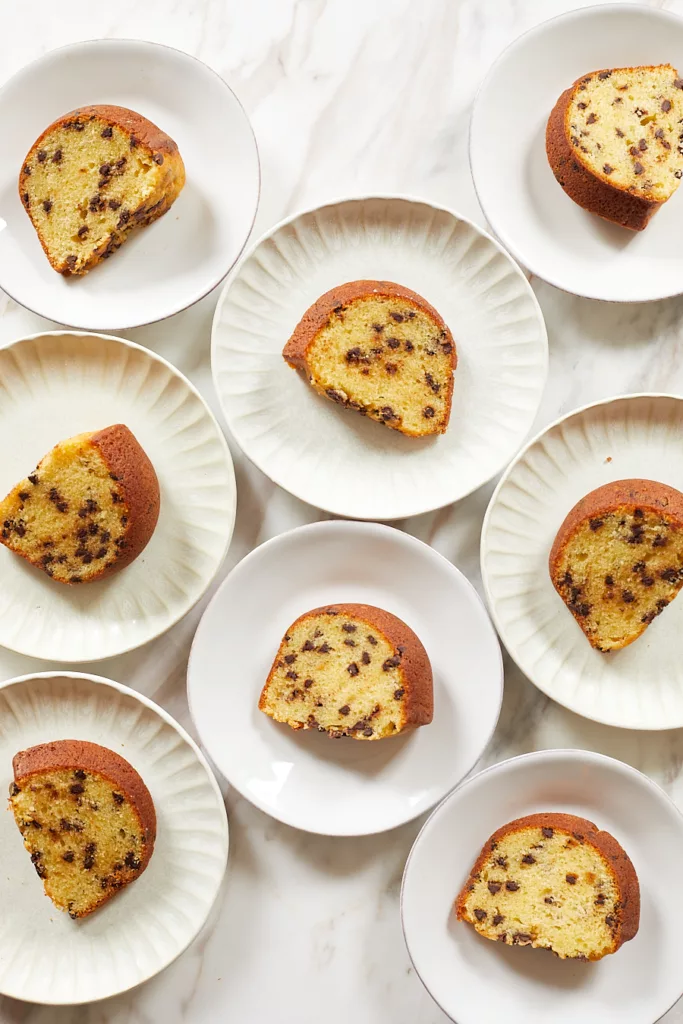 Here are 3 tips for making sour cream chocolate chip bundt cake:
Do not over-mix.
Once the last addition of flour is dumped into the batter, just add in the chocolate chips along with it. This way, you're not over-mixing by adding the chocolate chips to an already mixed batter. Over working any kind of cake batter can cause toughness and also can make the cake sink.
Prepare your tin well.
To prevent any stick-age when turning cakes out of their bundt tins, some people swear by bundt pan "goop." It's a mixture of equal parts flour, vegetable oil and vegetable shortening that you spread on the inside of the tin like a baking spray. I don't like using baking spray (I just don't think it works very well) so this recipe just calls for brushing a tin with soft butter and dusting it thoroughly with flour, then tapping out the excess. I have never had stick-age with this method before. But if you have had sticking troubles with one of your tins, or you have a particularly detailed bundt tin, goop could be the way to go.
Use room-temperature ingredients.
As a general rule, baking ingredients mix together better when they're not at totally different temperatures. That's why, scalding milk + cold eggs can sometimes mean scrambled eggs and not delicious creme brûlée. Making sure the butter, buttermilk, eggs and sour cream in this recipe have all had time to come to room temperature (or close) is key to making sure the ice-cold eggs don't curdle the butter-sugar mixture, for example. This will also prevent over-mixing as the ingredients will require less coaxing to combine. To get a head-start, measure out all your cold ingredients into separate containers so they come to room temperature. You can even let the (uncracked) eggs sit in a bowl of hot tap water to warm up.
Did you make this sour cream chocolate chip bundt cake? I want to see! Tag me on Instagram and TikTok @easygayoven.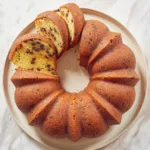 Sour Cream Chocolate Chip Bundt Cake
Print Recipe
Although it's baked in a bundt tin, this recipe for sour cream chocolate chip bundt cake is pillowy and tender, not dense like a pound cake.
2 1/4

cups

cake flour

(317 grams)

1 1/4

teaspoons

baking powder

1/2

teaspoon

baking soda

1

teaspoon

kosher salt

1/2

cup

unsalted butter

at room temperature (8 tablespoons, 113 grams)

1 1/2

cups

granulated sugar

(322 grams)

2

teaspoons

vanilla extract

3

large eggs

at room temperature

1

cup

sour cream

(8 ounces)

1/2

cup

buttermilk

(118 millilters)

1/2

cup

vegetable oil

(118 millilters)

1 1/4

cups

mini semi-sweet chocolate chips
Ensure all ingredients have come to room temperature (or close).

Preheat the oven to 325° F and place a rack in the middle position.

Prepare your bundt tin. Brush the inside a 10-inch, or 10 to 13-cup, bundt-style tin (preferably nonstick) with softened butter. Dust thoroughly with flour and tap out any excess.

In a small mixing bowl, whisk together the flour, baking powder, baking soda, and salt.

In a large liquid measuring cup or mixing bowl, mix together the sour cream, buttermilk and vegetable oil just until combined.

In a large mixing bowl with a hand mixer or a stand mixer fitted with the paddle attachment, cream the butter and sugar together until they're totally combined and look white and fluffy, about 2 to 3 minutes.

Beat in the vanilla and one egg on medium speed. Once the egg is totally mixed in, beat in the next, and repeat. Scrape the sides and bottom of the bowl to ensure everything is combined.

With the mixer on low, beat in one-third of the flour mixture, then half of the buttermilk mixture. Repeat, then add the remaining flour as well as the chocolate chips and mix on low just until the last streaks of flour disappear.

Pour the batter into the prepared bundt tin, smoothing it out evenly. Using a butter knife, draw a shallow circle in the batter around the middle of the bundt ring.

Bake for 50-60 minutes, or until the cake is, golden brown on top, the middle springs back when gently pressed, and a wooden skewer inserted into the middle comes out with just a few moist crumbs.

Allow the cake to cool in its tin for about 10 minutes (no longer, or it could over-bake — or start to stick again). Firmly hold a cooling rack on top of the tin and, using an oven mitt or kitchen towel, flip both the tin and the cooling rack at the same time to invert the cake out onto the rack. Lift off the tin and allow the cake to cool fully before slicing and serving.