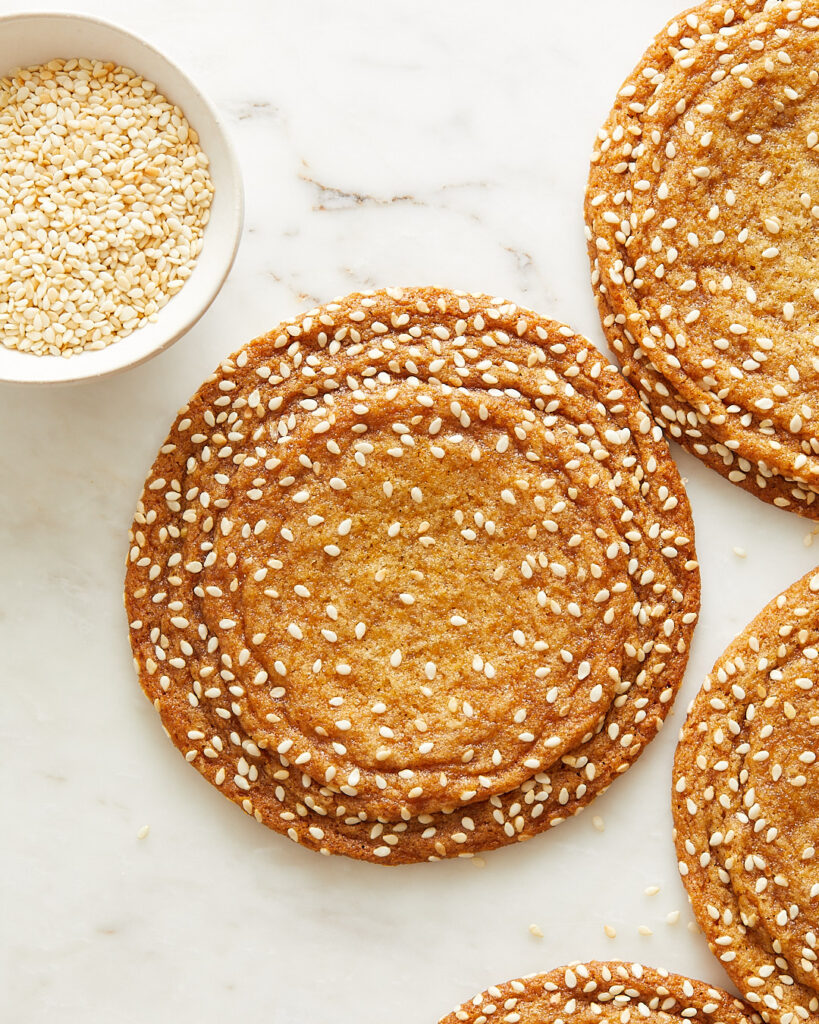 I recently went on a 2-day bender with a bag of Trader Joe's honey-roasted sesame almonds. I had never tried them and I naïvely picked them up at the store. I couldn't stop eating them. I even had them for dinner one night. These sesame honey cookies are inspired by the grip this sweet and savory snack has on me.
I love how the honey makes the cookies so chewy and keeps them soft for days. The sesame seeds lend a great nutty flavor to balance out the extra sweetness, plus a nice additional texture. For these, I use the pan-banging method from Sarah Kieffer, which gives them ripples and crinkles, and also helps to keep the inside chewy and the edges crisp.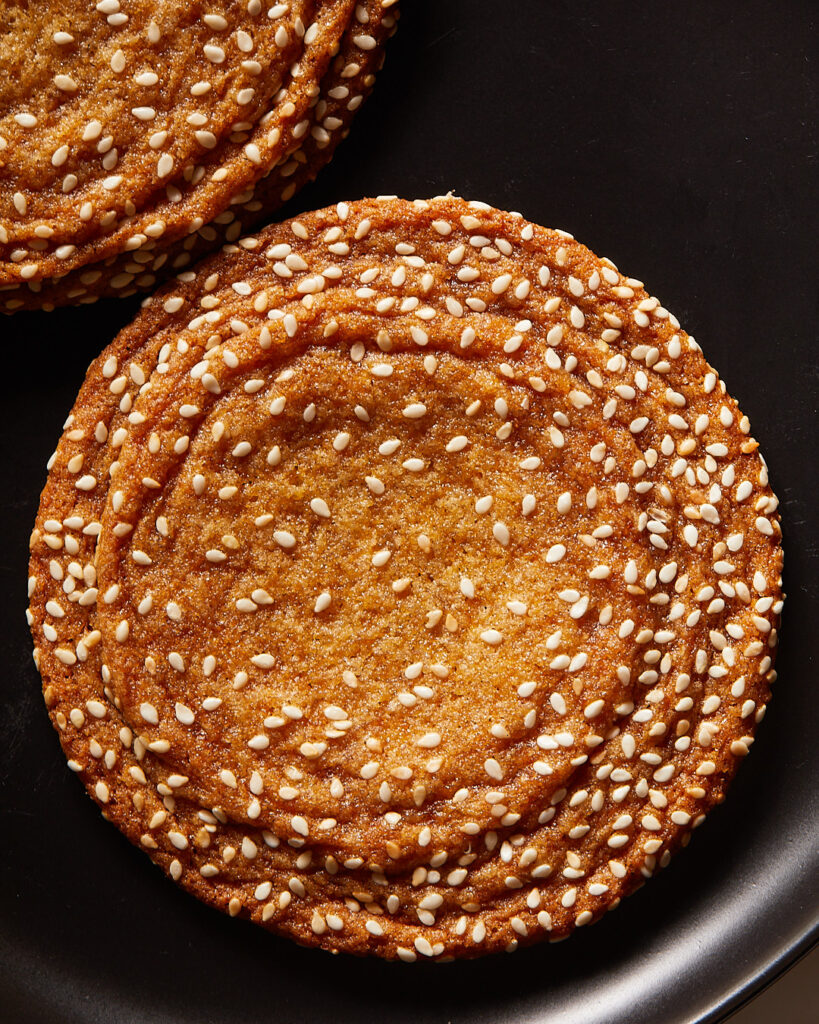 Did you make these sesame honey cookies? I want to see! Tag me @easygayoven on Instagram and TikTok!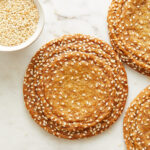 Sesame Honey Cookies
Print Recipe
These chewy sesame honey cookies are inspired by the grip one snack has on me. That snack is Trader Joe's honey-roasted sesame almonds.
8

tablespoons

unsalted butter

(113 grams)

1/3

cup

honey

(113.3 grams)

1/2

cup

light brown sugar, lightly packed

(95 grams)

1/2

cup

white granulated sugar

110 grams

1

large egg

1

teaspoon

vanilla

1 1/2

cup

all-purpose flour

measured using the scoop-and-sweep method (195 grams)

1/2

teaspoon

baking soda

1/4

teaspoon

baking powder

1

teaspoon

kosher salt

6

tablespoons

toasted sesame seeds

(52 grams) (around 2 ounces)
If your sesame seeds aren't toasted already, add them to a skillet and cook on medium low heat, just until most of the seeds develop a golden brown color. Transfer to a plate or other flat surface to cool, then cover and set aside.

In a small bowl, whisk together flour, salt, baking soda, and baking powder. Set aside.

Gently melt butter in a small saucepan on low heat. Add the honey and mix until combined.

In a medium bowl, whisk together the sugars with the honey and butter until homogenous.

Add in the egg and vanilla extract and mix to combine.

Fold the flour mixture into the wet ingredients just until the last streaks of flour disappear. Cover and chill in the fridge until firm, about 3-4 hours or overnight.

Dole out around 12 balls of dough, about 2 tablespoons each. I like to use a cookie scoop for this.

Add the sesame seeds to a small bowl. Roll each dough ball in the seeds making sure to cover the bottoms, too.

Chill the dough balls in the freezer while you preheat the oven to 350°F. This will help them keep their shape and not spread too much.

Line 2 half-sheet trays with parchment paper and place 6 dough balls on each, leaving about 2 inches between each.

Bake the cookies for 7 minutes, then rotate the trays and swap their rack placements to promote even baking. Giving them a firm *thwap* against the counter at this stage deflates them and gives them a crisp outside and chewy middle.

Bake for 6-7 more minutes, or until the edges are deep golden brown and the centers are still slightly pale.

Remove the trays from the oven and bang them on the counter again to deflate them one last time. Let the cookies set up for about 5-10 minutes before transferring them to a wire rack to cool completely.