With most recipes I develop, I usually don't want to eat all the leftovers I end up with — it's just too much of the same thing. I do not have that problem with this recipe for peanut butter marshmallow fluff cookies; I have the opposite problem. I am very reluctant to give them away. The candy-like marshmallow with the nutty, chewy peanut butter cookies balance each other so well that I never tire of their salty-sweet flavor profile. And of course they take their inspiration from everyone's favorite sandwich: the fluffernutter. (Do you disagree?)
I actually wanted to call them moon crater cookies because when the marshmallow fluff melts and spreads out, it leaves these holes that look like the surface of the moon. I actually tried stuffing the cookies with fluff on my first attempt. That, to my dismay, was a lot of effort and didn't even work. So why not just plop some on top? The best part is the fluff toasts up a little, and some parts even get slightly crispy. So yeah, the best parts of a s'more basically.
Can I use regular marshmallows instead of marshmallow fluff?
No. I tried this and for the most part any marshmallows, mini or regular, simply evaporate when exposed to the heat of the oven. Marshmallow fluff seems to dissolve less and maintain a chewy texture after baking.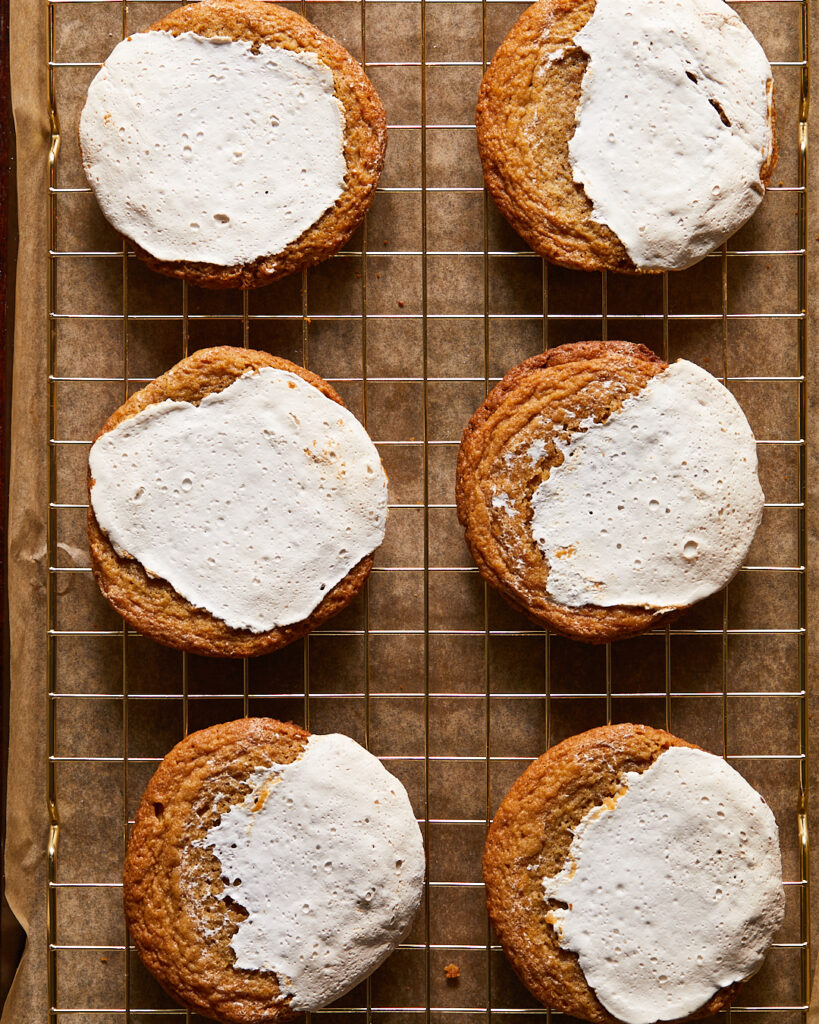 Why are peanut butter cookies dry sometimes?
Sort of like how cocoa powder can replace more than its weight in flour in cake or brownie recipes, peanut butter actually acts like flour in that it thickens up the dough, and can sometimes turn the cookies chalky or dry. Some peanut butter cookie recipes account for that by decreasing the amount of peanut butter, but then you don't really get the taste. So I decreased the amount of flour instead. As you'll see, we're only using a half-cup of flour for about 15 medium size cookies. This also makes it really important that you measure your flour correctly (using the spoon and sweep method I lay out below.)
However, this recipe has a whopping three-fourths of a cup of peanut butter, and an additional kick of salt to bring out the flavor, so we have avoided the paradox of too dry vs. not enough flavor. Honestly, they'd be perfectly good with no marshmallow fluff topping, but I'm going to keep this recipe in my back pocket to keep tinkering with in the hopes that one day I will have an *ultimate* peanut butter cookie recipe.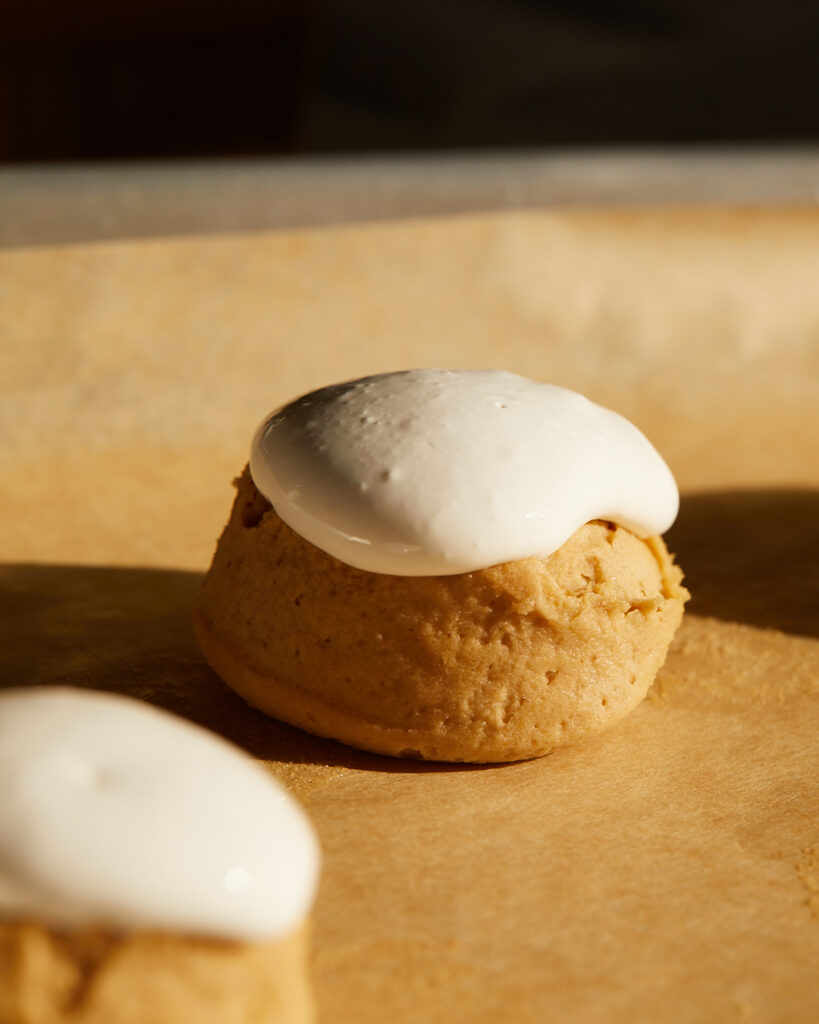 Here are some tips for making these peanut butter marshmallow fluff cookies like a pro
Use creamy peanut butter. Not the natural kind that separates and you have to stir.
Measure your flour correctly. If I've said it once, I've said it a thousand times. Use the spoon-and-sweep method, where you gently spoon flour into the measuring cup and sweep off the excess with a straight edge. This will help make sure your cookies don't come out cakey and dry.
Chill out, bro. This is a pretty loose dough, which is why it bakes up so buttery and chewy. But if it's not given time to properly chill, the cookies will spread too much and run into each other, and you won't get the correct texture.
Did you make this recipe? I would love to see! Take a picture and tag me @easygayoven on Instagram or TikTok.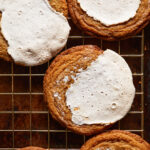 Peanut Butter Marshmallow Fluff Cookies
Print Recipe
These peanut butter and marshmallow fluff cookies take their inspiration from everyone's favorite sandwich: the fluffernutter, of course.
1

cup

dark brown sugar

lightly packed (175 grams)

½

cup

unsalted butter

at room temperature (113 grams)

¾

cup

creamy peanut butter

(I used Jif, not a "natural" brand) (180 grams)

1

large egg

1

teaspoon

of vanilla

½

cup

all-purpose flour

(65 grams)

½

teaspoon

baking soda

½

teaspoon

baking powder

1 ¼

teaspoon

kosher salt

(3/4 teaspoon for Diamond Crystal Baking Salt)

1

cup

marshmallow fluff
In the bowl of a stand mixer fitted with a paddle attachment, or using a hand mixer, cream together the butter and sugar on medium speed until light and fluffy, about 5 minutes.

In a small bowl, whisk together the flour, salt, baking soda, and baking powder.

Add the peanut butter into the butter and sugar mixture and beat until combined. Then mix in the egg and vanilla. Scrape down the sides of the bowl and give it one last stir to make sure everything is incorporated.

Dump in all of the flour mixture into the stand mixer bowl and beat on medium-low speed just until the last streaks of flour disappear.

Chill the dough for about an hour, or until it has firmed up a bit.

Portion out 14-15 dough balls on a half-sheet tray lined with parchment or a silicone mat. I find it's easiest to do this with a 1.3-ounce cookie scoop or press-disher, or 2 tablespoons.

Using a piping bag or a spoon, top each dough ball with a dollop of marshmallow fluff, about 1 tablespoon each.

Chill the dough balls in the freezer for about 30 minutes.

Preheat the oven to 350°F. Place the oven racks in the top and lower thirds of the oven.

Place half the dough balls on another lined half-sheet tray.

Bake the cookies for 8 minutes, then rotate the trays and swap their rack placements to promote even baking. Giving them a firm *thwap* against the counter at this stage deflates them and gives them a crisp outside and chewy middle.

Bake for 8-9 more minutes. Remove the trays from the oven and let the cookies set up for about 5-10 minutes before transferring them to a wire rack to cool completely.