Jump to Recipe
French toast bakes like this overnight pumpkin french toast bake are simply a loaf of bread, arranged in a pan, soaked in custard overnight, and baked the next morning. And originally, this recipe produced a delicious sort of bread-pudding, but with a layer of what was essentially pumpkin pie filling at the bottom. So I've made a few tweaks so that more of the custard ends up *in* the bread.
And of course, I also re-shot the recipe. It's been a little over a year since I started posting recipes and really taking the blog seriously, and my photography is slowly but surely improving — I think!
Here are some mornings this overnight brunch dish is perfect for: Thanksgiving Day morning, Christmas Day morning, Hallows Eve morning (is that a thing?), and definitely tomorrow morning. I recommend letting the bread soak overnight, but if you're really pressed for time, the brioche slices will probably absorb most of the liquid in a few hours.
I've also included directions for spiced pumpkin seeds (or pepitas) and a maple-scented whipped cream, both of which are totally optional but highly recommended as toppings.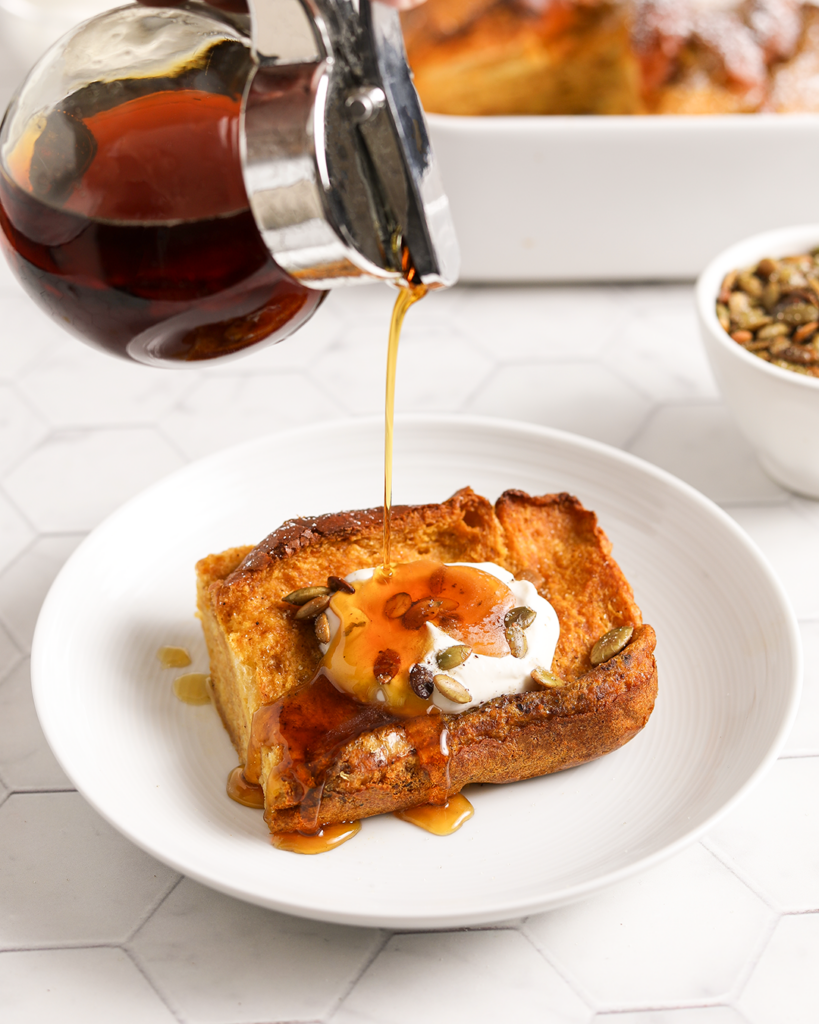 Did you make this overnight pumpkin French toast? I want to see! Tag me on Instagram and TikTok @easygayoven!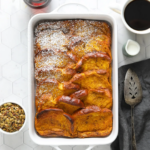 Overnight Pumpkin French Toast Bake
Print Recipe
Slices of brioche are soaked in a spiced pumpkin custard overnight so that it's ready to bake the next morning in this french toast bake
French toast
1

lb.-loaf

brioche bread

challah works, too

6

large eggs

½

cup

brown sugar

1

cup

pumpkin purée

2

cups

whole milk

1

cup

heavy cream

1

tsp.

cinnamon

¼

tsp.

cloves

¼

tsp.

nutmeg

¼

tsp.

allspice

½

tsp.

salt

1

tsp.

vanilla
Spiced pumpkin seeds
1

cup

unsalted pumpkin seeds

2

tsp.

vegetable oil

plus more for greasing

1

tsp.

cinnamon

1/8

tsp.

ginger

2

tablespoons

granulated sugar

1/2

tsp.

salt
French toast
Butter a 9×13-inch baking dish or any of similar size and depth (like a large, oblong Dutch oven).

Whisk together remaining ingredients in a large mixing bowl.

Cut the bread loaf into 1-inch slices.

Dunk each slice into the liquid custard mixture, hydrating each side fully. Layer them, overlapping slightly, into the buttered dish.

Evenly pour remaining custard over the slices. There will be a shallow moat of liquid at the bottom of the pan. Most of that should be soaked up by the bread as it sits, but it can vary depending on the bread.

Let the bread soak, covered, in the fridge over night.

The next morning, or at least a few hours later, remove the pan from the fridge. If there's still a lot of liquid left in the pan, you can drain some of it out.

Preheat oven to 325° F and place a rack in the center position.

Bake for 45-55 minutes, or until the bread is puffed up, there is no more liquid visible in the dish and the tops of the bread are browned and crisp.

Cool for 10 minutes before serving.
Spiced pumpkin seeds
While the French toast is baking, you can make the spiced pumpkin seeds topping.

Spread out the pumpkin seeds evenly on a lightly greased baking sheet.

Toast the seeds in the hot oven for five minutes.

Transfer the seeds from the sheet into a medium mixing bowl.

Toss the seeds in the vegetable oil, ensuring to equally coat all of them.

Add the sugar, salt and spices. Toss to coat.

Again, spread out the seeds evenly on the baking tray, and place in the oven for five more minutes.

Toss around the seeds on the sheet so they toast evenly, then return to the for 5 more minutes.

Cool before serving.
Maple whipped cream
In a medium bowl, vigorously whisk the heavy cream until trails begin to form behind the whisk.

Add maple syrup and vanilla.

Continue whisking just until the mixture holds soft peaks. Trust me: it's much better to have a looser whip than a totally curdled mess. That's why I never use a stand mixer to whip cream!