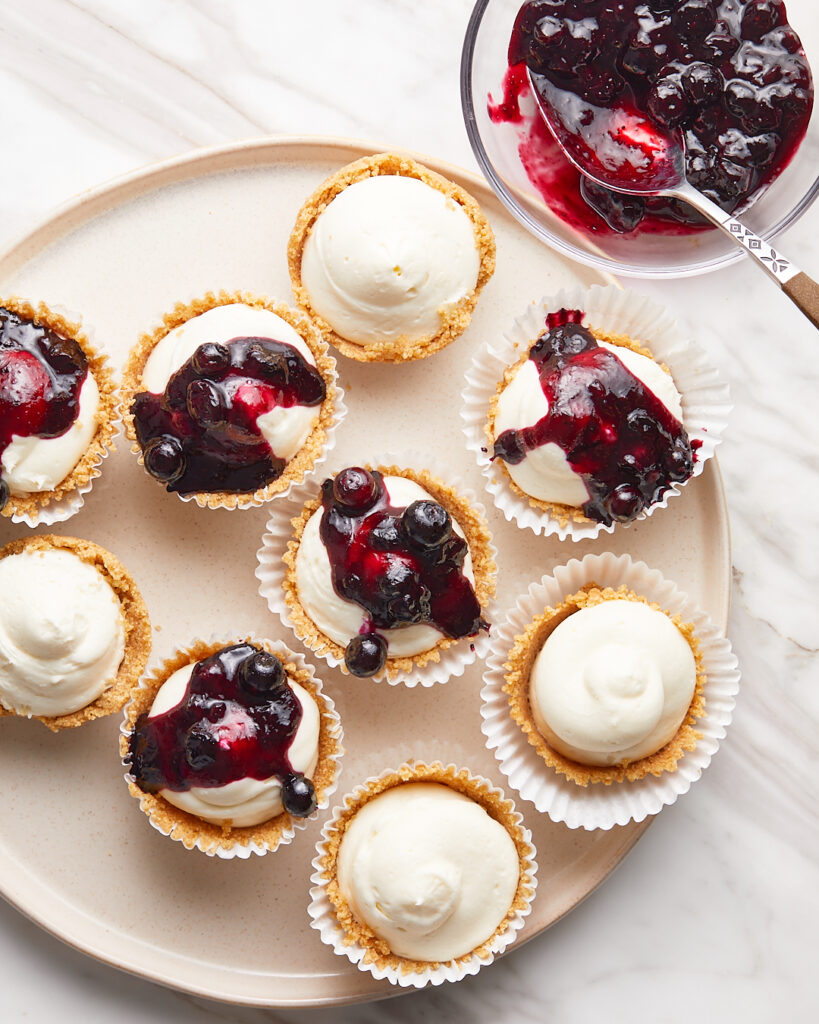 After a weekend trip to the Poconos with friends, I was left with a 3-lb. loaf of cream cheese once the leftover groceries were divvied up. I don't *love* cheesecake. But I've been meaning to add a recipe to my arsenal for a while, so this seemed like a sign. This was the conception of these no-bake mini cheesecakes. And I have good news: They bake in a normal, 12-cup muffin tin! If you have cream cheese, heavy cream, powdered sugar, vanilla, salt, lemon juice, graham crackers, and butter, you can make these no-bake mini cheesecakes. And I've included the recipe for the blueberry compote topping, and while it's dead easy to make, it's totally optional. Feel free to top the cheesecakes with fresh fruit, lemon curd, melted chocolate, caramel … Oh no — now i'm getting ideas.
Here are 3 tips for making no-bake mini cheesecakes
Use softened cream cheese. Set out your cream cheese about an hour before you make the recipe, this way it has time to come to room temperature. This will make it easier to whisk into the lemon juice, sugar, vanilla and salt — and also prevent lumps when whipped with the heavy cream.
Do not use cream cheese spread. Cream cheese spread has additional ingredients that make it a poor substitute for cheesecake. It's thinner and more spreadable than regular cream cheese thanks to the added milk, and it's flavor is milder, which won't shine through in the filling. Spreads also sometimes have stabilizers, which could affect the texture of the final product. Be safe and get the cream cheese that comes in a block.
When pressing in the crust, start with the sides. I know it's a little counter-intuitive, but I found that pressing the graham cracker crumbs into the sides of the tin liners, then adding more to cover the bottom was the easiest way to form the crust. This might take some getting used to, but they don't have to be perfect, and that's why we're using liners — because otherwise they could be a little messy.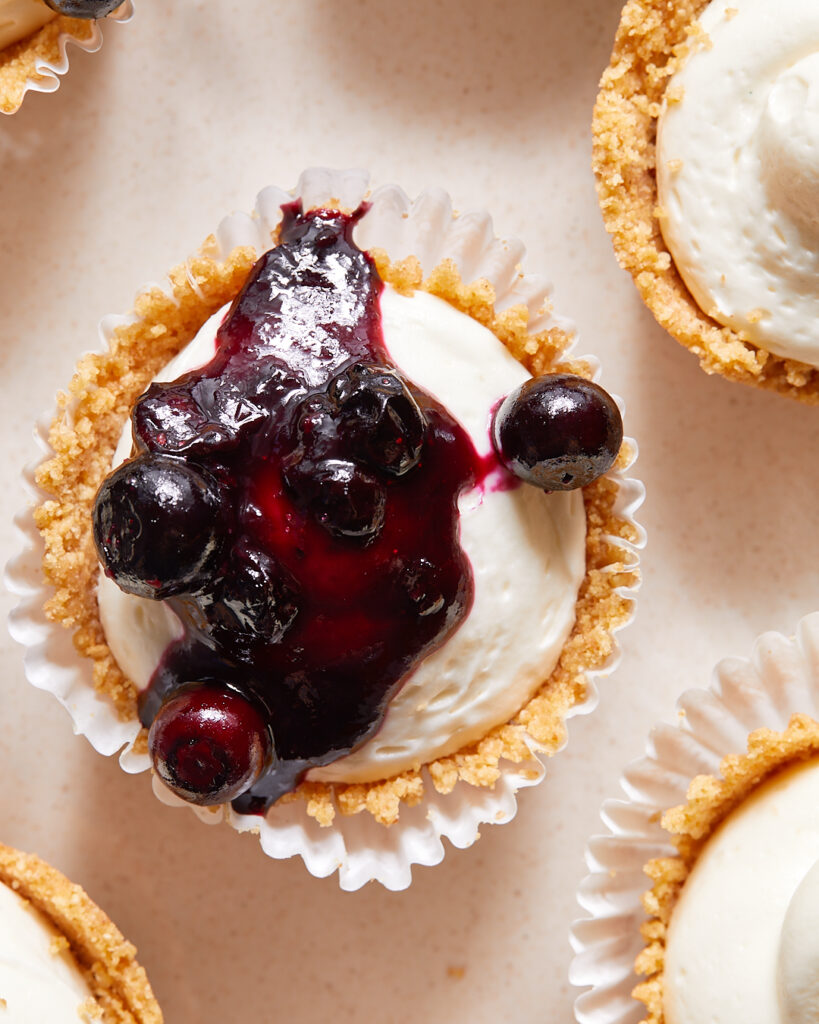 Did you make this recipe? I want to see! Tag me @easygayoven on Instagram and TikTok!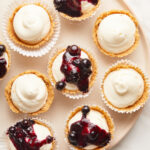 No-Bake Mini Cheesecakes
Print Recipe
These no-bake mini cheesecakes are made using a normal 12-cup cupcake tin, and if you have just a few common ingredients, you can make them!
Cheesecakes
2

sleeves

graham crackers

(18 crackers)

10

tablespoons

unsalted butter gently melted

(141 grams)

1/4

teaspoon

kosher salt

8

ounces

cream cheese

at room temperature

1

teaspoon

vanilla extract

4

teaspoons

lemon juice

1/2

cup

granulated sugar

(100 grams)

Pinch

of kosher salt

1

cup

heavy whipping cream

(237 grams)

2

heaping tablespoons powdered sugar
Blueberry compote (optional)
1/2

pint

of blueberries

(5.5 ounces)

1/4

cup

granulated sugar

(50 grams)

pinch

kosher salt

1

tablespoon

lemon juice

2

tablespoons

water

1

teaspoon

corn starch

1/2

teaspoon

vanilla extract
Line a 12-cup muffin tin with baking cup liners.

In a food processor, grind up the graham crackers into fine crumbs. You can also smash them up in a zipper bag and transfer them to a bowl.

Pour the melted butter evenly onto the graham cracker crumbs. Sprinkle in a pinch of kosher salt and grind until the crumbs look like wet sand and hold together when pressed in between your fingers.

Press one tablespoon of crumbs onto the sides of each cup liner. Then add another tablespoon into the bottom of the liner and tamp down with a measuring spoon. Fill in any holes or uneven spots with more crumbs.

Transfer to the refrigerator or freezer to chill and set.

In a medium bowl, whisk together the cream cheese, lemon juice, vanilla, salt and granulated sugar. Make sure the mixture is very slack and has no lumps or it won't combine well with the whipped cream. Set aside.

In the bowl of a stand mixer fitted with a whisk attachment, or using a hand mixer, whip the cream and powdered sugar to stiff peaks. Be careful not to over-whip.

Using a flexible rubber spatula, fold in the whipped cream into the cream cheese mixture in four additions. Make sure everything is combined, but don't mix too much that you deflate the whipped cream.

Using a piping bag (a small cookie scoop or a zipper bag with the tip cut off would also work well) fill each graham cracker crust with the cheesecake mixture. Chill, covered, for several hours to set, but overnight is best.

For the blueberry compote, add half the blueberries, the granulated sugar, lemon juice, water to a sauce pan. Sift in the cornstarch and mix well. Cook the mixture on medium heat, breaking up the berries with the back of a wooden spoon, until it is purple, saucy and bubbling. Fold in the rest of the blueberries and the vanilla and turn off the heat.

Once the compote has cooled down, spoon over the mini cheesecakes.