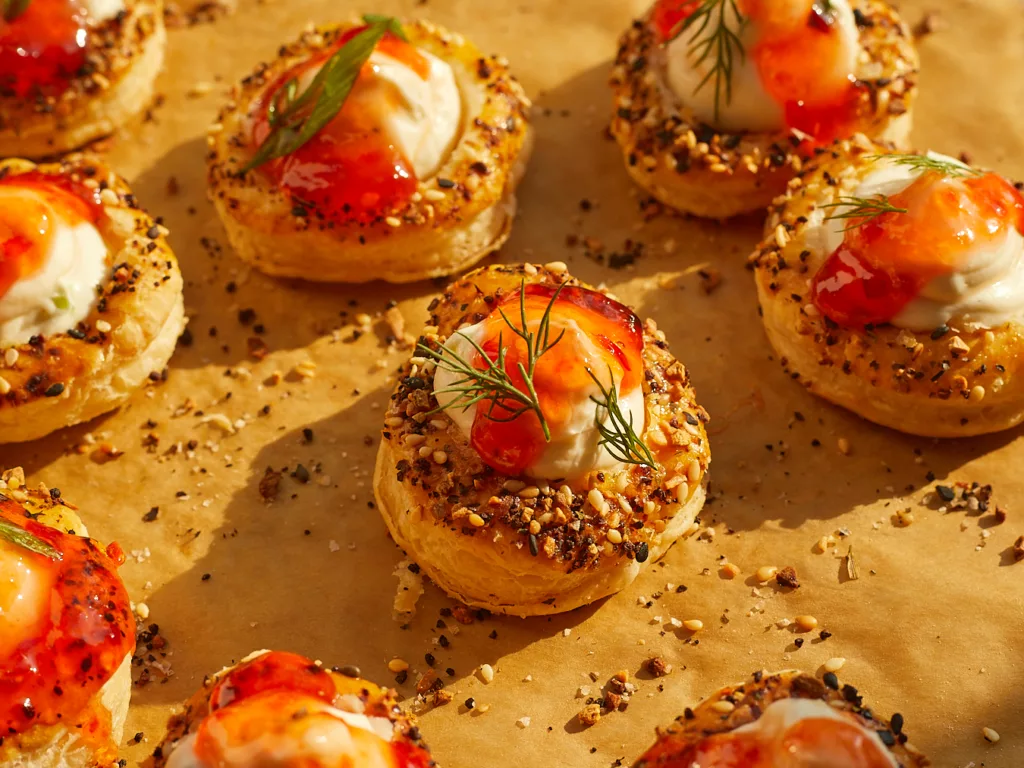 These everything bagel puffs, a riff on the retro appetizer vol au vents, are comprised of puff pastry cases with an "everything" seasoning rim, scallion cream cheese/goat cheese filling, and sweet and sometimes spicy pepper jelly. I wasn't prepared to realize, upon first tasting, that these remind me of crab rangoon, which I love. The pepper jelly hits the same notes as a sweet chili sauce, and then it mixes with the cream cheese and the crispiness of the shell. It was a delightful surprise.
But if you don't like crab rangoon, then in that case they're nothing like that and they're just a take on an everything bagel with scallion cream cheese haha. ha. They did also remind me of an everything bagel croissant stuffed with cream cheese from Bibble and Sip, from which I would grab lunch too often when I worked in Midtown Manhattan. I mean, I don't know about you, but I grew up in the midwest going to parties where hosts would just spread a blanket of pepper jelly over a block of cream cheese and serve it with crackers as an hors d'oeuvre. And that delicious simplicity, truly, was the inspiration for this recipe.
Either way, these are deceptively easy these were to make and they look elegant while also feeling not too try-hard. And they take like 30 minutes!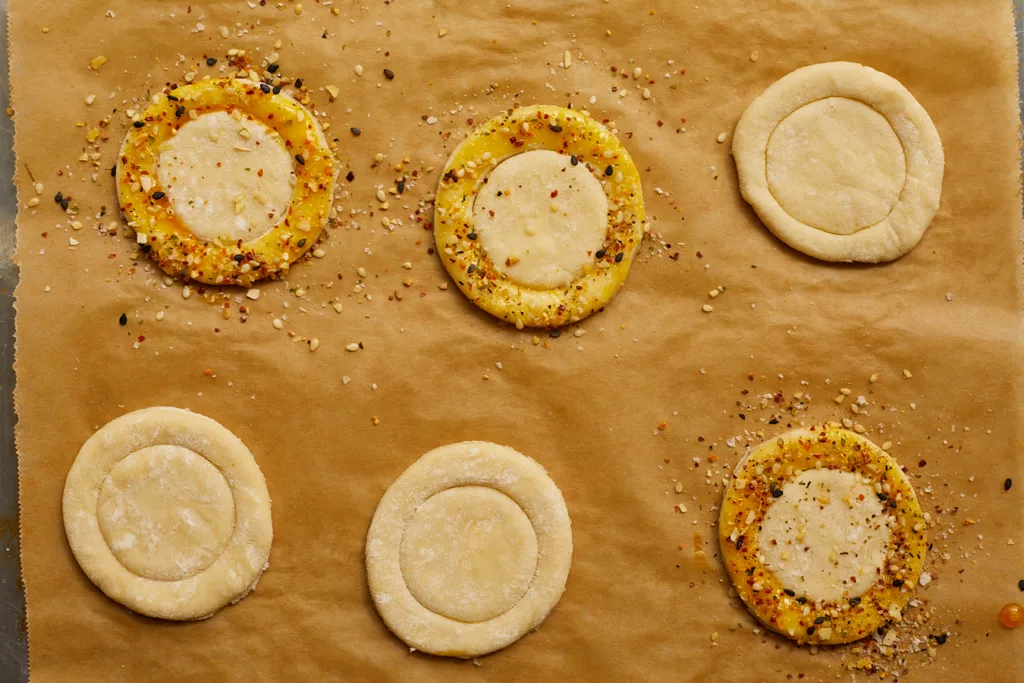 How to make Everything Bagel Puffs with Pepper Jelly
Step 1. We start by cutting out circles of puff pastry. And, as I said in my recent IG post, store-bought is really, really fine when it comes to puff pastry. And if you don't want to waste any puff pastry, or if you don't have any circle cutters, you can cut them into squares and score them with a sharp knife.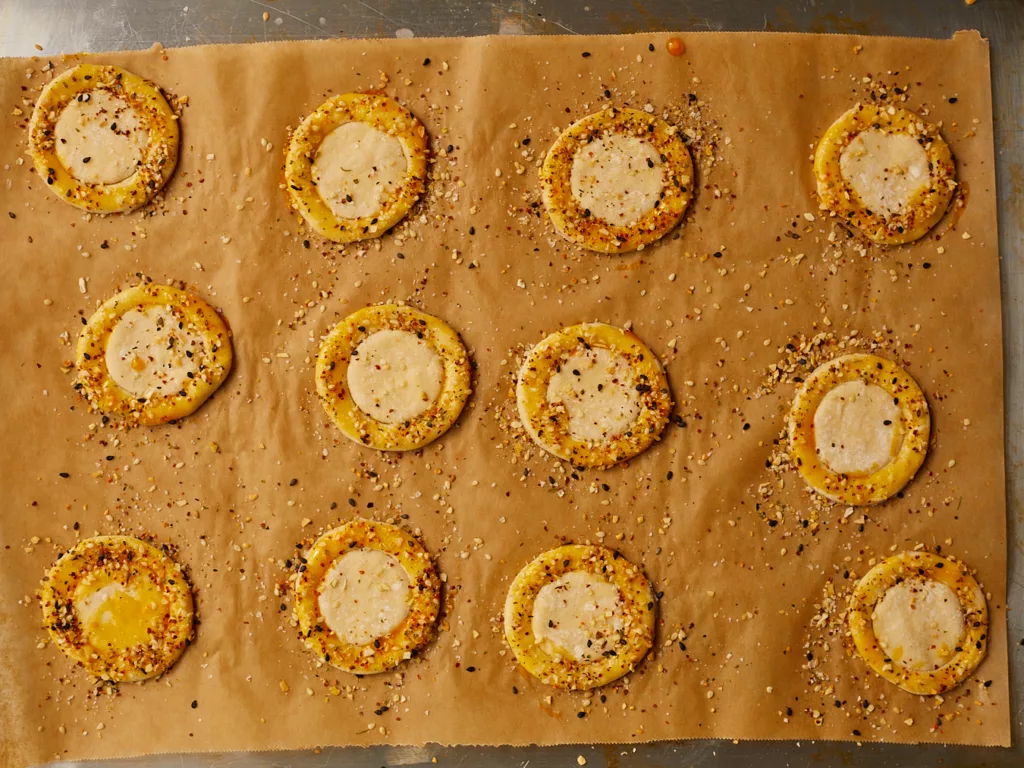 Step 2. Then, we brush egg wash just on the outer rim of the puffs. You can also use water or milk or cream, it's mainly just so the seasoning has something to stick to. Try not to get too much in the crevice as that can make the next step tricky.
Step 3. This is the most satisfying part of the recipe. Because we've scored the rim, we can just push down the centers and they should fall in one clean circle. This leaves a dam that we can pipe the filling into. Excess egg wash can stick the two sections together making it less of a clean break. I used a piping bag with no tip to fill these, but you can use a spoon. Or, cut the end off a zipper bag and fill them that way.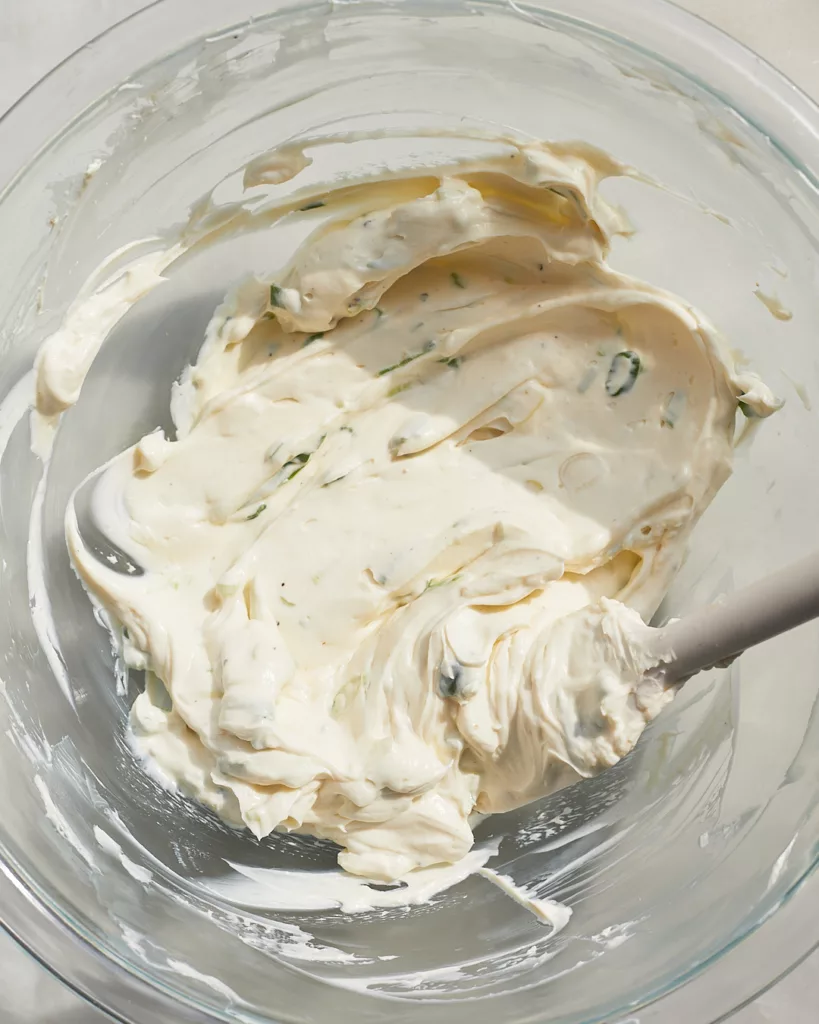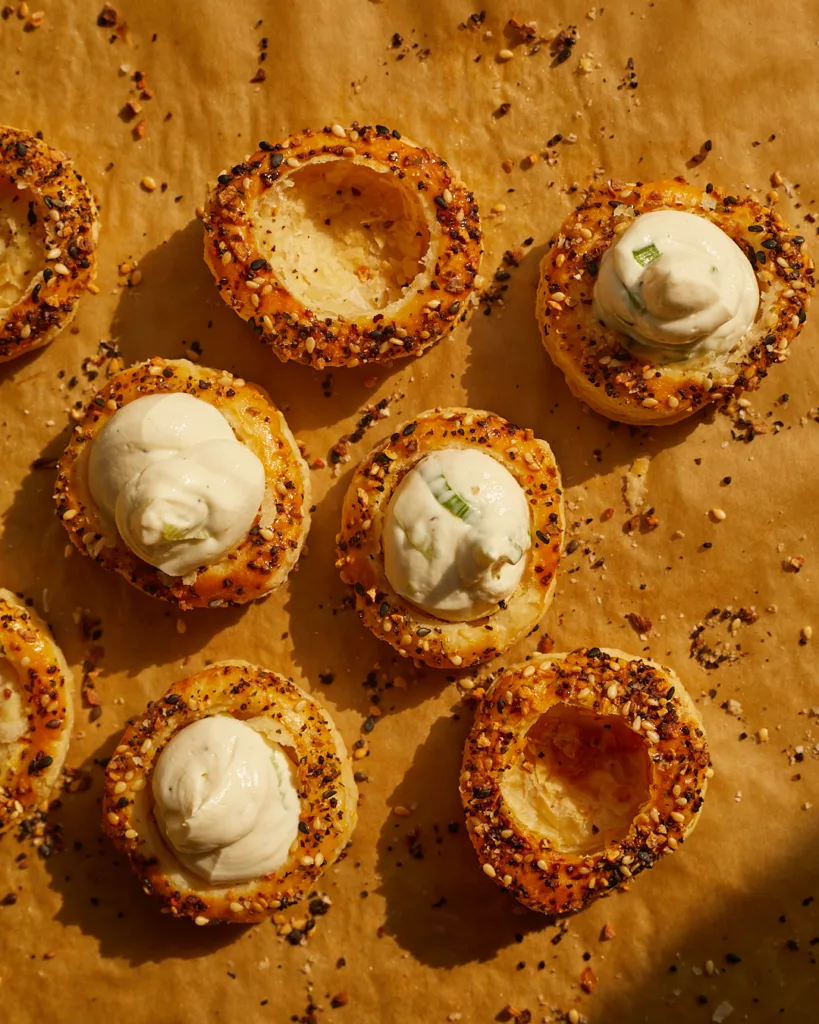 Step 4. I used a half-teaspoon to pour on the pepper jelly, but add as much or as little as you want. And garnish with whatever green thing you like — dill fronds or more green onions work well — or nothing at all.
Everything Bagel Puffs with Pepper Jelly
Print Recipe
An easy but elegant appetizer, these everything bagel puffs are filled with scallion cream cheese and topped with pepper jelly.
1

store-bought puff pastry sheet

thawed per package instructions

1

egg yolk

milk or cream (for egg wash)

"Everything" or "everything bagel" seasoning

6

ounces

cream cheese

not cream cheese spread (softened)

2

ounces

goat cheese

softened (can be replaced with the same amount of cream cheese)

Juice of half a lemon

1

dash

Worcestershire sauce

optional

Kosher salt

1/4

teaspoon

black pepper

1

green onion

thinly sliced

3

tablespoons

red pepper jelly

Sliced green onions or dill fronds

for garnish
Ensure your puff pastry has thawed according to package instructions. Usually this means sitting for 40 minutes at room temperature.

Preheat oven to 400°F.

Using a circle cookie cutter, cut 12 two-inch circles (or as many as you can) or cut the sheet into 12 or 15 squares. If using a cookie cutter, don't twist when you press down, this will prevent the pastry from puffing up evenly.

Cut a smaller circle in the middle of each puff, about 1-inch in diameter (I used a 1 1/8-inch cutter). If cutting squares, cut a smaller square so you're left with a border that's slightly less than a half-inch wide. Don't worry about cutting all the way through. We're just scoring them so we can press down the middles later.

Brush the border of each puff with beaten egg yolk, milk or cream, trying to avoid the crevice where you cut the smaller shape. (You can use a pastry brush or even a clean finger. I used a small art brush.) Sprinkle everything seasoning on the rims.

Transfer your cutouts to a half sheet tray lined with parchment paper. Bake on the middle rack for 12-15 minutes or until the puffs are puffed up, set and deep golden brown on top.

Remove from the oven and gently press down the centers of each puff with a measuring spoon (a shot glass also works well.)

While waiting for the puffs to fully cool, make the filling. Using a hand mixer or whisk, beat together the cream cheese, goat cheese, a pinch of salt, black pepper, Worcestershire sauce, and lemon juice until smooth. Beat in the green onions just until combined.

Using a piping bag or a zipper bag with a corner snipped off (or just a spoon!) fill each puff with a heaping mound of the cream cheese mixture.

Warm up the pepper jelly in the microwave for about 10 seconds just to loosen it up a little. Dollop about a half-teaspoon on top of each puff.

Garnish with more sliced green onions or dill fronds.
Makes 12-15 two-inch puffs. This recipe can easily be doubled.
If you want to make these ahead of time, you can do all the steps until baking, then cover and refrigerate the prepared cutouts and filling. Once you're ready to assemble, continue with the recipe as normal.