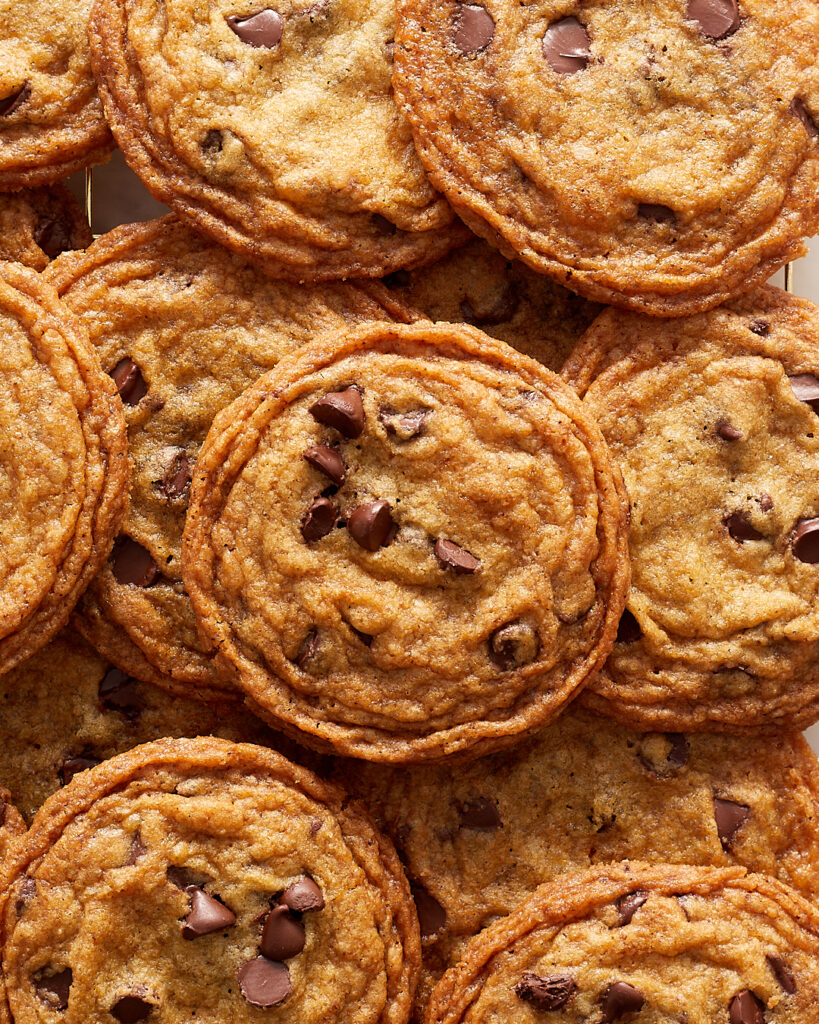 I didn't want gooey cookies. I didn't want cake-y cookies. I wanted crispy, toffee-like, chocolate chip cookies that are perfect for absolutely drowning in milk. That's what this is: a crispy, brown butter chocolate chip cookie recipe. Brown butter is just regular butter that we melt and cook until the water has evaporated and the little specks of milk solids turn brown. This gives the cookies a deeper, more caramelized, nuttier flavor.
How to brown butter for brown butter chocolate chip cookies
It's really important that you pay close attention to this step because the butter can burn quickly if you take your eyes off the pan for even a few seconds. Cook the butter (it can be room-temperature or straight from the fridge) on medium-low heat until it melts. Continue cooking, stirring with a wooden spoon or rubber spatula occasionally. The butter will begin to pop and fizz. These sounds are the water heating up and evaporating off the butter, and once the water starts going, that's when the browning begins. Every so often, use your utensil to scrape up any bits that are stuck to the bottom.
The butter will begin to foam up, but keep an eye on what's going on underneath. You will notice little specks of brown beginning to form. These are the milk solids cooking in the fat — and they are responsible for the malty, caramel-y taste and scent of browned butter. You will begin to notice the popping and fizzing slowing down. The foam should subside and the color of the butter should be amber, with lots of brown flecks swimming in it. Once the fizzing stops, that means all the water has cooked out. At this point, the brown butter can burn easily. Take it off the heat and pour it into a heat-safe bowl to stop the cooking process.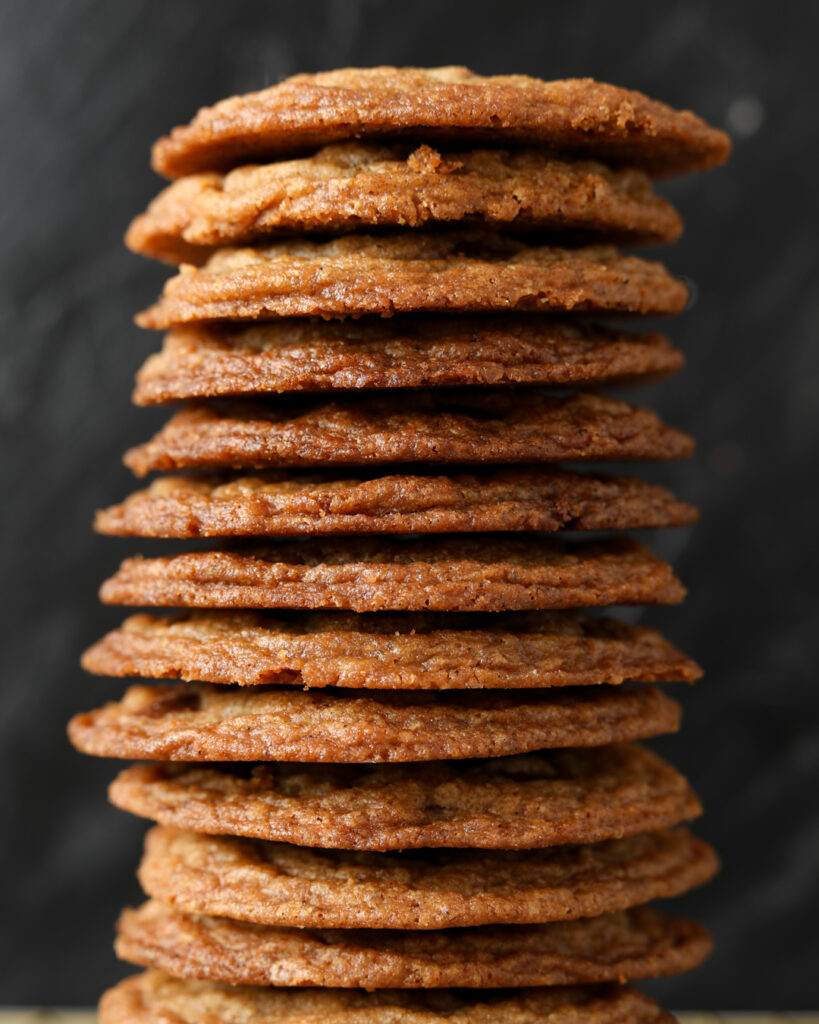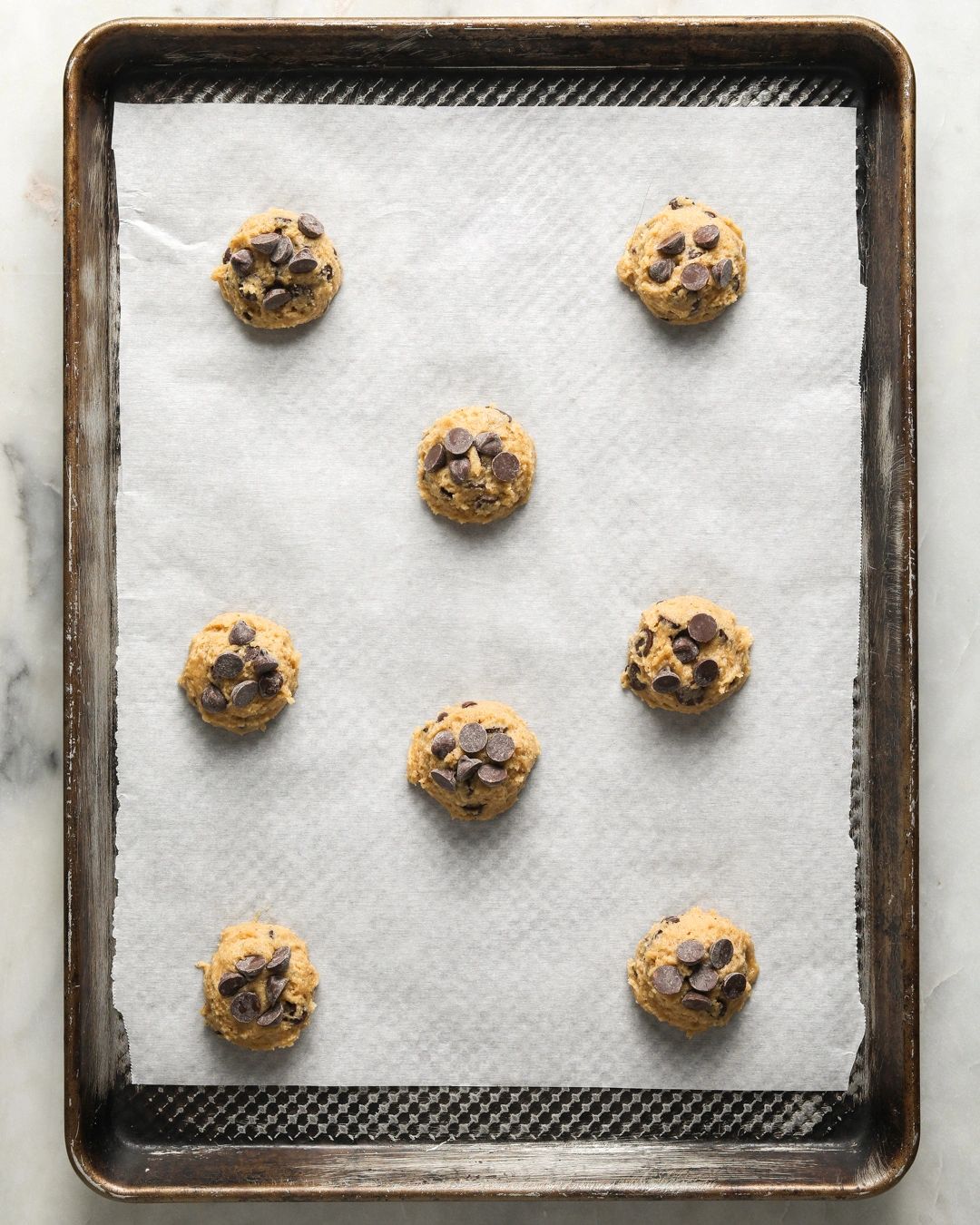 Did you make this brown butter chocolate chip cookie recipe? I want to see! Tag me @easygayoven on Instagram and TikTok.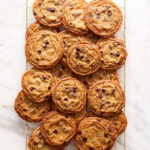 Crispy Brown Butter Chocolate Chip Cookie Recipe
Print Recipe
Brown butter is liquid gold, and it gives this crispy brown butter chocolate chip cookie recipe a nutty, toffee-like flavor.
10

tablespoons

unsalted butter

(142 grams)

1

cup

flour

(130 grams)

1/2

teaspoon

baking soda

3/4

teaspoon

salt

3/4

cup

light brown sugar, lightly packed

(130 grams)

1/2

cup

sugar

(110 grams)

1

large egg

1

teaspoon

vanilla

1

cup

semi-sweet chocolate chips

(200 grams)
Preheat oven to 350° F.

Brown the butter. (This can burn suddenly, so make sure you keep your eye on it!) Melt butter in a saucepan over medium-low heat, stirring and scraping the bottom of the pan occasionally, until totally melted. As it heats up, the butter will pop and fizz. You will see little specks of brown start to form; these are milk solids and they are part of what give brown butter its amazing, nutty flavor. Once the butter is an amber color and stops popping, take it off the heat immediately. Transfer to a bowl of a stand mixer and let it chill in the freezer just until it cools down a bit.

In a medium bowl, whisk together flour, salt, and baking soda.

In the bowl of a stand mixer, cream together the sugars and the cooled butter on medium-low speed until combined. Mix in vanilla and egg until it becomes lighter in color and fluffier.

Add the dry ingredients and chocolate chips into the bowl and mix in just until the last streaks of flour disappear.

Line two sheet pans with parchment paper. Using a 2-tablespoon scoop, portion out the dough onto the sheets, leaving around 2 inches between each ball. They spread a bit.

Chill the portioned dough in the fridge for 10-15 minutes.

Bake on the middle racks for 6 minutes, then switch and rotate the pans positions, giving each a firm *thwap* on the counter. (This is the famous Sarah Kieffer technique for pan-banging cookies.) Bake for 6 more minutes.

Transfer cookies to a wire rack to cool.