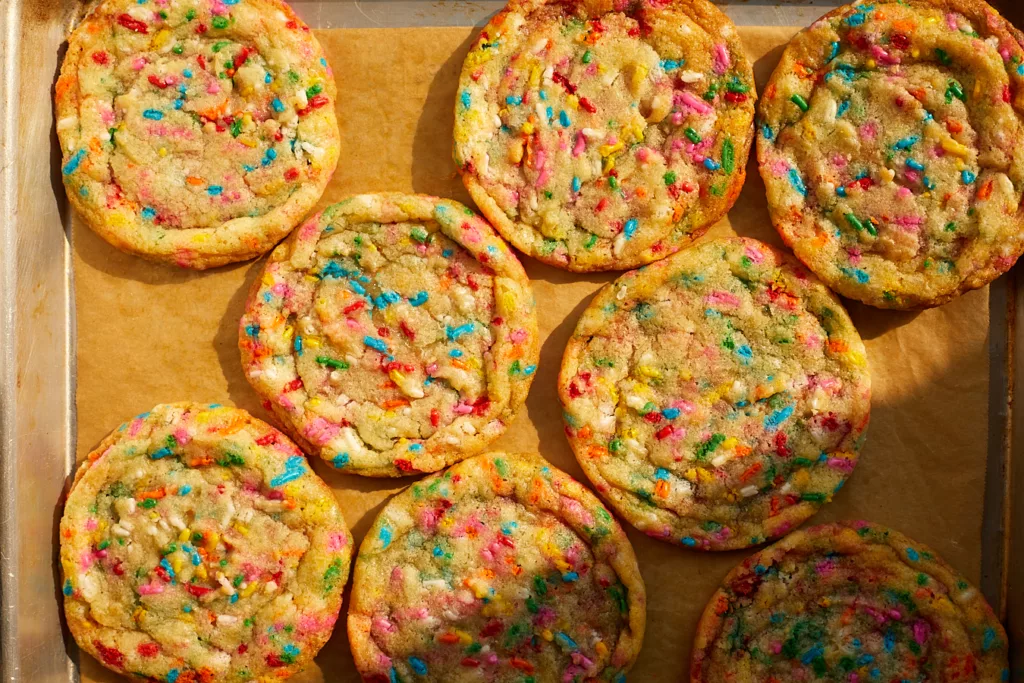 Confetti cookies have taken up real estate on my "to develop" list for over a year now. (Note, I don't use the term "Funfetti" because that trademark is owned by Pillsbury.) Another fun fact: Pillsbury also owns the trademark on "bake off." That's why in the UK it's The Great British Bake Off but in the United States we have The Great British Baking Show or The Great American Baking Show. Now you know!
Using melted butter for cookies
I love making cookies with melted butter. The first pro: no waiting for butter to come to room temperature or fiddling with shortcuts to soften it. The second: the melted butter can hydrate the flour well. This results in a chewy and moist cookie — not dry or crumbly. The one con is using melted butter makes a slack dough, so you do have to chill it, but I usually chill my cookies anyway to develop more flavor and improve texture.
Measuring out the dough
I recommend using a cookie scoop to dole them out then chill them, uncovered, for about two hours. This actually creates a crisp outer layer that adds great texture and cracks open as it bakes. If you don't have a cookie scoop, that's okay. Just chill the dough for around 30 minutes — or until it sets enough so you can divide it into equal balls.
What rainbow sprinkles are best for funfetti / confetti cookies?
Rainbow nonpareils are not a good candidate for mixing into confetti cookies or cakes, as they shed their colorful coatings which then mixes into a spectrum of sludge in the dough. The waxiness of rainbow sprinkles mean they hold onto their color and don't evaporate into the dough when baked.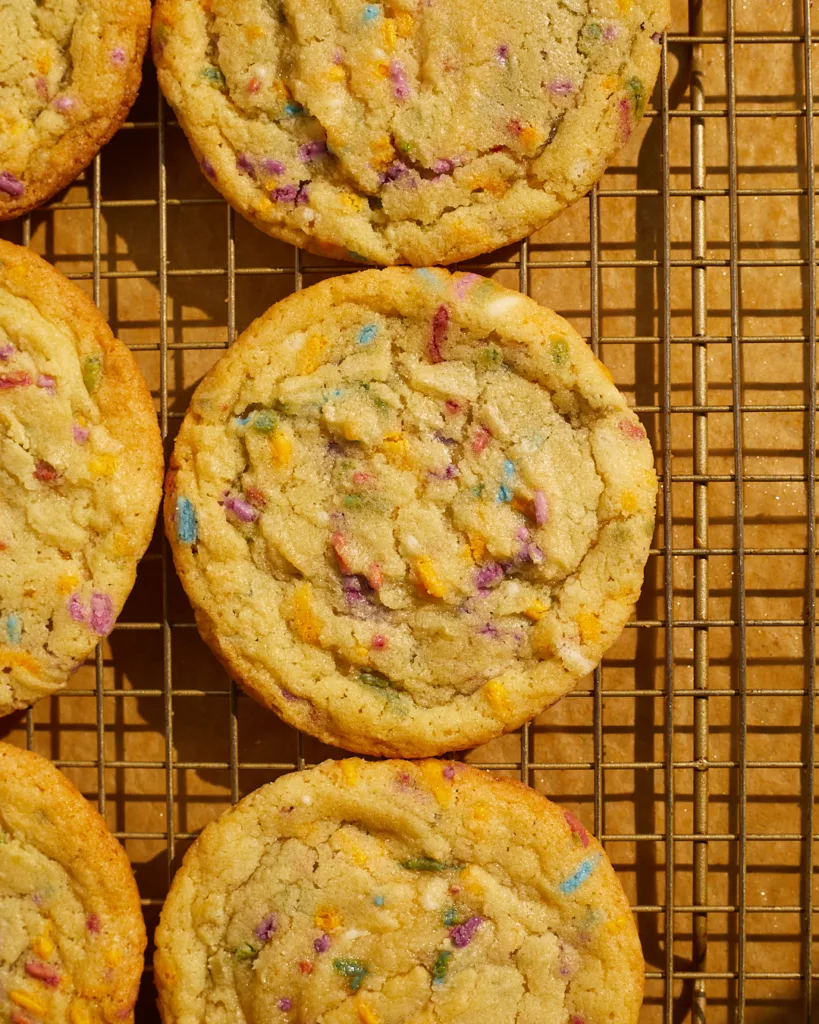 How to prevent over-baking confetti cookies
Since theses cookies have no brown sugar, they are slightly prone to over-baking. Their yellowish-white color may look underbaked in the oven, but they set up fast after baking. They can actually get too crispy on the edges if they get too much color. They also have no brown sugar, which means no molasses, an ingredient that helps keep cookies chewy. We've made up for some of that with corn syrup, but these cookies will not be as forgiving as a chocolate chip cookie to two extra minutes in the oven. You want to pull them out when the outsides are just barely getting light golden brown. The centers should look slightly underdone.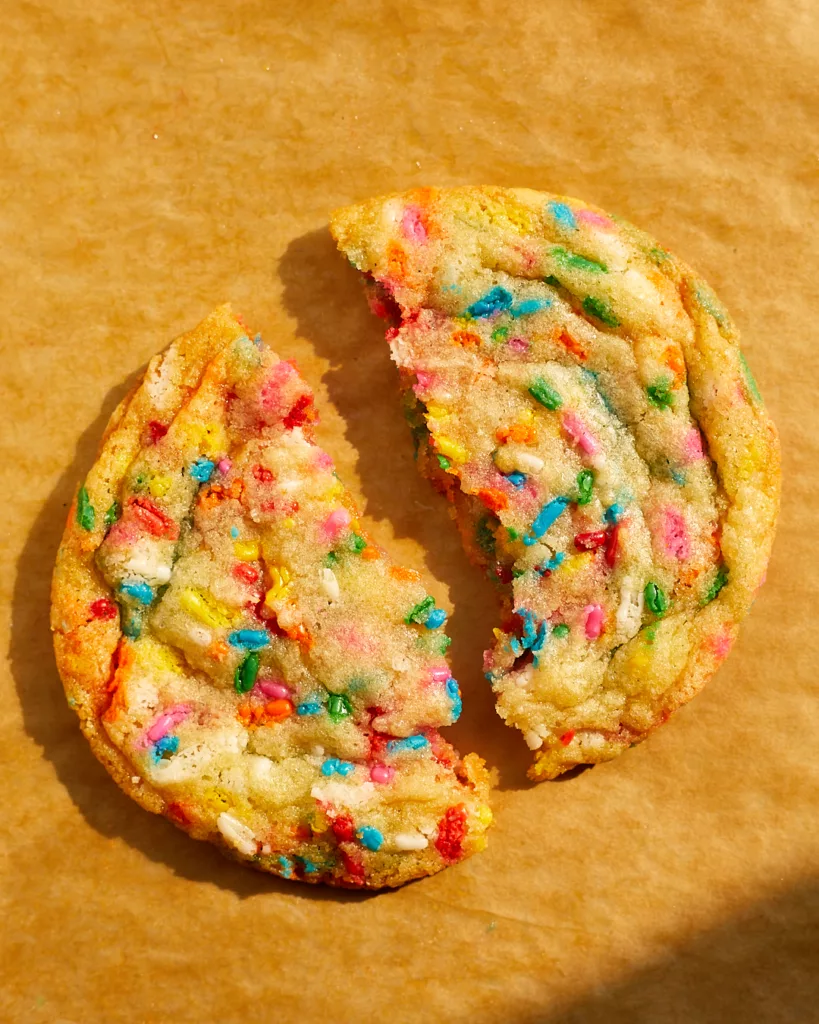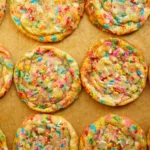 Confetti Cookies
Print Recipe
2 1/4

cups

all-purpose flour

293 grams

3/4

teaspoon

baking soda

1/4

teaspoon

baking powder

1

tablespoon

corn starch

3/4

teaspoon

kosher salt

1 1/4

cups

plus 2 tablespoons granulated sugar

288 grams

14

tablespoons

unsalted butter, melted

(197 grams)

1

tablespoon

light corn syrup

20 grams

1

large egg

2

teaspoons

vanilla extract

1/2-3/4

cup

rainbow sprinkles

not nonpareils (about 3-4 ounces)
Gently melt the butter just until liquified. Set aside to cool until just warm.

Whisk in the sugar and corn syrup until combined.

Whisk in the egg and vanilla.

In a small mixing bowl, whisk together the flour, salt, baking powder, baking soda and corn starch.

Fold the dry ingredients into the wet ingredients. When they're about 90 percent combined, stop and add in the sprinkles. Continue mixing until the last streaks of flour disappear and the sprinkles are evenly distributed.

If the dough isn't firm enough to scoop and form into balls, let it chill in the fridge for 15-30 minutes.

Measure out about 2.5 tablespoons for each cookie, or use a 1.5-ounce cookie scoop, to form about 18 dough balls. Chill the dough balls, uncovered, in the refrigerator for 2 hours.

When the cookies are almost done chilling, preheat the oven to 350°F and place the oven racks in the top and bottom thirds of the oven. Line two half-sheet trays with parchment paper and place 6 or 7 dough balls on each.

Bake the cookies for 5 minutes, then take each tray and bang it on the racks or the top of the stove to deflate them. Switch their positions in the oven and continue baking for 4 more minutes, banging them two more times, once after two minutes, and once when you take them out of the oven. The cookies should be crisp and just barely golden on the edges, and their centers should be underdone.

Allow the cookies to set up on their trays for a minute before transferring them to a wire rack to complete cooling.

Repeat with the remaining dough balls or store them, covered, in the fridge or freezer to bake later.