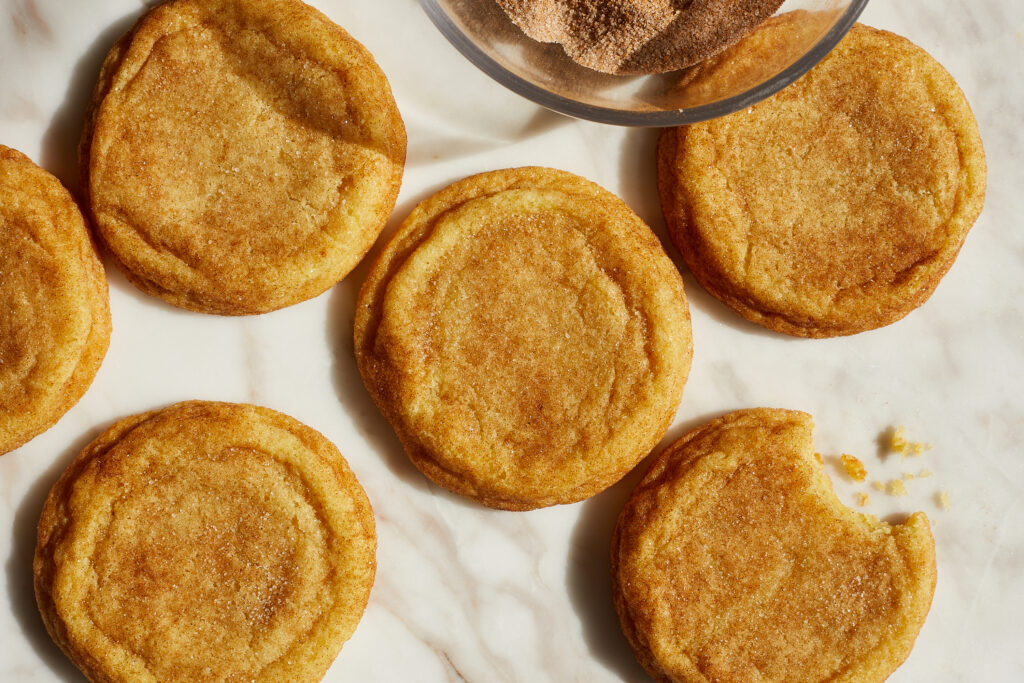 (This recipe was updated on October 29, 2022.)
What makes a snickerdoodle a snickerdoodle? It's not just a sugar cookie with cinnamon. The real difference, I discovered, lies in a not-so-secret ingredient: cream of tartar, which gives these cookies their signature tang. My recipe doesn't produce soft and pillowy cookies like many others that share their name. These chewy snickerdoodle cookies are flat-ish, crispy on the edges and delightfully chewy in the centers.
And what's with that name? Some sources claim that "snickerdoodle" is some form of the German word "schneckennudeln", which is basically a sweet roll. And then others report that someone in 1800s New England simply invented a nonsense word to describe this new, popular cookie type. Truly a mystery for the ages.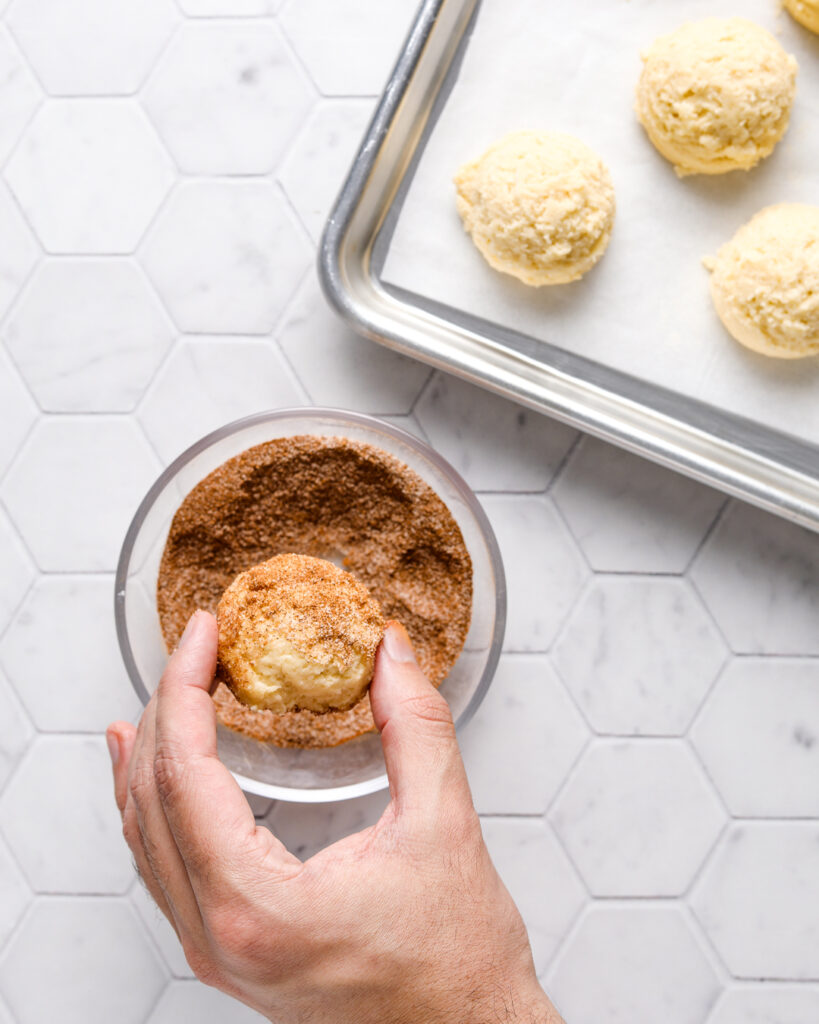 Here's a tip for more picture-perfect, circular snickerdoodle cookies (and way less struggle measuring!): use a cookie scoop. They also call these press dishers — they're basically just ice cream scoops! For this recipe, I use my 1.5-ounce model. I recommend the ones with the spring-loaded trigger on the handle. They're much sturdier and easier to use than the squeeze ones, which I have broken before trying to measure cookie dough. You could also just use a spoon and they'll still turn out great!
Why do snickerdoodle cookies use cream of tartar?
Cream of tartar is what gives snickerdoodle cookies their signature tangy flavor, but it also, in concert with baking soda (and baking powder in this recipe) gives the cookies some lift. There is also evidence that cream of tartar prevents sugar crystallization, which keeps the cookies soft and chewy, and not crunchy.
Can I make snickerdoodles without cream of tartar?
You can, but not with this recipe. Since cream of tartar acts as a leavening agent like baking powder and baking soda, this will change the texture, spread and rise of the cookies. And as I mention above, cream of tartar is also responsible for the acid that contributes to their tang, so the resulting taste will also be different and you'll be left with what are just cinnamon-sugar covered sugar cookies — which wouldn't be the worst fate!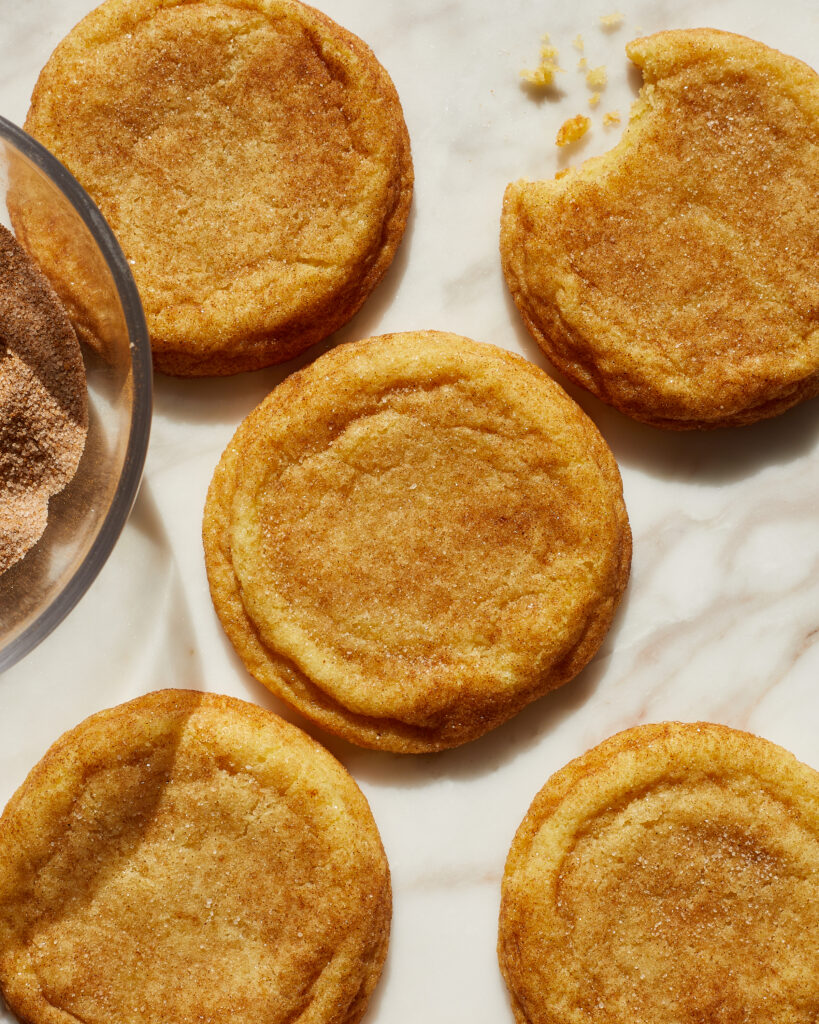 Did you make these chewy snickerdoodle cookies? I want to see! Tag me @easygayoven on TikTok and Instagram.
Chewy Snickerdoodle Cookies
Print Recipe
These chewy snickerdoodle cookies aren't soft and pillowy. This recipe makes flat-ish cookies, crispy on the edges and chewy in the centers.
For the dough:

2

cups

all-purpose flour

260 grams

1

teaspoon

baking soda

½

teaspoon

baking powder

1

teaspoon

Diamond Crystal kosher salt

use half teaspoon for table salt

1

teaspoon

cream of tartar

1 1/2

cups

powdered sugar

196 grams

12

tablespoons

unsalted butter

gently melted (169 grams)

1

large egg

1

teaspoon

vanilla extract

For the cinnamon coating:

1/4

cup

granulated sugar

1

tablespoon

ground cinnamon
In a small mixing bowl, whisk together the flour, cream of tartar, baking soda, baking powder and salt.

In a large mixing bowl whisk together the powdered sugar and butter until smooth and homogenous.

Add the egg and vanilla and whisk until fully combined.

To the the wet ingredients, add the flour mixture all at once. Using a rubber spatula, fold the flour into the wet mixture just until the last streaks of flour disappear.

Chill the dough, covered, in the refrigerator for about 2 hours.

Around 10 minutes before you take the dough out of the refrigerator, preheat the oven to 350°F.

Line two half-sheet pans with parchment paper, set aside.

In a small bowl, mix together the cinnamon and granulated sugar.

Measure out 12-13 dough balls — about 2 heaping tablespoons or 1.5 ounces each — and roll each of them in the cinnamon sugar until fully coated.

Place 6 or 7 dough balls on a half-sheet tray, spacing them out so they don't run into each other. In the meantime, cover the extras and return them to the fridge.

Bake the cookies sheets for 6 minutes, then give the tray a meaningful *thwap* on the counter to de-puff the cookies. (This makes the edges crinkly and crispier.) Return them to the oven for 4 or 5 more minutes, just until the edges are set and starting to lightly brown.

Let the cookies cool on the tray for about 3 minutes then transfer to a wire rack to cool. Repeat with remaining dough.