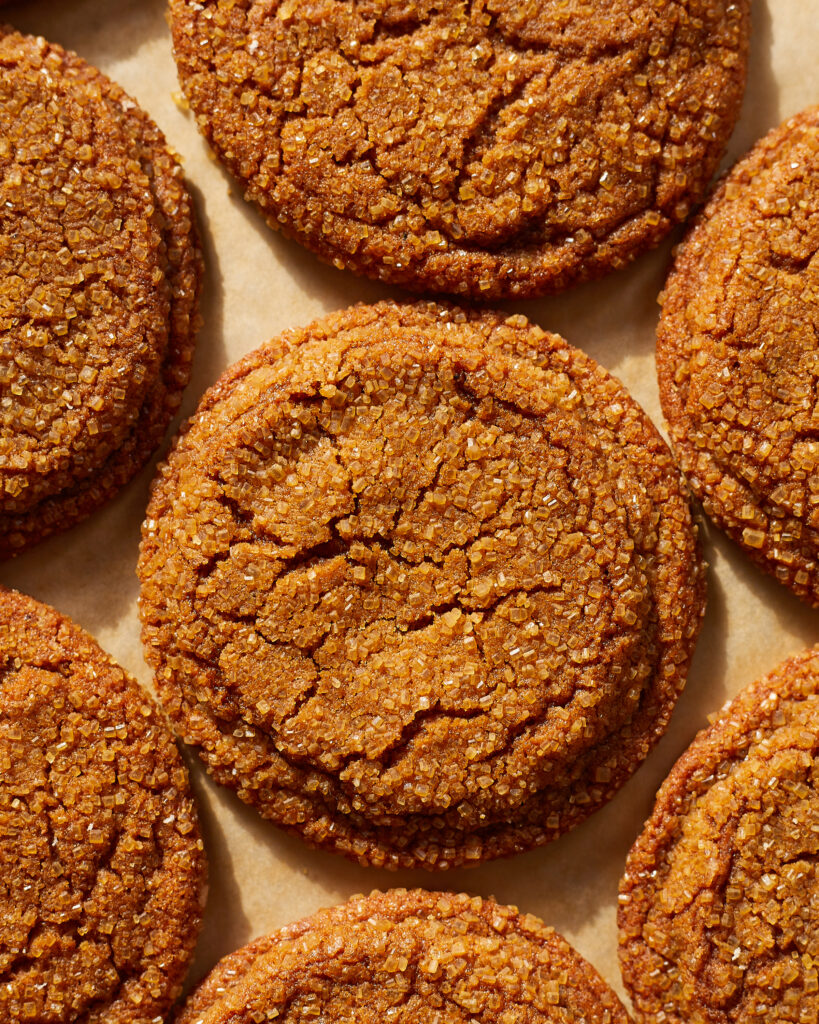 Everyone's holiday baking arsenal should include a foolproof recipe for chewy ginger molasses cookies. Not a gingerbread cookie, but not a gingersnap either. Theses definitely don't snap. They can sit for days in an air-tight container and stay soft and chewy thanks to lots of molasses and brown sugar. They actually come out of the oven with very soft edges, and as they sit, they firm up, giving the rim a crispiness. But as they sit, they soften up again. It makes them perfect for gifting, even when the recipient might not have them for a day or two.
Oh! And did I mention these are made with browned butter, which really doesn't make them taste like browned butter, but it grounds them in this nutty, savory flavor profile which stands up so well to the possibly overwhelming sweetness of the molasses and 3 types of sugars. I was tempted to use real ginger in this recipe, but I really wanted it to be a pantry staple, where you might have all the ingredients on hand already. This recipe uses the ground stuff, just a teaspoon, but if you can really handle the kick of ginger, bump it up by 1/4 teaspoon, I don't care! And, okay, you might not have on hand the Demerara sugar— which I ask you to coat the outsides of the scoops of dough, giving the cookies a slight, caramel-y crunch on the exterior — but that's optional!
Here are 3 tips for making these chewy ginger-molasses cookies:
1. Use regular, unsulfered molasses.
Regular molasses has 70% sugar content and blackstrap style or "robust" style has 45%. They look similar on the grocery store shelf, so make sure you pay attention. During testing, I mistakenly used a bottle of blackstrap-style molasses (it was in tiny writing on the back!) and the cookies spread differently, didn't really achieve the crackly effect I wanted, and came out of the oven a darker color. (You can actually see cookies from that mistake batch below!) Now, they were still pretty good! I liked them a lot. But if you want cookies that look like these … you know which to use.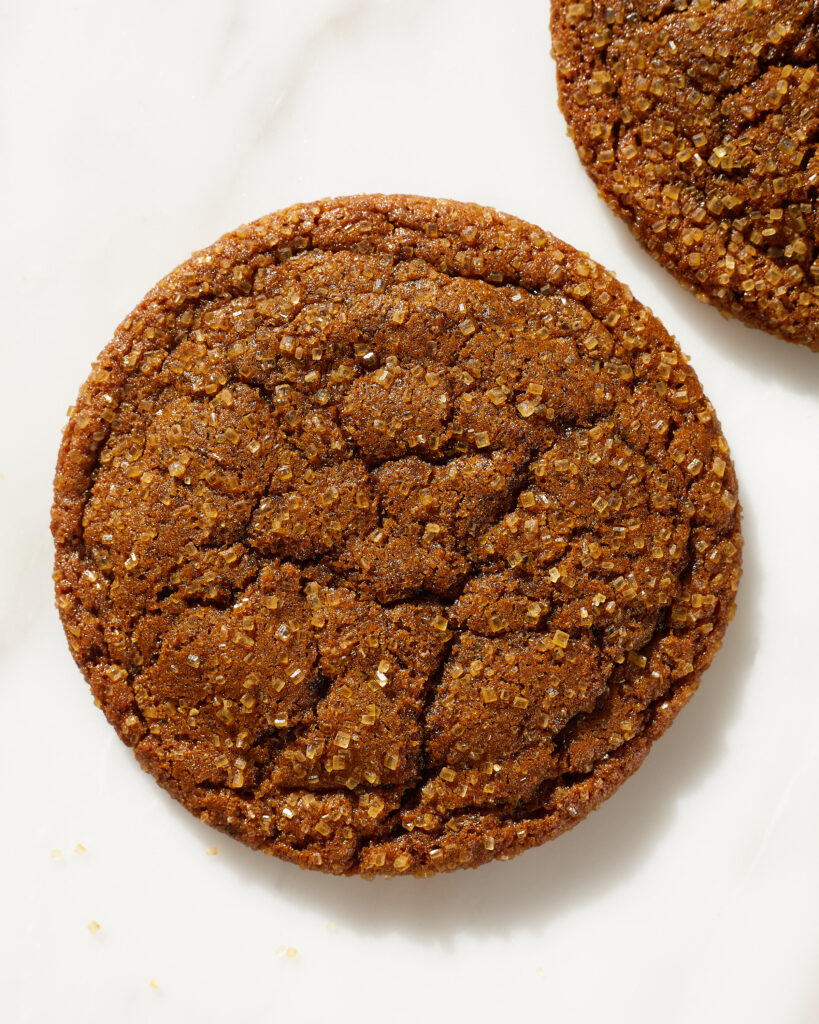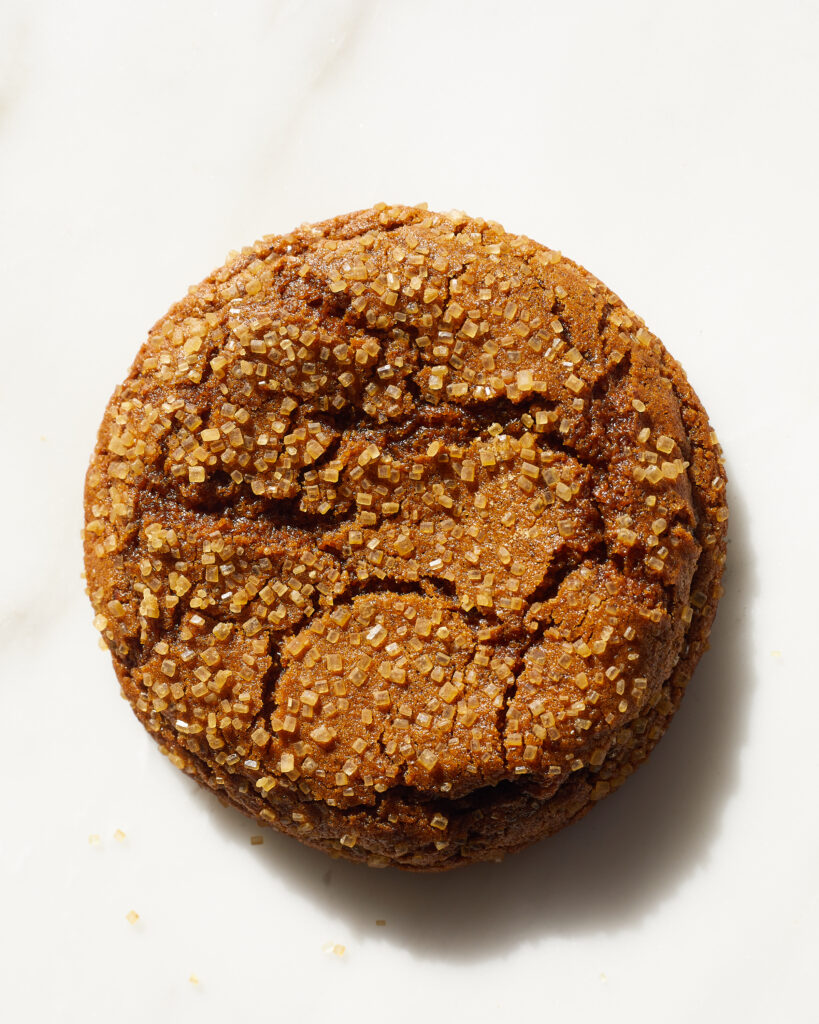 2. Oven temperature is important for chewy cookies.
Above, you can see two cookies. They're actually from the batch I made using blackstrap molasses accidentally, but they're a good indicator of how even 10 degrees in one direction or another can produce very different-looking cookies — with very different textures. The one on top went into an oven that was maybe 10 degrees too cool.
This meant the cookie spread a lot. At the right temperature (350° F) the bottom of the dough ball would melt down, come into contact with the hot sheet tray, and bake, setting the edges of the cookie first so the rest of the cookie doesn't keep spreading outwards. It also meant that the cookie lost its very distinctive crinkles and the crisp outside shell that gives way to a chewy interior. At the right temperature, the outside bakes a bit faster than the insides, setting an outer shell that then gets burst open from the hot dough expanding inside. That's what gives these cookies their crackly exterior.
The cookie on the bottom, however, went into an oven that was about 10 degrees too hot, causing an opposite problem: it barely got the chance to spread at all before the bottom was baked and set, resulting in a very thick cookie that was underdone in the middle.
Let's be clear, both cookies were perfectly edible and delicious, but to make sure your oven is at the right temperature, be patient with a nice, long preheat so the oven can get used to the temperature it's supposed to be at. And as I always recommend, get an oven thermometer because your oven's internal thermometer is probably wrong!
3. Measure your flour correctly!
I can't say it enough. So many times when recipes don't go right for folks, it's because they have measured their flour incorrectly. If you have a digital scale, you can stop reading this! Just use the gram amounts I've given for everything.
If you don't, this is how to properly measure flour so you don't get too much: Just remember "scoop and sweep" or "spoon and sweep". First, fluff up the flour in the bag or container with a spoon, a small scoop, or even a whisk. This helps aerate it, since it's been sitting around letting gravity compact it over time. Then take your spoon and scoop the flour from its container and into your measuring cup. Once the measuring cup is a little more than full, use a straight edge to sweep the excess flour back into the container. There! Now you know. Do not just shove your measuring cups into a flour bag. You will get dry cake-y cookies.
Did you make these chewy ginger-molasses cookies? I want to see! Tag me @easygayoven on Instagram and TikTok.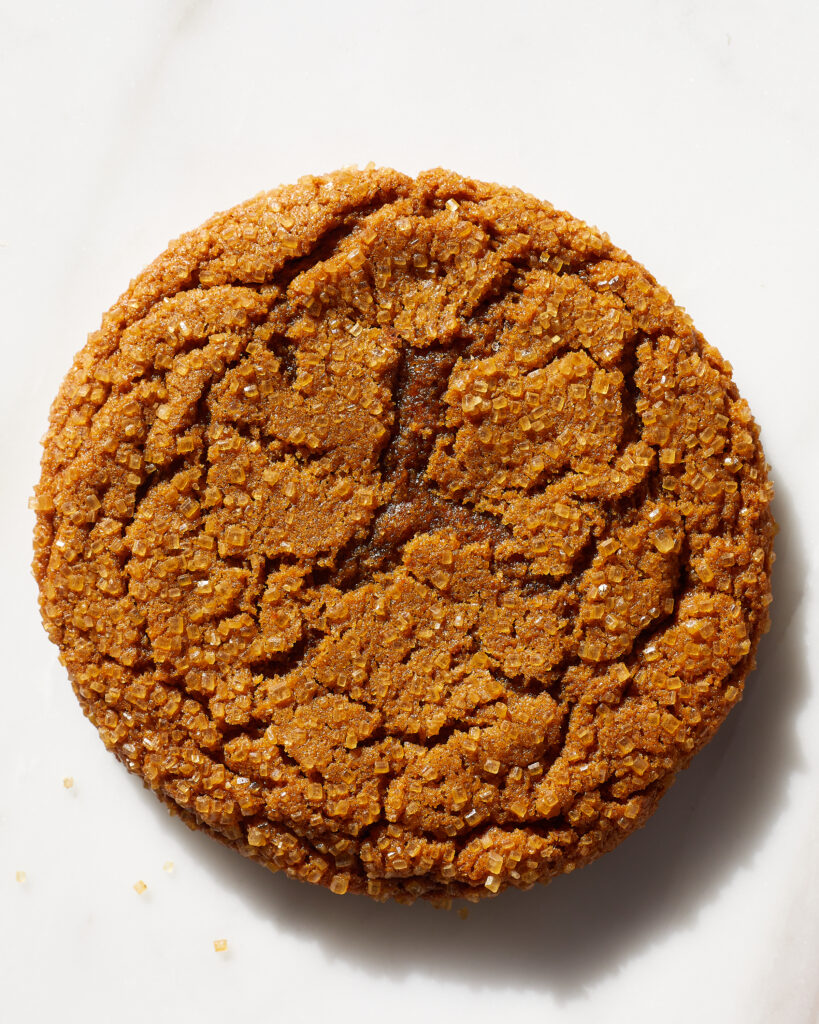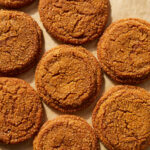 Chewy Ginger Molasses Cookies
Print Recipe
Everyone's holiday baking arsenal should include a recipe for chewy ginger molasses cookies. Not a gingerbread cookie, but not a gingersnap.
10

tablespoons

unsalted butter

(141 grams)

1 3/4

cup

all-purpose flour, measured using the scoop-and-sweep method (see above)

(227 grams)

1/2

teaspoon

baking soda

1/2

teaspoon

baking powder

1

teaspoon

kosher salt

1

teaspoon

ground ginger

1/4

teaspoon

ground black pepper

1

teaspoon

ground cinnamon

1/2

teaspoon

ground nutmeg

1/3

cup

unsulphured molasses

(93 grams)

1/2

cup

dark brown sugar, lightly packed

(95 grams)

1/2

cup

white granulated sugar

(110 grams)

1

large egg

1

teaspoon

vanilla extract

Demerara or Turbinado sugar

for coating, optional
Brown the butter. In a saucepan, melt the butter over medium-low heat. Cook the butter, scraping the bottom of the pan occasionally, until it bubbles and foams, smells nutty, and you can see little flecks of brown at the bottom of the pan. Once you no longer hear any popping or fizzing, take it off the heat immediately and transfer to a large mixing bowl. Let cool until it's just barely warm.

In a small mixing bowl, whisk together the flour, baking soda, baking powder, ginger, black pepper, cinnamon, and nutmeg. Set aside.

Pour the molasses into the browned butter and whisk. Add the granulated and dark brown sugars, whisk until combined and glossy, then whisk in the egg and vanilla.

Fold the flour mixture into the wet ingredients using a rubber spatula, stopping when the last streaks of flour disappear and the dough is homogenous. Cover and chill in the refrigerator for about 30 minutes just so the dough can firm up a bit.

Measure out 13 or 14 balls of dough, about 2 heaping tablespoons or 1.6 ounces each. (I like to use a #24 cookie scoop for this.) Roll each ball in Demerara sugar. Cover the dough balls with plastic wrap and return them to the refrigerator to chill again for about 1 hour.

Pre-heat the oven to 350° F. Line two half-sheet trays with parchment paper and set the oven racks to the top and lower thirds positions. Bake the cookies, 6 or 7 to a tray, for 7 minutes, then rotate them 180 degrees and switch their places, giving them a firm *thwap* on the counter when you do. Continue baking for 5 to 6 more minutes, or until the edges are set but still soft and pliable.

Allow the cookies to cool on their trays for 2 minutes before carefully transferring them to a wire rack to cool completely.