A fundamental misunderstanding lies at the heart of one of baking's most heated discourses. What is the difference between fudgy, chewy, and cakey brownies — and which type is best? If you were to ask an audience of people to describe each variety, they'd come up with wildly different answers. When bloggers tag their brownie recipes as "fudgy," the brownies are usually just underbaked, soft, and a little molten. (WHICH IS FINE! They're probably delicious!)
We need to find a new name for this type of brownie, if you ask me. The problem is, they don't really look or taste like actual fudge, which is dense and creamy. There are some more old-school recipes — like the ones you would get at a church potluck, like the ones on the back of baker's chocolate bars — that end up fitting this description. But I usually find *actual* fudge brownies too bitter, too rich, or too cloying. Just eat fudge!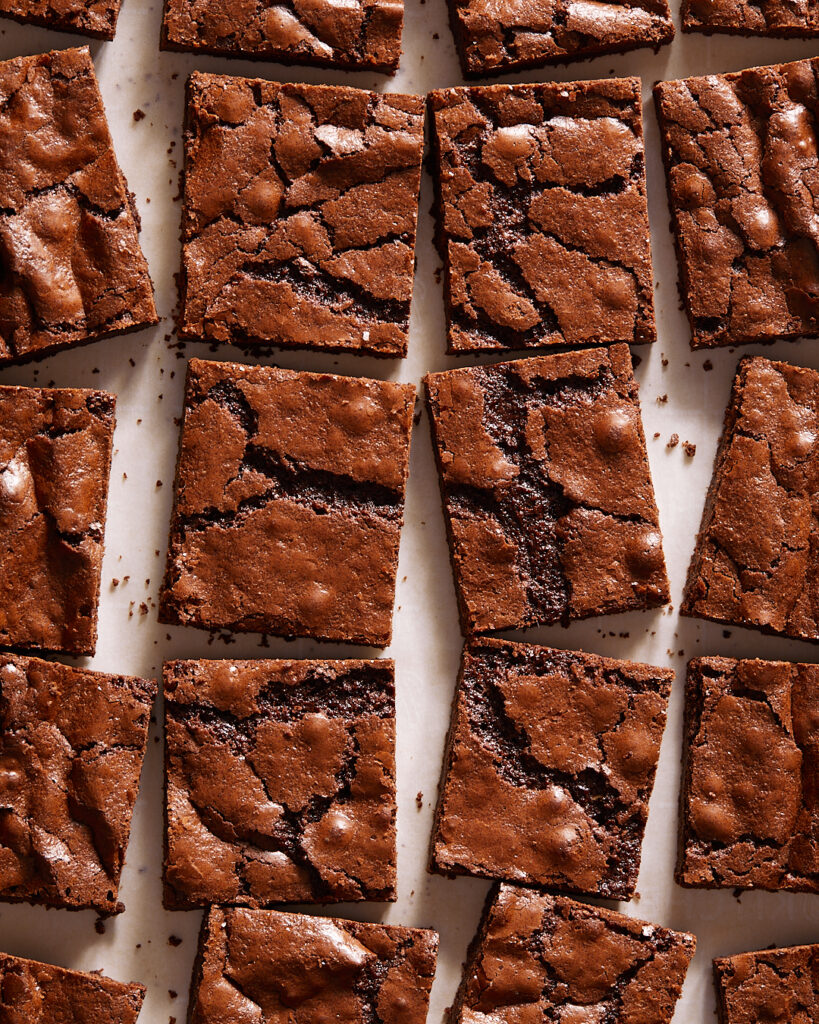 Then there's "cakey" brownies, which, let's be honest, are just a worse version of chocolate cake! I don't think this warrants further discussion.
How to make chewy brownies
The chewy brownie, which is my ideal brownie, actually lives up to its name. For this recipe, I set out to create brownies that were fully baked, but not puffy and light, buttery but not greasy. They actually have the texture of a thick, chewy cookie, but with that shattering, thin, crisp top layer you expect from a brownie. That being said, for brownies, they are thinner than most and sport a crackly top, so if you have aesthetic objections to that … I don't know what to tell you.
After 13 recipe tests and hundreds of brownies, I've learned a lot about the more-complicated-than-you-think science of this dessert. For example, so many recipes online say to cook your sugar in the melted butter to dissolve the sugar will produce a shiny crust on top. This technique never worked for me, and it's probably because sugar doesn't dissolve in fat, it dissolves in water. That's why whisking the sugar in with the eggs produced better results. Some recipes call for just cocoa powder or just melted chocolate, or just butter and no oil. Mine calls for all 4 of these ingredients because each brings a unique quality, texture or flavor to the table.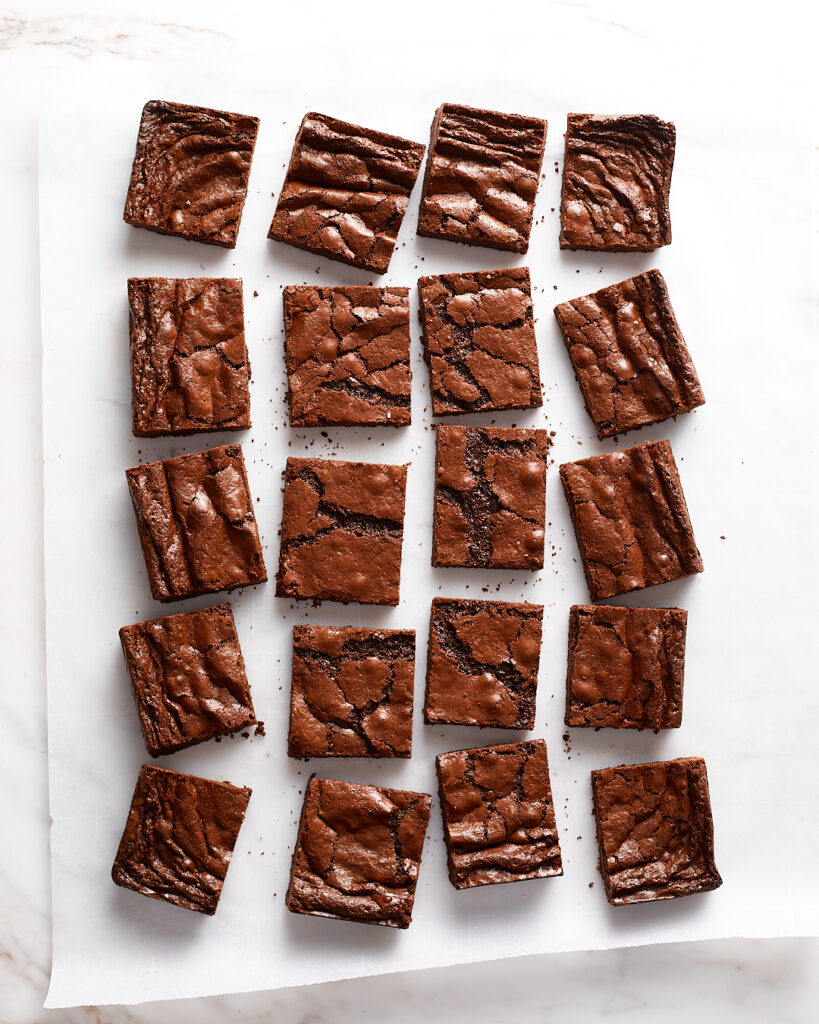 Here are 5 tips that will help you to brownie brilliance with this recipe!
Use Dutch-process cocoa. I like this brand, but Valrhona, Guittard and Ghirardelli all have versions of it. There are scientific reasons for this, but all you need to know is this type of cocoa tastes richer and more chocolatey. I am begging you, do not use natural cocoa powder, which will produce dry, cakey, flavorless brownies.
Ensure the butter doesn't get too hot. It just needs to get warm enough to melt and melt the chocolate. Don't add it to the egg mixture if it is still hot to the touch or it could cook the eggs and you would have scrambled egg brownies.
If you don't have kosher salt, use ½ teaspooon of table salt or sea salt instead.
Measure your flour correctly. I can't say it enough! Using the spoon and sweep method, where you gently spoon flour into the measuring cup and sweep off the excess with a straight edge, will help make sure your brownies don't come out cakey.
Want nice, clean edges on your brownies? Taking the time to let the brownies cool off and set may not be easy, but if you want to make an easy job of cutting them into even pieces, it is what you must do. Chilling them in the refrigerator can also help.
Did you make these chewy brownies? Tag me on Instagram and TikTok @easygayoven! I would love to see what you make.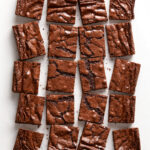 Chewy Brownies
Print Recipe
These chewy brownies are thin with a shiny, crackly, ripply top. They definitely aren't cake-y, but they're not fall-apart-fudgy, either.
3/4

cup

unsalted butter

169 grams

4

ounces

semisweet chocolate

chopped

1

tablespoon

vanilla extract

3

large eggs

at room temperature

1 1/4

cup

sugar

270 grams

3/4

cup

brown sugar

140 grams

1/4

cup

vegetable oil

60 ml

1

teaspoon

kosher salt

1/2

cup

Dutch-process cocoa powder

do not use natural (52 grams)

1/2

cup

flour + 2 tablespoons all-purpose flour

83 grams

1/2

teaspoon

baking powder
Preheat the oven to 350°F and place the racks in the top and lower thirds. Grease a 9"x13" baking tin with butter, line it with parchment so that there's a bit of overhang on the sides, and then grease the parchment as well.

In a small bowl, whisk together the baking powder and flour. Set aside.

In a saucepan, melt butter over low heat. Turn off the heat and stir in chopped chocolate until combined. Mix in the vanilla and set aside to cool slightly.

In a medium bowl, whisk together eggs, sugars, oil and salt. Pour the butter and chocolate mixture into the egg mixture and whisk vigorously until it is smooth.

Whisk in the cocoa powder just until there are no lumps.

Fold in the flour and baking powder and give the batter a few more stirs after it all comes together. (This helps make the brownies chewy.)

Pour the batter into the prepared 9"x13" tin, spread evenly (an offset spatula helps), and bake for 40 minutes on the lower rack.

Remove from the oven and let cool in the tin on a wire rack. Once cooled, use the parchment to lift the brownies out. Cut brownies and serve.