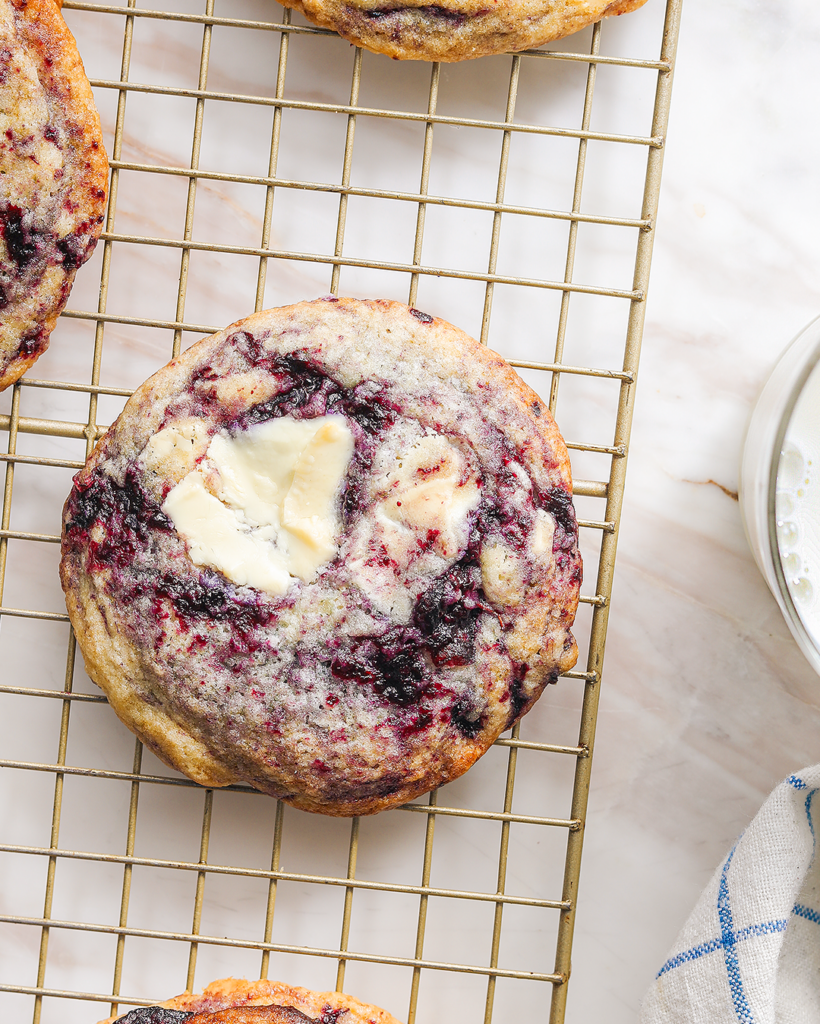 "I've never heard of a blueberry in a cookie," said my coworker as I was explaining to her the vision for my newest original recipe. "Maybe that's for a reason," I worried to myself. Now, after almost a month and a half of rigorous testing, I'm ready to release these blueberry white chocolate cookies just in time for blueberry season. I tried fresh, frozen, store-bought dried, and homemade dried blueberries for this recipe. The fresh ones broke open and changed the consistency of the dough, the frozen ones made the cookies look GREEN. The store-bought, dried blueberries had this awful after-taste, and drying the fruit at home was way too laborious.
My dad saved the day by handing me some cooked-down blueberries he was going to use as pie filling. The consistency was just what I needed to swirl into the dough. Plus, the flavor is so much more concentrated than just adding fresh blueberries straight into the dough.
What You Need to Make Blueberry White Chocolate Cookies
Ingredients
Fresh or frozen blueberries
Lemon juice
Unsalted butter
Vanilla extract
Large eggs
Granulated sugar
All-purpose flour
Kosher salt
Baking soda
White chocolate
Equipment
Here are 3 tips for making Blueberry White Chocolate Cookies
Please love yourself and use bar or blocks of white chocolate if you can find them. The morsels are covered in additives that make them hold their shape, so they don't melt as well. Using morsels will also stop your cookies from spreading enough.
Measure your flour correctly. This piece of advice is on almost every recipe I publish because it is the culprit behind so many baking fails! Avoid dry, cake-y cookies that don't spread enough and make sure you are using the "spoon and sweep" or "scoop and sweep" method. Instead of shoving your measuring cup into the flour bag, take a spoon or scoop and spoon the flour from its container into your measuring cup. Then, level off the excess with a straight edge. Or, avoid this hassle altogether and invest in a digital scale.
Get an oven thermometer. Ensuring your oven is at the right temperature is key for cookies that spread just the right amount and bake evenly, with crisp edges and a chewy interior.
You can halve this recipe. This recipe makes around 22 blueberry white chocolate chip cookies, but you can easily halve it.
Why do the flavors in Blueberry White Chocolate Cookies work?
Let's start by thinking about treats like white chocolate cranberry cookies — or even better, the Starbucks Cranberry Bliss Bars. Blueberries have a tart sweetness that's milder than cranberries, but the additional lemon juice in the blueberry swirl makes up for that acidity, and the small amount of sugar which actually serves to bring out the blueberry flavor and hold together the swirl better. To balance the tartness and jam-like texture of the blueberries, we're using white chocolate, which has a mellow, malty flavor and a creamy mouth-feel. I know it all sounds weird but I'm here to tell you it works! Trust me!
Can I use frozen blueberries for these cookies?
Yes, you can! I would let them thaw for about 30 minutes just so you don't cook off the lemon juice and vanilla while waiting for the berries to break down and release their liquids. I also recommend starting the temperature on low to medium low to start that way you're just melting and defrosting them — instead of overcooking their outsides while their insides are still frozen. They will take longer to cook if they are still slightly frozen, but they will actually break down faster because the freezing temperatures have already expanded the water inside them, bursting through the membranes that make blueberries plump and give them their "pop" when you bite down.
Do I need to chill my cookie dough?
Yes! This step does two things. Firstly, the low temperature helps firm up the dough, which prevents the cookies from spreading too much in the oven. Secondly, chill and/ or resting cookie dough also helps the dough develop more flavor as the liquids in the egg, vanilla and butter are able to hydrate the flour. A well-rested (ha) dough also stops the cookies from turning out cake-y, crumbly or dry.
Did you make these blueberry white chocolate cookies? I want to see! Tag your creations @easygayoven on Instagram and TikTok.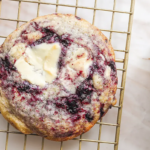 Blueberry White Chocolate Cookies
Print Recipe
An unusual flavor combination works so well in one of my most popular recipes: blueberry white chocolate cookies.
Blueberry swirl
1

pint

fresh blueberries

1/4

cup

sugar

2

tablespoons

lemon juice
For the blueberry mixture
Add the blueberries, lemon juice and sugar into a small saucepan. Over medium heat, cook the mixture stirring with a wooden spoon or rubber spatula regularly.

Break up most of the blueberries with the end of the spoon, leaving some intact.

Continue stirring until the mixture has reduced by about half. You should be left with 2/3 cup of the blueberry mixture.

Carefully pour the mixture into a heatproof container, cover, and place in the freezer or fridge to chill completely (this also helps it gel together). Don't let it freeze!
For the cookies
Line two baking sheets with parchment paper.

Whisk together the flour, baking soda, and salt in a small bowl. Set aside.

In the bowl of a stand mixer fitted with a paddle attachment, cream together the butter and sugar on medium for about 30 seconds.

Add the eggs, one at a time, and beat until combined. Mix in the vanilla.

Dump in the dry ingredients and pulse the stand mixer a few times so you don't wind up with flour all over your counter and down your shirt. Beat on low until the last streaks of flour are just barely visible.

Dump in white chocolate and combine. Don't over-beat.

Take the bowl out of the stand mixer and transfer half the dough to the small bowl from earlier. (The purpose of this step is to evenly and easily swirl the blueberry mixture into the dough.)

Dollop half of the chilled blueberry mixture into each bowl and using a knife, swirl it around the dough until it's fairly distributed. If you mix it in too much, the whole dough will turn blue, which wouldn't be the worst thing ever.

Dole out 5-6 balls of dough onto each tray, leaving about two inches between them. I usually use a medium spring-loaded ice cream scoop for this.

Chill them in the fridge for about 45 minutes. Preheat your oven to 350° F.

Bake both trays for 16 minutes, turning them and switching racks halfway.

Transfer to a cooling rack. Repeat with the rest of the dough.