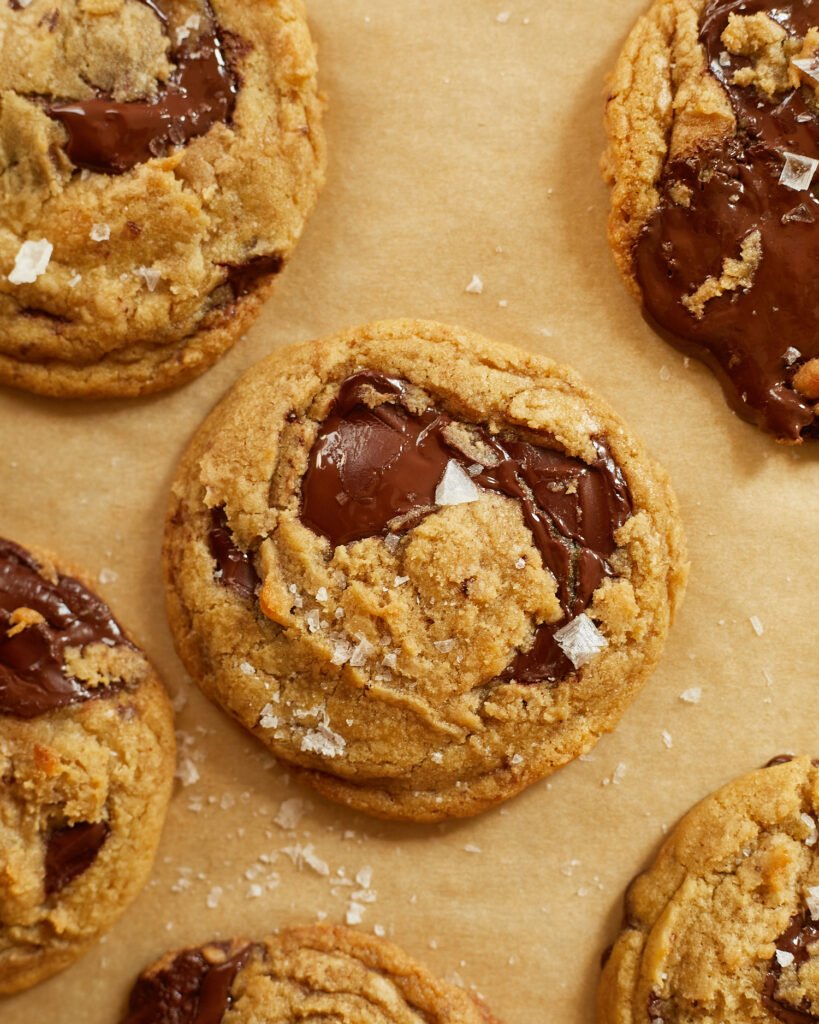 I first published this recipe in March of 2021, and I have recently wanted to take a closer look at it because, as much as I believed it was my best-ever chocolate chip cookies recipe, I also knew I could do better. And, oh, did we make them better. Where the former recipe leaned eggier and slightly cake-y, this recipe is truly crisp on the outside, gooey on the inside. The edges rise and crinkle as the center falls down and cracks open to reveal glorious subterranean pools of melted chocolate. TL,DR: This recipe has more brown sugar, less eggs, more vanilla extract, and just a little bit of baking powder to help with the pan-banging method (read on for more info). PLUS! We only have to chill these bad boys for 2 hours — not 24.
After a week of testing, 5 batches and over 100 cookies, here it is: the new and improved recipe for my best-ever chocolate chip cookies.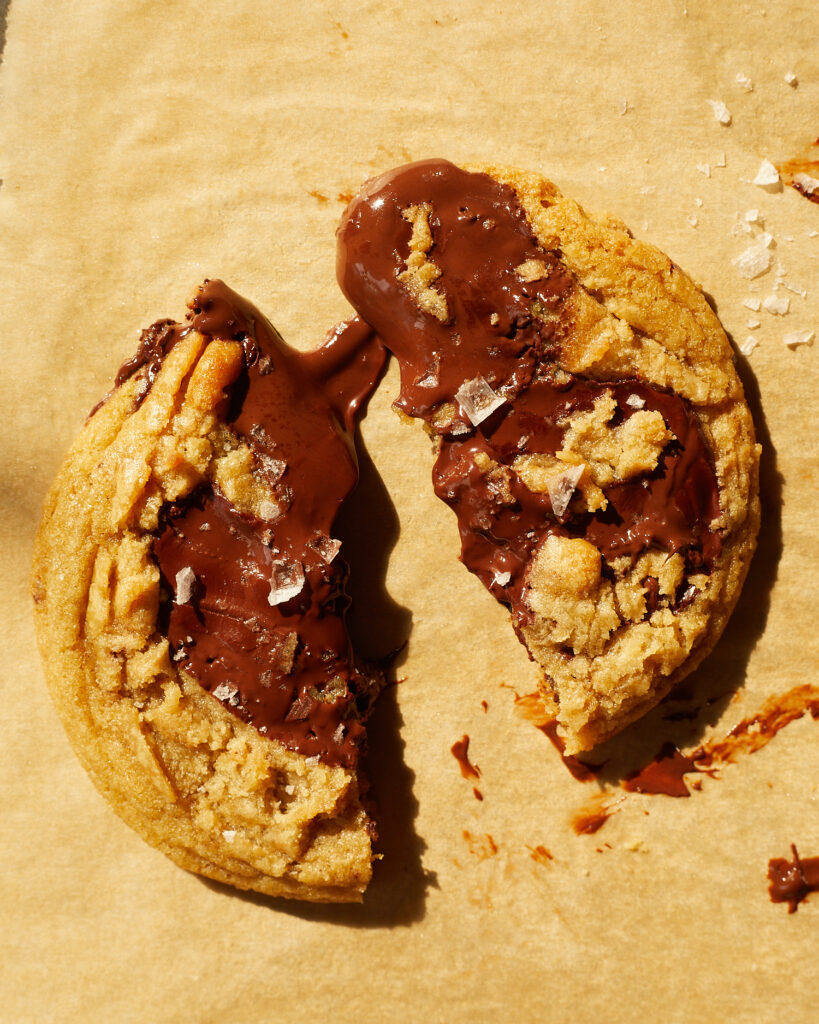 So we did crispy brown butter chocolate chip cookies, which were fab, but I wanted more. I wanted gooey, chewy, buttery cookies that would look at home behind the glass at a bakery. Cookies with puddles of chocolate — no, not puddles. I wanted chocolate rivers, ponds, TRIBUTARIES, DELTAS.
What chocolate to use for chocolate chip cookies
And if you want those things too, you can't use chocolate chips. Store-bought chips and chunks have a coating on the outside that actually prevent them from losing their shape. This makes it hard for them to melt in the oven, and preventing the cookie's spread. The best way to get melty chocolate pockets is by chopping up a big bar or block of good quality chocolate. Surprisingly, the huge 17-ounce bars they sell at Trader Joe's work wonderfully for this — and they're like $5! I also recommend the small bars of Guittard. If you can't find those, using the discs or feves from Valrhona and Guittard works. Ghirardelli bars work well in a pinch, but they don't spread as much as the other options.
The pan-banging method for cookies
This recipe utilizes the pan-banging method, popularized by Sarah Kieffer of The Vanilla Bean Blog. With this technique, not only do you deflate the cookies' centers several times during baking — making for chocolate chip cookies with a gooey, chewy middle and crisp edges — but you also help them spread and reveal the chocolate inside.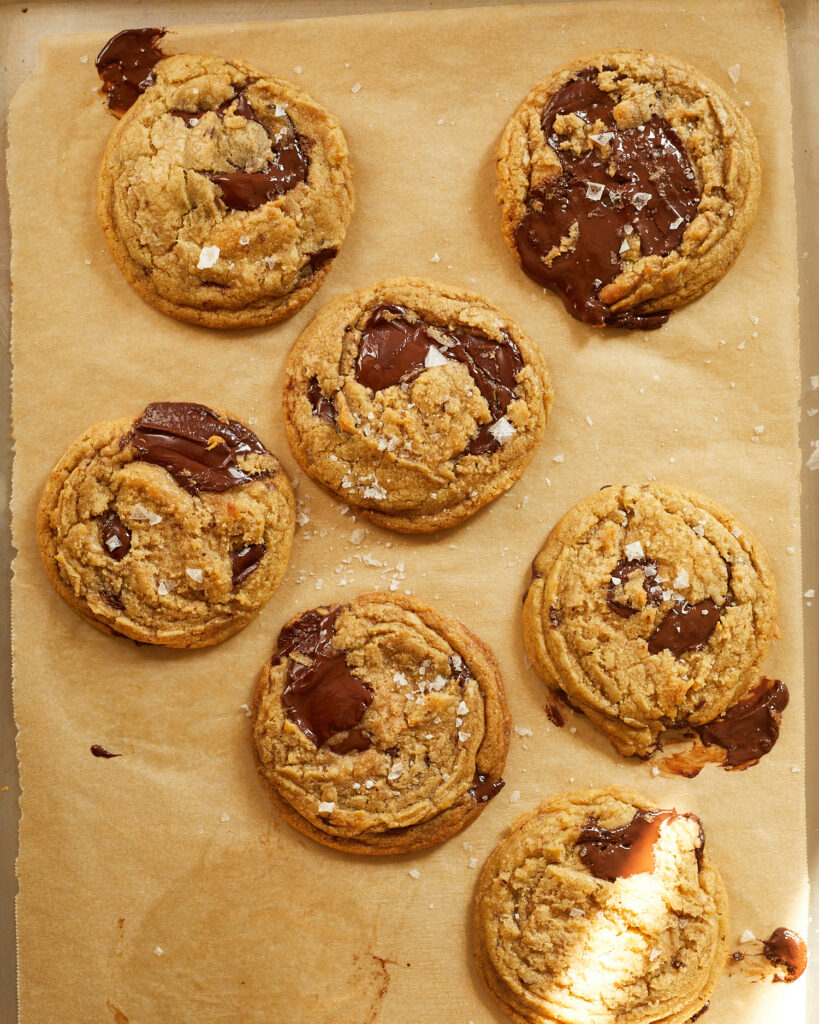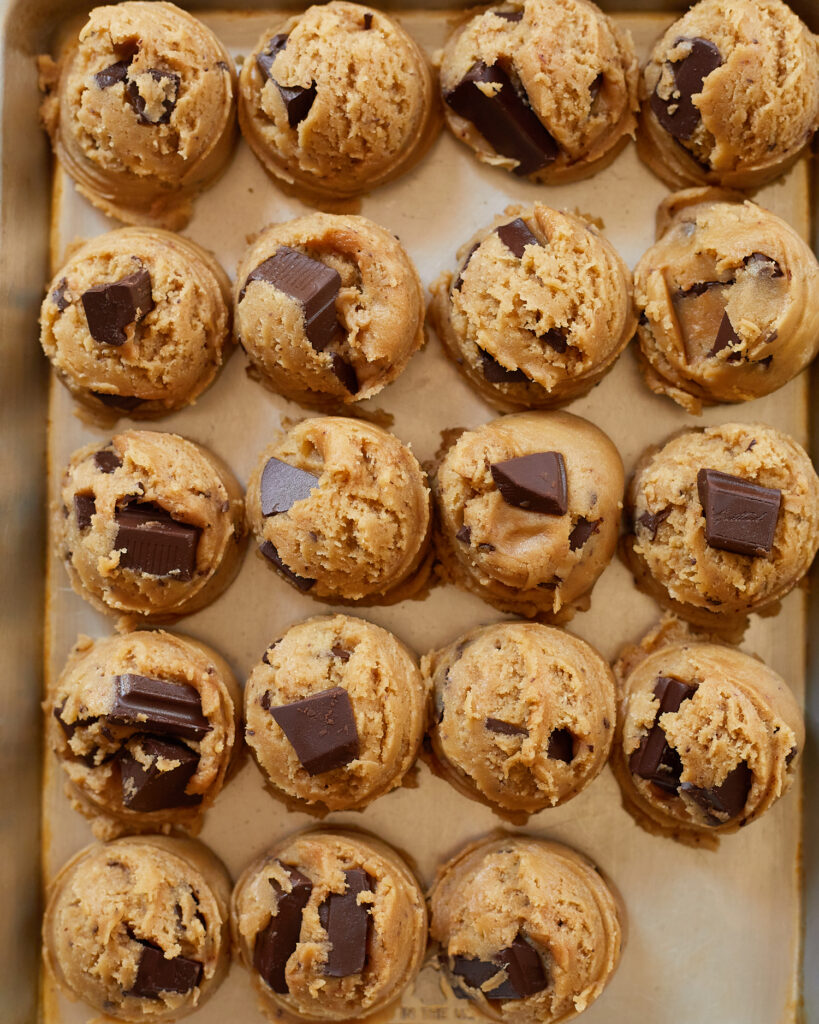 Here are 5 tips for making the best chocolate chip cookies:
Make sure the butter isn't hot when you add it to the sugars. We're not trying to melt them — and we're really not trying to cook the egg! It can be warm or room temperature.
Measure correctly. Stop shoving that measuring cup deep into the flour bag — that will pack in way too much flour and make these cookies dry and cake-y. Use the spoon and sweep method, where you spoon flour into the measuring cup, then sweep off the excess with a flat edge. (If you measure by weight, you don't have to worry about this. Get yourself a kitchen scale! You deserve it.)
Save some chocolate for the tops. If you want gorgeous, flowing chocolate pools press some extra chocolate chunks into the tops of the dough balls. I've also had success placing them in the cookie scoop *before* scooping a mound out.
Freeze some of your dough. I know you don't want to, but you could freeze the dough balls for MONTHS and pop a few in the oven whenever the craving strikes.
Seriously, let the dough chill. First of all, because we're using melted butter, the dough is too slack to go in the oven right away. The cookies will all run into each other. Chilling not only firms them up, it allows time for the ingredients to ~get to know each other~. The butter and egg hydrate the flour, the vanilla is able to flavor the dough better, and everything develops a deeper, more complex taste.
Did you make my best-ever chocolate chip cookies? I want to see! Tag me @easygayoven on Instagram and TikTok.
(This recipe was updated on September 13, 2022.)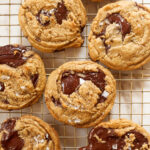 Best-Ever Chocolate Chip Cookies
Print Recipe
My new-and-improved best-ever chocolate chip cookies feature a crispier outside, gooeier and chewier inside, and a sinful amount of chocolate
2 1/4

cups

all-purpose flour

(293 grams)

3/4

teaspoon

baking soda

1/4

teaspoon

baking powder

1

teaspoon

kosher salt

1/2

cup

granulated sugar

(100 grams)

1

cup

dark brown sugar, lightly packed

(190 grams)

14

tablespoons

unsalted butter

(197 grams)

1

large egg

2

teaspoons

of vanilla extract

10.5

ounces

dark or semi-sweet chocolate

chopped into chunks

flakey salt

optional
Gently melt the butter in a saucepan over low heat. Set aside to cool slightly.

In a small mixing bowl, whisk together the flour, baking powder, baking soda, salt.

In a medium mixing bowl, whisk together the brown and granulated sugars. Pour in the melted butter and stir just until combined. Whisk in the egg and vanilla until the mixture is smooth and creamy, then whisk vigorously until it lightens in color.

Using a rubber spatula, fold the flour mixture into the wet ingredients, just until a few streaks of flour remain. Dump in the chocolate and continue folding until the chunks are evenly dispersed.

Measure out about 2.5 tablespoons for each cookie, or use a 1.5-ounce cookie scoop, to form about 18 dough balls. Chill the dough balls, uncovered, in the refrigerator for 2 hours.

When the cookies are almost done chilling, preheat the oven to 350°F and place the oven racks in the top and bottom thirds of the oven. Line two half-sheet trays with parchment paper and place 6 or 7 dough balls on each.

Bake the cookies for 6 minutes, then take each tray and bang it on the racks or the top of the stove to deflate them. Switch their positions in the oven and continue baking for 4 more minutes, banging them two more times, once after two minutes, and once when you take them out of the oven. The cookies should be crisp and set on the outside, starting to get color on top, and still slightly underdone in the center.

Allow the cookies to cool on their trays for 2-3 minutes before transferring them to a wire rack to continue cooling. Sprinkle with flakey salt, if desired.

Repeat with the remaining dough balls or store them, covered, in the fridge or freezer to bake later.